Cardinals first baseman and well-known Christian athlete Albert Pujols signed a 10-year, $250 million contract with the Los Angeles Angels, ESPN reports. Earlier this year, observers discussed how Christians should handle big-dollar contracts.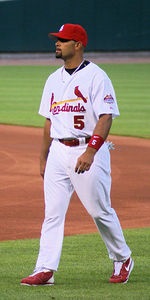 "I do think it will hurt what people perceive to be his Christian testimony," said Scott Lamb, co-author of Pujols: More Than a Game. "I'm not saying it's the way it should be, but I think it will."
Pujols, who led the Cardinals to its World Series win in October, has been outspoken about his faith.
"My life's goal is to bring glory to Jesus. My life is not mostly dedicated to the Lord, it is 100% committed to Jesus Christ and His will. God has given me the ability to succeed in the game of baseball," Pujols writes on his website. "But baseball is not the end; baseball is the means by which my wife, Dee Dee, and I glorify God. Baseball is simply my platform to elevate Jesus Christ, my Lord and Savior."
Pujols, who has a daughter with Down syndrome, dedicated his family foundation to their "commitment to faith, family and others," giving to many causes in the St. Louis community. Albert Pujols Wellness Center for Adults with Down Syndrome opened in 2009.
Lamb expects St. Louis fans to make comparisons to LeBron James, the NBA athlete who left Cleveland for the Miami Heat. While it's good to remain loyal to a team that helped give him his fame, Lamb said, it's not necessarily a moral issue.
"So much of his mission is based in St. Louis," Lamb said. "Maybe that's the point. He did the Midwest thing and now he can do the West coast thing."
Lamb said he heard Pujols speak about his faith in a public gathering, but he wonders whether the move to Los Angeles will allow him more opportunities with the larger Latino population.
"When he spoke about Jesus, it was short and stilted. You get the sense that if you turn him loose and took the yoke of English off of him, he could speak more in his native tongue," Lamb said. "[The deal] sure seems like it's just about the money, but I'm hoping it's more than that and time will tell. "