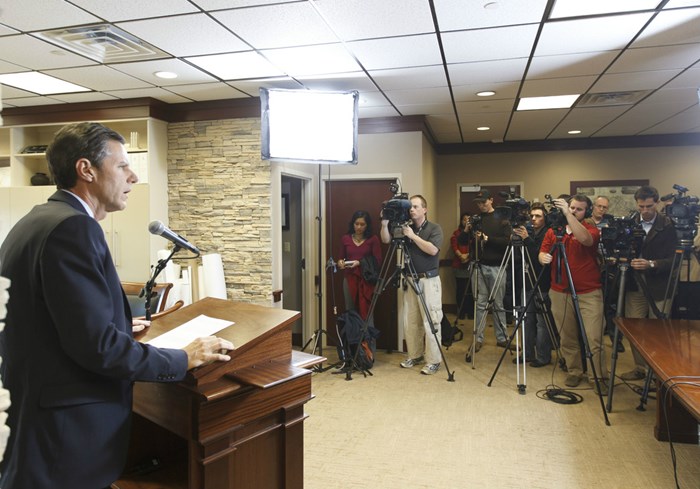 Image: Courtesy of Liberty University
Update (6:29 p.m.): President Jerry Falwell Jr. says Liberty University is offering counseling to students while police continue to investigate the shooting of a male student in the lobby of a female dormitory.
At the time of the afternoon press conference, watched by CT, Falwell said Liberty had been unsuccessful at contacting the parents of Joshua Hathaway, a freshman transfer student who had a 3.9 GPA and no disciplinary record and lived in a neighboring male dorm. The shooter, an armed security guard who also served as the dorm's EMT, has been suspended with pay pending the outcome of the police investigation.
"We have taken every action that we believe could be taken at this point, and we're standing by waiting on more facts from police," Falwell said. "Our focus will continue to be on the safety and emotional health and well-being of our students and our community."
For more details, he referred journalists to a Lynchburg police search warrant, seen by CT. The warrant states that Hathaway approached the security officer, claiming that "he had been robbed and someone stole his vehicle," but then "pulled out a hammer from his clothing and assaulted the officer." The security guard shot and killed Hathaway during the ensuing struggle.
According to the search warrant, Hathaway's roommate told police that Hathaway had been "displaying unusual behavior recently" and was having "some academic and financial difficulties." The investigation is ongoing.
"It's events like this where we feel like it's our duty as a Christian university to pull together and to support everybody as much as possible," Falwell said at the press conference. "That's what our focus has been all day today and will continue to be throughout this ordeal."
-----
A Liberty University student was shot and killed during an early morning altercation with a campus officer in the lobby of an off-campus dormitory for women, according to local police.
Police identified the male student as 19-year-old Joshua Hathaway of Lubbock, Texas.
Like many Christian colleges without coed dorms, Liberty policies state that "males are not allowed in female residence halls," including the Annex II where the shooting took place at approximately 4:15 a.m. Tuesday morning. (The university enforces a Monday night curfew at midnight.)
The Liberty Champion, the student newspaper, offers a photo of the dorm. Liberty spokesperson Johnnie Moore referred CT to two statements released by the school:
"[11:45 a.m.] We have received reports that a Liberty University Emergency Services Officer was attacked by a male student in the lobby of a women's-only dorm early this morning. The student was shot and killed and the officer was transported to Lynchburg General Hospital for treatment. The Lynchburg Police Department is investigating the matter and Liberty University is cooperating. President Jerry Falwell, Jr. issued the following statement: 'The Liberty University community is deeply saddened by this tragic event and is prayerfully supporting all those impacted.'"

...
"[10:10 a.m.] Liberty University confirms initial reports that there was an altercation between a Liberty University Emergency Services Officer and a male student that led to a shooting last night at a women's-only residential hall (Residential Annex II) that is under investigation by the Lynchburg Police Department. The entire campus, including Annex I & II, are open and operating as normal. Liberty University's thoughts and prayers go out to all those affected by this tragedy."
Local media outlets continue to follow the story as more details emerge about the shooting at America's largest evangelical university.
But Liberty spokesperson Johnnie Moore told Lynchburg's News & Advance that "there is no safety concern" and classes will continue today as scheduled.
Religion News Service points out that Liberty recently approved the carrying of concealed weapons on campus. "It appeared from the discussion that the board felt that allowing guns would increase safety on campus," school attorney David Corry toldThe Liberty Champion in April.
Liberty University has guidelines involving suspicious persons at the Liberty Annex and encourages students to "use common sense with regard to safety procedures." At night, students must report suspicious activities or persons to the university police.
This post will be updated.