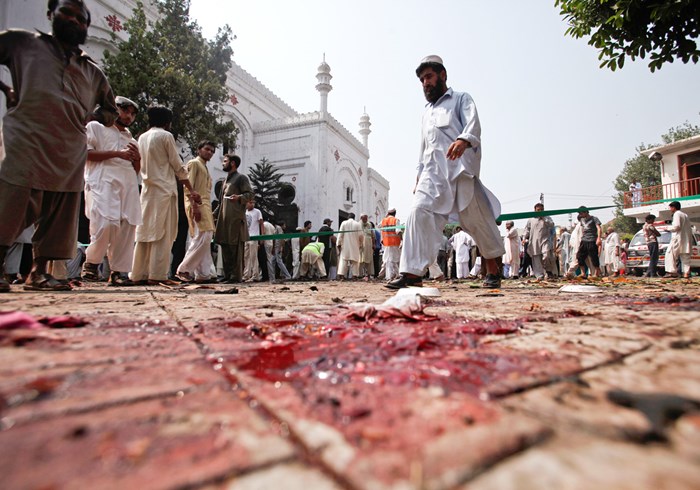 Image: Fayaz Aziz / Reuters
Update (Sept. 24): World Watch Monitor offers a very thorough report on the "anguish and anger" that has erupted across Pakistan in the wake of the attack.
-----
Update (Sept. 23): More details are emerging on the "unprecedented church bombing" believed to be "the deadliest assault" ever on Pakistani Christians, reports Morning Star News (MSN).
"Security in churches is always tight during Sunday mass," said S.P. Asghar, archdeacon at All Saints Church. "But still the suicide attackers managed their way in disguised as policemen."
"Police reported at least 78 people, including 37 children killed in the blast," reports Anglican journalist George Conger. "[But] Church of Pakistan leaders ... estimate the death toll to be at least 150, with hundreds more wounded."
The Washington Post also reports that the bombing was "the deadliest single attack on Christians that church leaders could recall in the country's 66-year-old history, [and] sparked protests across the country and renewed concerns about Pakistan's ability to protect religious minorities."
"Suicide bombers have increasingly targeted communities on the basis of their religion in recent years," notes Christian Solidarity Worldwide. "Over 80 people were killed in May 2010 when two Ahmadi mosques were attacked simultaneously in Lahore, while over 100 died as a result of four bombings targeting the Shia community last January."
Christians in Pakistan, the world's second-most populous Muslim nation, compose less than 2 percent of the country's 180 million people. Previous high-profile attacks against Christians—including Gojra in 2009 and Lahore's Joseph Colony this past March—revolve around blasphemy laws that end up hitting innocent victims such as Rimsha Masih and Asia Bibi.
CT recently interviewed a journalist who has published a book on Bibi's case. Her main thought: "I'm afraid she'll be killed very soon if nothing happens."
-----
Today Pakistan's Christian minority suffered one of its deadliest attacks in recent memory.
A suicide bomber attacked a crowd receiving free food after the Sunday morning service at All Saints Church, a symbolic church in the northwestern city of Peshawar, reportsThe New York Times. More than 75 people were killed and 100 wounded.
"What was our sin? Why we are not safe inside our own church?" said a mourner, reports the Los Angeles Times. Protests by Christian groups erupted in major cities nationwide.
The church, built in 1883, was "inspired by the structures of the mosques," reports AsiaNews. "It is facing Mecca and is a landmark building for its attempt to promote peace, harmony and peaceful co-existence between the Muslim majority and the Christian minority in Pakistan."
The government pledged to "bear the cost of rebuilding the damaged church and declared a three-day mourning," reportsThe Hindu. "Missionary run schools will be shut for three days in protest."
CT has regularly reported on Pakistan, especially the persecution of its Christians.