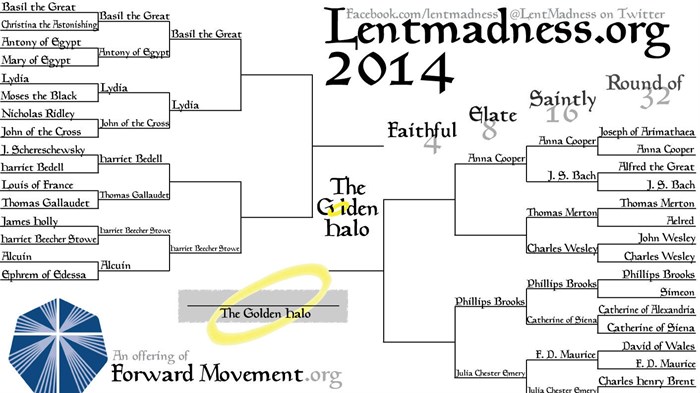 Image: Courtesy of Adam Thomas/Lent Madness
March Madness may be coming to a close. But single-elimination competition won't end with Monday's NCAA men's national championship—thanks to Lent.
Or rather, Lent Madness. Launched in 2010 by a Massachusetts pastor, Tim Schenck, the bracket offers a unique Lenten devotion that combines his love for church history and sports.
"We put 32 saints in a basketball-type bracket, and they go at it," said Schenck, rector of St. John the Evangelist in Hingham, told NPR. Each day's match-up features two saints, and readers vote for their favorite to determine who advances to the next round.
The first round consists of basic biographical information about each of the 32 saints. Things get more interesting in the subsequent rounds as the bloggers expose quirks, explore legends, and even "move into the area of saintly kitsch." On April 16, a winner will be declared and crowned with the coveted Golden Halo.
The 2014 bracket includes several names ...
1