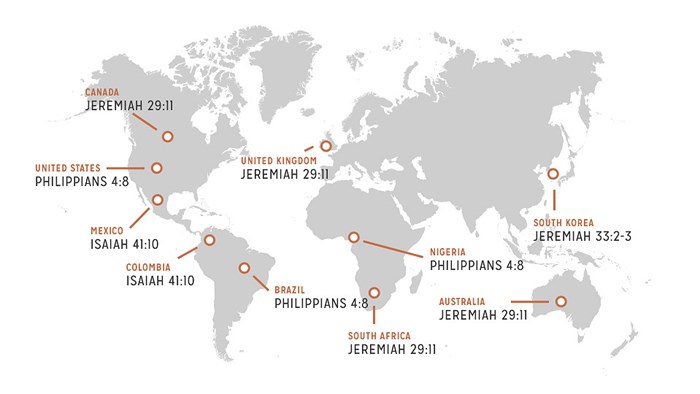 Image: Courtesy of YouVersion
[Editor's note: Bible GateWay also offers a year-end analysis of the Bible searches of 150 million visitors. One takeaway: Most were searching for love.]
Philippians made out well this year. The New Testament letter authored by the Apostle Paul contained 3 of the top 10 Bible verses that were most bookmarked, highlighted, and shared with YouVersion's Bible app in 2014, according to an end-of-year analysis released today [infographic below].
The No. 1 spot went to Romans 12:2 ["Do not conform to the pattern of this world, but be transformed by the renewing of your mind...." (NIV)]. But the fourth chapter of Philippians took No. 2 with verse 8, No. 3 with verse 6, and No. 6 with verse 7.
In order, the verses read:
Do not be anxious about anything, but in every situation, by prayer and petition, with thanksgiving, present your requests to God. And the peace of God, which transcends all understanding, will guard your hearts and your minds in Christ Jesus. Finally, brothers and sisters, whatever is true, whatever is noble, whatever is right, whatever is pure, whatever is lovely, whatever is admirable—if anything is excellent or praiseworthy—think about such things.
The entire Top 10:
1. Romans 12:2
5. Matthew 6:33
7. Proverbs 3:5
8. Isaiah 41:10
9. Matthew 6:34
10. Proverbs 3:6
These verses, and others, were shared nearly 69 million times this year. In fact, every second sees two verses shared through Twitter, Facebook, text messages, and email around the world, YouVersion said.
Philippians 4:6 was the only verse to stay on the top five from last year's list, which featured Philippians 4:13 as the No. 1 verse ["I can do all this through him who gives me strength" (NIV)]. Rounding out the top five most popular verses of 2013: Isaiah 40:31, Matthew 6:13, and Joshua 1:9. (Philippians 4:6 moved from No. 5 last year to No. 3 this year.)
Out of the 10 countries with the most YouVersion usage, Philippians 4:8 was the most popular verse in the United States, Brazil, and Nigeria in 2014, while Jeremiah 29:11 was the most popular verse in Canada, the United Kingdom, and Australia. Jeremiah 33:2-3 was the most popular verse in South Korea. Isaiah 41:10 was the most popular verse in Mexico and Colombia.
The verses that users share most are quite different from what they bookmark and highlight most. Philippians 4:8 was the only verse to also make the top 10 list of verses shared in 2014, placing fourth after Colossians 3:23-24, 1 Chronicles 16:34, and 2 Chronicles 7:14.
None of the top 10 most shared verses of 2013 made this year's list. Last year, Psalm 118:24 was the most shared verse worldwide.
CT previously noted how the Web's most-popular Bible verses match up—except for John 3:16. Once again, the key verse, which ranks high among other digital Bibles, failed to make YouVersion's top list of verses shared. But it does top recent lists of verses searched.
CT has spotlighted YouVersion's volunteer army, profiled its rise among other "social network gospels," and offers a Who's Next profile on founder Bobby Gruenewald. This fall, CT reported when YouVersion hit 1,000 offered translations, enabling 7 out of 10 of the world's inhabitants to read the Bible in their own language.
YouVersion's other top stats of 2014—including most popular verse by country and number of chapters read—are in the infographic below.

Image: Courtesy of YouVersion