Pew: Religious Hostility Reaches Six-Year High Worldwide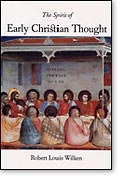 This slideshow is only available for subscribers.
Please log in or subscribe to view the slideshow.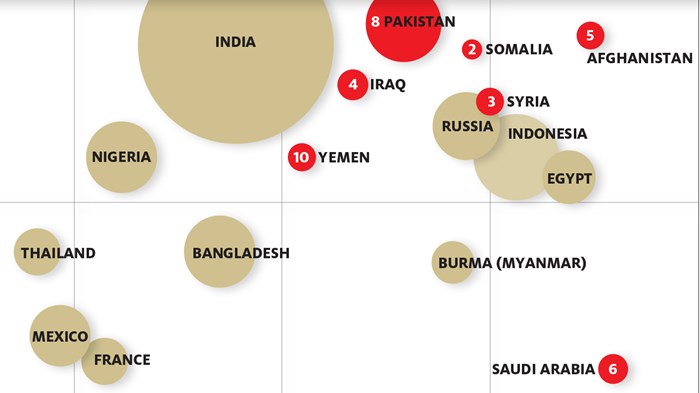 Image: Christianity Today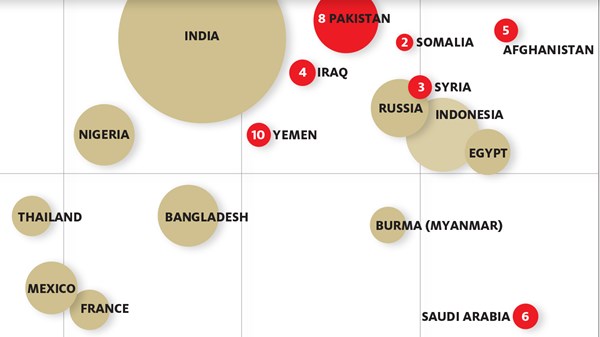 Pew: Religious Hostility Reaches Six-Year High Worldwide
Social hostilities involving religion soared worldwide in 2012, with nearly 3 out of 4 of the world's people (74%) living in countries with high levels. The surge is stark, given that in 2011 only half of the global population (52%) lived in such countries, while the worldwide level of government restrictions on religion remained largely the same between the two years.
The latest global findings from the Pew Research Center, released two days before Religious Freedom Day in the United States, show that overall restrictions on religion in nearly 200 countries and territories have reached a six-year high, and Christians are harassed in more countries than any other religious group (though Muslims are a close second).
[Editor's note: For charts of how Pew's January 2014 report compares to the 2014 World Watch List (which assesses the world's top 50 persecutors of Christians) as well the previous findings of both groups, see bottom of this page. Last week, CT examined the "effective anger" over the top 50 countries where it's hardest to be a Christian.]
The report, "Religious Hostilities Reach Six-Year High," is the fifth in a series of reports from the Pew-Templeton Global Religious Futures project. Pew's first report, released in 2009, was groundbreaking.
In 2007, 1 in 5 of the world's countries had significant government restrictions on religion, according to Pew's calculations. The same percentage—20 percent—had significant social hostilities involving religion. In 2012, both measures increased to about 1 in 3 of the world's countries. Europe saw the highest increase of government restrictions in 2012, while the Americas was the only region where social hostilities ...
01/14/2014