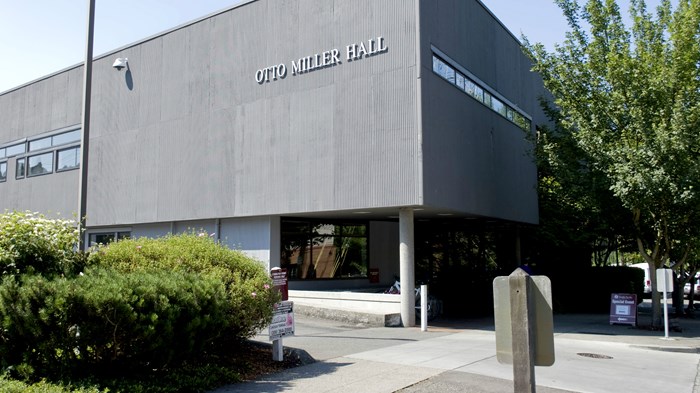 Image: Courtesy, SPU
Updated 6/6/13 8:58 a.m. with further identification
Seattle police have arrested a suspect in today's shooting at Otto Miller Hall on the campus of Seattle Pacific University. Local media report that Seattle police identified him as Aaron Ybarra, a 26-year-old with no known connections to SPU and that he was not a student at the school. He was armed with a shotgun and a knife, police said.
Police say the Ybarra was subdued by a student, who was acting as a building monitor. That student is now widely identified as Jon Meis. The Seattle Times says he was "working at the time as a monitor who sits at a desk in the lobby, near the Hall's front door. [He] quickly moved in to pepper-spray the gunman, then he tackled him to the ground. Police arriving moments later moved in to handcuff and arrest the suspect, other witnesses said."
Seattle police told reporters that after the student building monitor subdued the shooter, other students jumped on top of them and helped to keep the shooter to the ground.
"There are a number of heroes in this," assistant police chief Paul McDonagh told reporters Thursday night. "One person made the initial contact, then another person helped, and then other people joined in. If we're going to find any light in this, it's that the people around stepped up."
"I want to remind everyone here that the actions of the subject here do not define SPU or the city of Seattle," McDonagh said. "The actions of the students and staff, that's what defines Seattle Pacific University. This is not about an evil act but about the people that actually lived through his scenario and assisted each other when things were pretty tragic."
One victim, a man so far only identified as 19, died after arriving at the hospital. A woman is hospitalized with serious injuries, reportedly a shot to the chest.
"She was in shock and thought she was going to die," student Chris Howard told KOMO. "We had to reassure her several times, no she's going to get through this."
Two other men were also injured, but their injuries were not life threatening.
Classes and all activities were canceled Friday.
"We're a community that relies on Jesus Christ for strength and we'll need that at this time." said university president Dan Martin. "My message is one of hope—in our Lord Savior Jesus Christ who can get us through this."
This is the latest in a string of Christian college attacks in the last two years. In April 2012, a former student of Oikos University, a small Korean-American college in Oakland, killed seven and wounded three. In November 2013, an armed security guard at Liberty University shot a freshman who reportedly attacked him with a hammer. (State officials said the armed security guard acted in self-defense and did not file criminal charges.)
In February, a Union University commuter student allegedly shot his fiancée, another Union commuter student, to death and left her body on campus property.
Last month, actor Michael Jace was charged with murdering his wife, a financial aid counselor at Biola University, though that shooting reportedly occurred at their home.