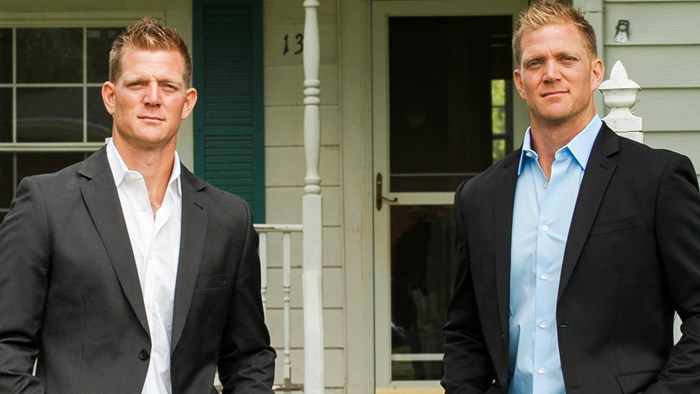 Image: Benham Brothers / Facebook
HGTV has stopped production of a new house-flipping show starring Christian twin brothers. The network announced the decision on Twitter this week, following a post from Right Wing Watch (RWW) labeling the stars—David and Jason Benham—as "anti-gay, anti-choice extremists."
An HGTV spokeswoman declined to comment further and would not indicate whether the Benhams' religious and political views were a factor. The twins posted a statement and a video on their Facebook page emphasizing their commitment to follow Christ even if it costs them the show.
"We promised we would give Jesus glory whether in victory or defeat. Sure seems like we've been defeated lately. But you know what? God is bigger than all of this," said David.
The rise of evangelicals on reality TV has been tempered by controversies over biblical views on homosexuality. The most popular cable reality show of all time, Duck Dynasty, temporarily suspended Phil Robertson in December for his remarks on homosexuality in a magazine interview.
Evangelical Christians and graduates of Liberty University, the Benham brothers had protested at Democratic events and voiced opposition to gay marriage, according to footage and reports posted by RWW.
The entrepreneurial twins run a company that helps people buy, sell, flip, or finance a new home. Joining a lineup of friendly and attractive home-improvement-savvy relatives like the Property Brothers and Kitchen Cousins, their HGTV show would have added a charitable component, helping families in need flip houses.
"With our without cameras, we're gonna teach them how to flip," said Jason, as they continue to work with the initial six families selected for the program. "We live from the inside out, not the outside in. We don't need the media to tell us how to live."
HGTV plans to debut in July a series featuring evangelical blogger Jen Hatmaker and family. In an interview with CT, Hatmaker explained:
We told HGTV, "Listen, we are super-Christian, you guys. This is not gray. We're all the way. Brandon's a pastor, I'm a Christian author and speaker—this is who we are." They said, "Yes. All of it." That's how they're portraying us on the show, which is lovely.
Hatmaker typically resists the culture war debates. Last month, she revealed her personal conviction for traditional marriage in a nuanced blog post discussing her belief and her heartbreak over this "hateful public war."
When asked whether the recent news would affect the Hatmakers, an HGTV spokeswoman said, "This business decision specifically deals with the Benham Brothers."
On TLC, the evangelical Duggar family is on its eighth season of 19 Kids and Counting. Father Jim Bob Duggar is a former Republican politician and the family remains politically active, campaigning for conservative, family-values candidates such as Rick Santorum. Oldest son Josh Duggar is a lobbyist for the Family Research Council, an advocacy group that opposes gay marriage and abortion.