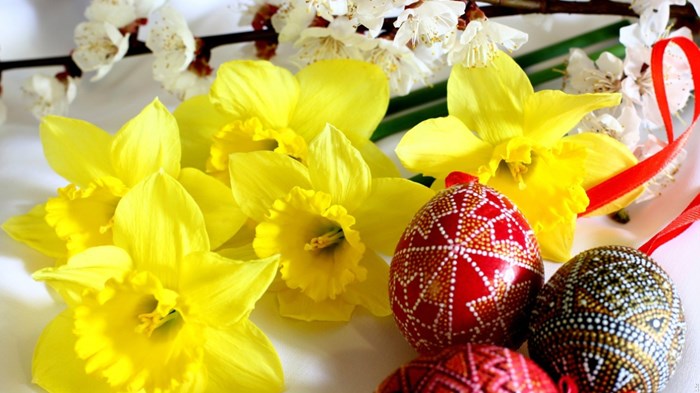 Image: Flickr / www.tOrange.biz
Sandwiched between March Madness and the start of the baseball season was Easter, the most important day of the Christian calendar. Here are a few surprising things you may have missed this weekend while searching for Easter eggs, watching the big game, or celebrating the Resurrection in surprisingly crowded church pews.
Smartphones Rule, Even with the Bible
Holy Week smartphone Scripture reading surged in South Sudan (86%), Palestine (83%), Myanmar (72%), and others unlikely places, according to data from the YouVersion Bible app. Smartphones outsell personal computers worldwide four to one, and nearly half of the world's adult population owns a smartphone, reported The Economist earlier this year. These numbers seemed primed to grow: In just 5 years, 8 out of 10 adults will possess a pocket-sized device capable of letting them read the Resurrection story.
John 3:16 Continues to Slide
The once-ubiquitous John 3:16 Scripture verse has continued to lose market share, at least according to digital metrics. Romans 5:8 was YouVersion's most-shared verse during Holy Week. Other top verses were John 11:25–26, Romans 8:11, Isaiah 53:5, and Matthew 20:28. (In recent years, neither Romans 5:8 nor John 3:16 has made it to the list of YouVersion's most-shared verses.)
The Bible Still Makes Good TV
Nearly 10 million Americans tuned in to watch the first installment of NBC's A.D. The Bible Continues on Sunday. The numbers failed to hit the record-setting 13 million viewers who caught the History Channel's The Bible 2 years ago, but that's likely the fault of a rival biblical epic—The Ten Commandments—that aired on Sunday on ABC. The Charlton Heston classic grabbed 6.9 million viewers, the largest overall audience the film has received in 7 years.
Most Americans Say Jesus Was Real (Fewer Say He Was God)
More than 9 out of 10 adults believe Jesus was a real historical person, but far fewer Americans say he was God, says a recent report from the Barna Group. More than half (56%) of Americans surveyed say they believe Christ was divine. A quarter (26%) says Jesus was a spiritual leader, while 1 in 5 (18%) aren't sure. About two-thirds (62%) of those born in 1945 or before believe Jesus was God. Less than half of millennials (48%) agree.
Americans Like the Idea of Going to Church
Two-thirds of Americans find church attendance an admirable idea, according to a recent LifeWay Research study. Of those who consider themselves nonreligious, 4 in 10 say the same. Yet according to LifeWay Research from 2013, only 41 percent of Americans planned to show up on Easter Sunday, with nearly 60 percent reporting that they didn't know or were undecided.
Bonus Round: Easter Remains Big Business
Americans planned to spend about $16.4 billion this Easter, says the National Retail Federation. Among the big-ticket items, according to the group's annual Easter Spending Survey, were jelly beans, Peeps, and chocolate bunnies (about $2.2 billion), new outfits ($2.9 billion), and flowers ($1.1 billion).
Recent CT coverage of Easter has encouraged church leaders not to waste their Easter attendance spike, explore how our celebrations can affirm the Resurrection, what we should teach our kids about Easter, how childbirth can help us understand Christ's suffering on the cross, and five errors pastors should drop from their Easter sermons.
[Photo Courtesy of www.tOrange.biz Valdemar Fishmen - Flickr]