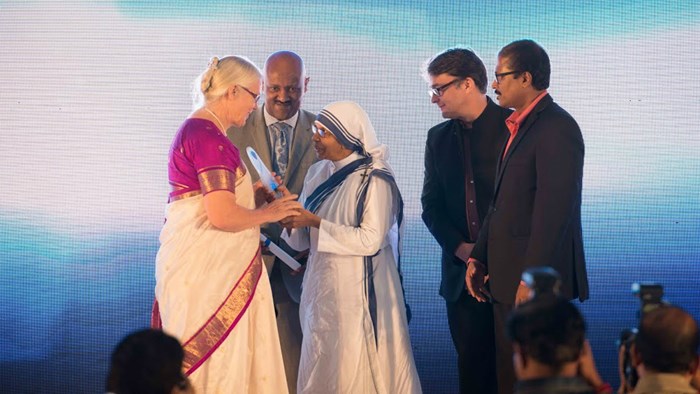 Image: The Harmony Foundation
One of India's most famous examples of Christian forgiveness has now been feted.
After missionary Graham Staines and his two sons were burned alive by Hindu extremists in 1999, his widow Gladys decided to continue their ministry to lepers in India.
Last month, Gladys was named the 2015 recipient of the prestigious Mother Teresa Memorial Award for Social Justice by the Harmony Foundation, a Mumbai-based charity that grants the only award endorsed by the famous nun's Missionaries of Charity.
"I thank God for his help in enabling me to carry out the work in caring for people with leprosy, even after my husband was killed," Staines told AsiaNews after being named this year's winner.
Staines initially considered returning home to Australia following the deaths of her family members, but decided to stay in India where she and her husband had served lepers for 15 years. She kept their daughter Esther, then 13, with her.
"I cannot just leave those people who love and trust us," Staines told Ecumenical News International in 1999. "I have high regard for the people of India and their tolerance."
The couple was working at the Evangelical Missionary Society in Mayurbhanj (EMSM), an organization founded by an Australian missionary in the late 19th century. In addition to its leprosy home, ESMS also served other marginalized people and supported local churches.
"Getting back to work became an important part of my grieving," Staines told AsiaNews in 2015. "Not only me, [but] our staff and patients also grieved with me."
Staines remained in India for five more years before returning to Australia in 2004. The following year, the Indian government awarded her the Padma Shri for Social Service by the Government, the nation's fourth-highest civilian award.
She used the money from the award to upgrade the home for lepers into a hospital, according to AsiaNews.
Staines currently serves as the honorary secretary of EMSM, which has opened two hostels since she left India.
Previous Mother Teresa winners include the Dalai Lama, Malala Yousafzai, and controversial "Machine Gun Preacher" Sam Childers.
In 2000, CT reported that within days of the Staines' murders, "police arrested 51 people allegedly linked to a Hindu fundamentalist group, Bajrang Dal. But the High Court in Orissa threw out charges against 44 of the accused two months after the arrests, because there was insufficient evidence."
The remaining men were eventually convicted, but the Indian High Court acquitted 11 of them in 2003. Only two men are currently serving life sentences.
Authorities arrested two more men in 2013.
In 2007, Staines sent a letter to India's prime minister and Orissa's chief minister expressing grief over the violent clashes between Hindus and Christians in Orissa and urging forgiveness.
In 2011, India's Supreme Court changed its justification for giving the Staines' killers a life sentence after Christians protested that the ruling seemingly blamed the missionaries for their own deaths. In explaining why it denied prosecutors' petition for a death sentence, the original opinion said the killers were trying to "teach a lesson [about] converting poor tribals to Christianity." After the "teach a lesson" language was removed, Christians called the new version "less offensive, but in no way less dangerous."
CT interviewed Gladys Staines in 2003 on forgiveness and healing, and noted in a 2004 cover story on India how she had "become the best-known Christian in India after Mother Teresa."