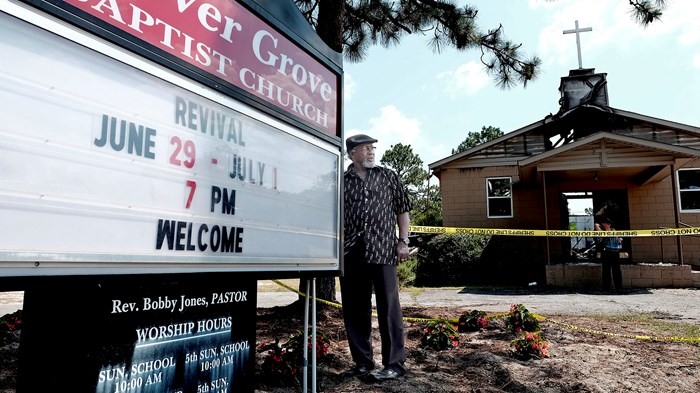 Image: Todd Bennett / The Augusta Chronicle / AP
Update (Oct. 21): A string of fires set at six predominantly African-American churches in nine days in St. Louis have sparked an arson investigation by the Bureau of Alcohol, Tobacco, Firearms, and Explosives (ATF), along with the St. Louis fire department and regional bomb and arson unit.
The churches are within a few miles of each other in predominantly African-American neighborhoods. No one was in the churches when the fires were set, and each was lit at an exterior door, according to investigators.
"We believe the fire-setting activity is meant to send a message," the ATF said in a statement.
The numbers of churches fires has declined in the last 20 years, yet incidents of arson at churches remain surprisingly common. From 2010 to 2014, about three churches were set ablaze every two weeks, according to the Pew Research Center. Overall, half of the 4,705 churches fires in the last 20 years were arson.
The St. Louis churches in the recent spate of fires are of ...
1