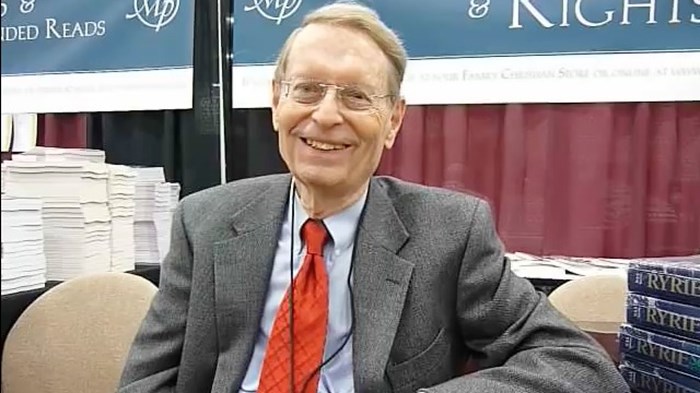 Image: relfstrand / YouTube
Charles Caldwell Ryrie, the dispensationalist scholar and Christian educator best known for the popular study Bible that bears his name, died Tuesday at age 90.
Ryrie was the author of more than 50 books and editor of the Ryrie Study Bible, which includes more than 10,000 footnotes by him.
In the preface to the original 1978 edition, he wrote, "The Bible is the greatest of all books; to study it is the noblest of all pursuits; to understand it, the highest of all goals." The Ryrie Study Bible has gone on to sell more than 2.6 million copies.
Dallas Theological Seminary (DTS) paid tribute today to Ryrie, who taught systematic theology and served as a dean.
"Dr. Ryrie was a master at biblical and theological synthesis. He had the unusually rare gift of being able to state complex theological ideas in succinct statements," said DTS president Mark Bailey. "All of us are indebted to his efforts to articulate and defend dispensational premillennialism."
After DTS announced the news of his death, Christian leaders and seminarians shared tributes to the late scholar.
O. S. Hawkins, Ryrie's former pastor at First Baptist Church of Dallas, tweeted, "A giant of the faith went home last (night). Charles Ryrie. Honored to have been his pastor, friend and prayer partner."
Known as an "irenic dispensationalist," Ryrie is remembered for his work to stabilize the field of dispensationalist theology, his prescient reflections on the Middle East, and the impact of his scholarship.
"I think his greatest gift was making abstract ideas understandable. Anyone can make the simple complex. Only the greatest minds can make the complex simple," wrote Ray Prichard, a former student and the president of Keep Believing Ministries, on his Facebook page today. (Ryrie had worked on the Ryrie Study Bible with home Bible studies in mind, hoping to offer concise explanations of the text.)
Though Ryrie retired more than 30 years ago, another former student recalls his legacy at DTS.
"Senior theology—commonly known as 'Ryrie Roulette'—was a terrifying experience, but was one of the best preparations for ministry," wrote Doug Tiffin, dean of the Graduate Institute of Applied Linguistics. "Dr. Ryrie would announce the topic for the next class and tell us to be prepared. We never knew what to expect, so we had to work hard to be ready for anything."
According to an obituary posted by DTS, Ryrie was an Illinois native and fifth-generation Baptist. He lived in Dallas during his retirement, and is survived by three children and three grandchildren.
CT regularly covers dispensationalism, theology, and Christian higher education.