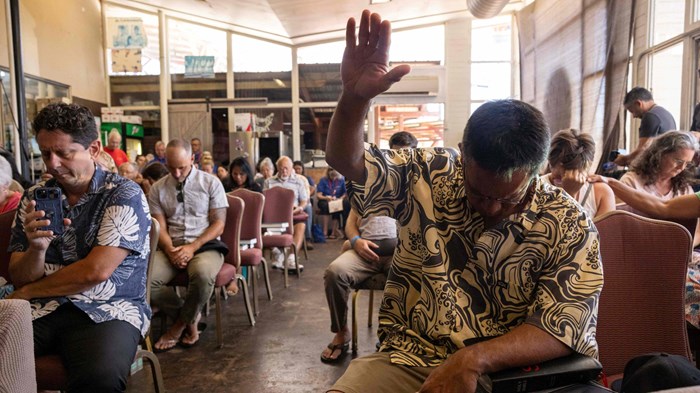 Image: Yuki Iwamura / AFP via Getty Images
In the aftermath of the worst disaster in memory on their island—the deadliest fire in US history—Maui's Christians gathered on Sunday morning to offer prayers, continue to coordinate relief efforts, and mourn the loss around them.
At Grace Bible Church Maui, pastor Jonavan Asato likened the destruction to the death of a loved one. "When you look at that town and the memories that you've had there, it's not just a home," he said with tears in his eyes. "It's a part of our culture. It's a part of our island."
Days before, his church had sent supplies by boat to Lahaina—the former capital of the Hawaiian kingdom, a landmark in 200 years of missionary history in Maui, and the site that bore the brunt of the brush fires that devastated the west side of the island.
Having witnessed the scorched cars, the embers of Front Street, and smoke dissipating from the more than 2,000 buildings burned, Asato asked his congregation to stand up and face in the direction of Lahaina as he repeated, "We speak life and light to you in Jesus' name."
In Lahaina, local Christians grapple with the widespread damage. While the leaders of Lahaina Baptist Church were "amazed" to learn that their church was still standing—despite everything around it "literally in ashes"—all but two of their church families lost their homes.
"I would estimate that over half the residents of our communities lost their homes and possessions. The big question is: Where will those people live? It will take years to rebuild," pastor Barry Campbell wrote on Facebook on Sunday. "Another big issue is jobs. If the hotels and resorts are closed down, where will locals work?"
Fellow believers in Maui have been on the frontlines to help, caring for the thousands of victims of a disaster that, as of Monday, killed 96 people and could cost as much as $5 billion to rebuild from. They have transformed churches into donation centers, cooked hundreds of hot meals, and delivered generators, gas, and food across land and water.
In central Maui, Kahului Seventh-day Adventist Church provided emergency shelter for 40 displaced Lahaina residents. The church says it sees its work as also offering "spiritual rejuvenation" to families in the midst of displacement and trauma.
"At the Friday welcome program, one member started singing Adventist children's songs, which instantly brought joy to the faces of kids who had been evacuated from their homes," stated an announcement from its conference. "Soon, the adults joined in, and the moment became a much-needed source of joy and comfort for all. We will continue providing moments of joy for as long as they are with us."
While Christians from all over have offered donations and prayers, it's locals who understand the scope and significance of the loss, concentrated around the place where Christianity first came to Maui.
"It's a historic town with a lot of cultural and historical significance for the Native Hawaiian people," Rocky Komatsu, pastor of Waiehu Community Church, told Baptist Press, who compared the devastation to a war zone. "A lot of people talk about it as a tourist town, but it really is very important to the Native Hawaiian community."
When Queen Keōpūolani—married to the ruler who united the Hawaiian islands, King Kamehameha—moved to Lahaina in 1823, she invited two American missionaries who brought the faith to the island. Americans William Richards and Charles Stewart taught Scripture to Keōpūolani and prayed with her, and she converted shortly before her death later that year.
After Honolulu, "Lahaina is home to the second-most complete complex of historic Hawaiian Christian sites in one place to be found in all of Hawaii," said Chris Cook, an expert on Hawaiian missionary history. "The loss of all but the Lahainaluna sites leaves a major gap in the statewide census of intact Hawaii missionary-era (1820–1863) structures."
Lahaina's historic Waiola Church just celebrated its 200th anniversary. The church dates back to a service that Richards and Stewart organized in May 1823. Buried in its graveyard are members of Hawaii's aliʻi, or royalty, including Queen Keōpūolani. Previously known as Waineʻe Church (Waineʻe means "moving water" in Hawaiian; Waioli means "water of life"), over the years, its building has been damaged or destroyed four other times by strong winds and fires, and the church hall was engulfed in flames in last week's blaze.
"Buildings can be replaced, even though our church has an awful lot of history," Anela Rosa, the church's lay minister, told USA Today. "Our strength lies in our people, who are just as important, if not more."
Last week's fires also reached Maui's oldest house, the Baldwin house, a former compound where American missionaries lived in the 1800s, including physician Dwight Baldwin. Baldwin had learned Hawaiian well enough to preach the gospel in the local language, and he was credited with quarantining and vaccinating Maui residents to help control a smallpox outbreak in 1853.
Lahaina's famous banyan tree also has a connection to the island's Christian history. The 60-foot tree was planted in 1873 by William Owen Smith, the then-sheriff of Maui and a child of American missionaries, in honor of the 50th anniversary of the arrival of Protestant missionaries on the island. Smith later helped overthrow the Hawaiian kingdom's last monarch, Queen Liliʻuokalani.
The Lahaina fire spared the town's high school, which was originally a seminary that housed Hawaii's first printing press. According to Cook, the school was the place where Native Hawaiians wrote and published their first history of the islands in 1837.
Ministries from the mainland have begun to come alongside the island's local churches. Citizen Church ABQ in Albuquerque announced last week that its sister church in Maui would host disaster relief groups Convoy of Hope and Mercy Chefs.
Samaritan's Purse said that it had already sent over chaplains and that in the coming days, it would fly over supplies and coordinate volunteer teams to help people search for valuables and mementos. World Vision is not shipping supplies but rather distributing funds through Pukalani Community Church of the Nazarene in the Upcountry area. This region of the island, about 30 miles east of Lahaina, has struggled with its own wildfire situation in the past week.
Churches damaged by the fire are still working to minister to each other in the ashes. Kaanapali Beach Ministry pastor Richard Murray and his wife Betsy lost their home in the fire. The church website also mentioned that they had lost all their livestreaming equipment, and in a request for donations, it noted that "the Post Office in Lahaina (where our PO Box is located) has also burned down to the ground, so we are using a temporary address for now to receive donations / tithes."
A Hawaii News Report (HNR) Instagram reel captured Christians praising God through song and dance at Word of Life Kahului. Around a quarter of the congregation is from Lahaina and the surrounding areas; senior pastor Charli Abihai's Instagram stories shared numerous GoFundMe links for families affected by the fire.
"My mindset is to continue to push and press forward to what is ahead. The positive. I'm not going to dwell on what's happening now and what I see," one unnamed attendee told HNR. "I'm not in denial of what I see. But I know what is ahead of us is life and life more abundantly."