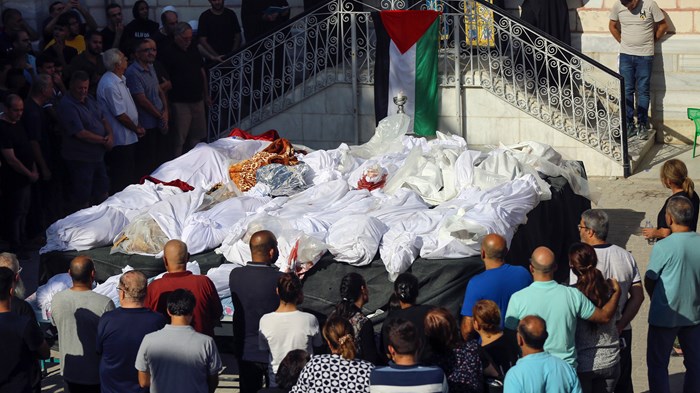 Image: Abed Khaled / AP Images
Update (Nov. 22): The Gazan Christian family profiled below has successfully left Saint Porphyrius Church and fled to Egypt.
Trapped in Gaza, Janet Maher has not had a shower for two weeks. She feeds her three children one meal a day, often no more than bread and cheese.
Her cousin perished from damage caused by an Israeli missile, shielding his seven- and five-year-old boys from the collapsing wall at St. Porphyrius Orthodox Church. The two families had been sheltering together, and the younger boy was friends with her son in kindergarten.
But amid the horrors of life under siege, perhaps the worst is this: Janet's husband is trapped in Egypt.
"I feel like Moses' mother and sister after they put him in the bulrushes," said Hanna Maher, former pastor of Gaza Baptist Church. "All I can do is watch from afar."
Born in Sohag in Upper Egypt, Maher pastored the evangelical congregation from 2012–2020. Single upon arrival, he married Janet, daughter of an Orthodox father and Baptist mother, during his first year of service in Gaza. Though he was called to "the hard places," ministry was taxing—as was navigating the permissions for complicated entry and exit procedures under Israeli occupation.
Since 2007, Israel and Egypt have imposed a blockade on the 140-square-mile coastal strip.
Every family vacation to Egypt began with the feeling that he should never return to Gaza. But until 2020, each trip ended with Maher's renewed sense of commitment to mission. That year, he accepted the pastorate at the Presbyterian church in Beni Suef, 90 miles south of Cairo, and Janet—who had always desired to stay close to her extended family—felt at peace.
Maher did not. Three years later, with Janet's blessing to renew his calling, he resigned from his position, and last May the family returned to Gaza. Since he is no longer a funded missionary, he used the extended vision trip to explore service opportunities apart from the pulpit. Contemplating an educational or small business development center, on September 28 he returned alone to Egypt to seek denominational partnerships.
Less than two weeks later the war began, with no one allowed in or out.
"I can't concentrate, I have no energy, and I couldn't sleep after the attack on the church," said Maher. "I just watch the news and pray for my family."
Much of his day is devoted to trying to call them. From morning until night he rings Janet's cell phone, but with communication networks damaged in the bombing, it takes hours to get a connection. At best, they have a five-minute conversation—but are usually cut off after about 60 seconds.
Once, his son forced a reluctant chuckle: It's fantastic, daddy, there is no school.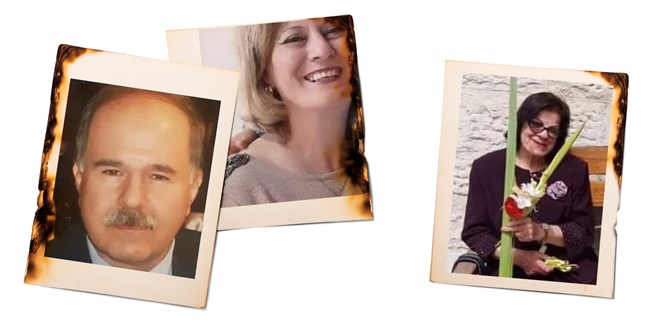 Image: Illustration by CT / Source Images: Courtesy of Hanna Maher
Maher's smile passed quickly amid the morbid statistics. Over 8,000 people have been reportedly killed in Gaza, including at least 3,324 children, with another 6,000 children injured. The ministry of public works reported that 43 percent of all housing units have been destroyed or damaged, with more than 1.4 million out of a population of 2.2 million displaced from their homes.
And prior to Israel restoring flow to the second of three main water pipelines, water for drinking, cooking, and washing was estimated at 3 liters per day per person, far below the World Heath Organization recommendation of 100 liters.
Maher's Tel al-Hawa neighborhood in Gaza City came under extensive Israeli bombing. Living near the al-Quds Hospital—accused of being a Hamas hideout—where about 10,000 displaced Gazans have taken refuge, Janet was unable to find food on the local grocery shelves.
Israel has accused Hamas of hoarding essential water, food, and fuel.
Janet left to take refuge at the Greek Orthodox church five days after the war began, when a Muslim friend was killed by an Israeli strike on their neighboring building. At first, she and the children had the entire funeral hall to themselves. Now, between 400–500 people sleep side-by-side on mattresses throughout the complex as they share three bathrooms total.
The St. Porphyrius chapel, built in the 12th century and dating back to 425 A.D., was named after the local bishop who evangelized the area. The Middle East Council of Churches estimated that about 380 Christians are taking shelter. Muslims make up the remainder, spread throughout the compound's seven buildings.
After the October 19 bombing, which the IDF said targeted a Hamas command center nearby, two Muslims were reported among the deceased, alongside 18 Christians.
In addition to Janet's cousin, these included one of her close friends, the sister of an elder in the Baptist church, the Baptist librarian, his wife and granddaughter, and three children who regularly attended the Baptist Sunday school.
Before the bombing, Janet had been reading the Bible and praying with many.
"She was encouraging others in the shelter," Maher said. "Now she needs someone to encourage her."
Victims were also related to evangelicals in the West Bank and Jordan. Another former pastor of Gaza Baptist Church, Hanna Massad, lost his aunt, while Munir Kakish, president of the Council of Local Evangelical Churches in the Holy Land, lost his foster child's wife and two children. And in Michigan, Justin Amash, a former Tea Party Republican and the first Palestinian American elected to Congress, lost several relatives from his extended Christian family, including two young women.
But in Gaza, finding encouragement for Janet may prove difficult.
The local Christian population was about 7,000 when Hamas took over the enclave in 2007. The number dwindled to about 3,000 by the time Maher became pastor. But he said the now-less-than-1,000 Christians rarely attend church, and the same 100 people frequent all three Gaza churches—often seeking aid.
He prays this war may cause them to call out to God, but life under siege has not yet prompted revival. On the contrary, they are convinced that God has forsaken them, seeing the fulfillment of Zephaniah 2:4—Gaza will be abandoned—in their generation.
"For eight years as pastor I told them it was not so," Maher said. "But putting myself in their shoes now, it is difficult to ask them to trust God."
But Janet and the others have little choice. The family remains at the Orthodox church, despite her husband's frantic urging for a safer location after the bombing.
"Where can we go?" she asked me.
"To the Catholic church?"—It is full.
"Back to our apartment?"—There is no food.
"To the south?"—Maher already knew that would not work.
He has been in contact with one believer who responded to Israel's warning for full-scale civilian evacuation from Gaza City and the north. Over 800,000 have now fled their region.
But he found no shelter, and less food than where he had come from.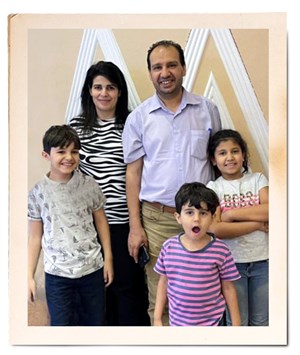 Image: Courtesy of Hanna Maher
The bombing campaign only intensified in the south, however, as the Gaza health ministry reported that two-thirds of all strikes in the second week of the campaign targeted the less urban region. Hitchhiking home, the believer's story added to similar anecdotes of other Gazans wondering, Where can you put so many people?
Many analysts—especially in Egypt—are concerned they may be forced out elsewhere.
After the 1967 war, some Israeli leaders proposed transferring Gaza Palestinians to the Sinai peninsula. Israel's intelligence ministry acknowledged the same in a current "concept paper," while former prime minister Naftali Bennett proposed Egypt, Turkey, and Scotland might "temporarily" receive Gaza's refugees. And the White House funding request for Israel includes humanitarian provisions to "address potential needs of Gazans fleeing to neighboring countries."
Dozens of injured have now been evacuated through the Rafah border, alongside hundreds of foreign passport holders. Maher has been desperately reaching out to church officials in Egypt and to his embassy in the West Bank, to add his family to the list.
His children hold Egyptian citizenship, but Janet does not.
"I feel like my mind is going to explode," he said. "They have no fuel to reach the border, and the only other option is to stay amidst the fighting."
Most of Gaza's Christians live in the old city of the enclave's capital. The Anglican al-Ahli hospital where the Baptist church is located is only a five-minute walk from the Orthodox compound. Reportedly, the majority are staying put despite the evacuation warning, though with many in church shelters. And last week, nine babies were baptized in "fear that something bad might happen" again.
"What else can we do?" asked Kamel Ayyad, media officer for St. Porphyrius church. "We want the living church to continue the witness in Gaza."
Maher reaches out across denominations, for one-minute conversations.
"They thought they would be safe," he said. "But now they all tell me: We have no hope, we will die, they are exterminating us."
Like many fellow Gaza Palestinians, local Christians have no particular love for Hamas. According to a July survey, 70 percent of the population favored Palestinian Authority (PA) rule, with 62 percent favoring continuation of the ceasefire. Half said Hamas should stop calling for Israel's destruction and accept a two-state solution. Nearly three-quarters called Hamas "corrupt."
Yet Palestinians also find few alternatives to overcome the siege. About three-quarters indicated support for Hamas's rival Islamic Jihad, while another poll found that 79 percent of Gazans favor armed resistance against Israeli occupation of Palestinian territory.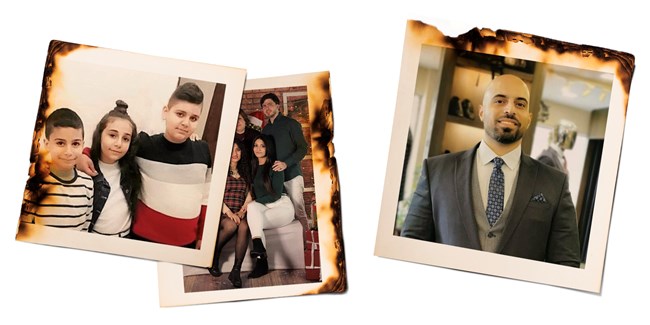 Image: Illustration by CT / Source Images: Courtesy of Hanna Maher
In a 2020 poll of Christians in the West Bank and Gaza, only 66 percent expressed trust in the PA, while 69 percent were worried about armed factions similar to Hamas. A majority (61%) favored a one-state solution.
Hamas's Ismail Haniyeh, however, stated its actions represent the whole of Gazan society. Israeli president Isaac Herzog agreed, saying Gazans bear collective responsibility.
Maher, meanwhile, is tired of the political rhetoric. He was astounded to hear an American pastor friend on Facebook declare that "all Gazans are terrorists." No mere acquaintance, Maher had earlier helped this pastor develop a program for outreach to the Arabs in his community. After several exchanges, the pastor now says he is praying for the innocent on both sides.
It is progress, Maher said.
But in general, he is angry—at Hamas, at Israel, and at the Western perspective on this war. As the world debates the legitimacy of Israel's bombing campaign to root out the terrorism embedded in one of the world's most densely populated urban enclosures, his wife and children represent the flesh-and-blood collateral damage many overlook in their political positions.
As they represent also the body of Christ.
Mindful of his audience, Maher chooses his words carefully. But he has a message that goes beyond his prayer request for safety and peace—that includes mourning his relatives and former flock.
"Be human," he said. "Remember the children killed in this war, and have empathy."