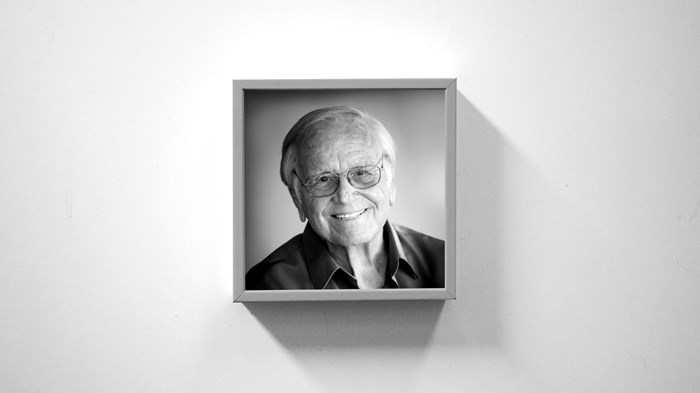 Image: Courtesy of Youth With a Mission / edits by Rick Szuecs
Loren Cunningham, the charismatic visionary who launched Youth With a Mission (YWAM) and mobilized millions of young people for short-term trips, died on Friday morning. He was 88.
When he was only 20, Cunningham was praying and saw an image of a map, but the map was moving. Waves were crashing on the shores of every continent, receding, and then crashing again. The picture appeared to him like "a mental movie," he would later say, and as he looked closer, the waves were young people, "kids my age and even younger," fulfilling the Great Commission to "go into all the world and preach the gospel to all creation" (Mark 16:15).
The vision became the core idea for YWAM. The organization has called it "a God-initiated, destiny-defining, foundational covenant from God to birth a new missions movement."
According to Cunningham, it took him a few years to understand what he'd seen. But it ultimately empowered him to "deregulate" missions, sending more people, more quickly, to more places where they could "proclaim the truth of God and display His love."
YWAM (pronounced WHY-wham) currently operates in more than 2,000 locations in nearly 200 nations. The organization stopped counting how many young people it sent on short-term missions in 2010, when the total number was around 4.5 million.
"What I like about the spirit of YWAM is being willing to charge hell with a squirt gun," Steve Douglass told CT a few years before he died, when he was president of Campus Crusade for Christ International (now Cru).
Kris Vallotton, a senior leader at the prominent charismatic Bethel Church in Redding, California, said on Friday that YWAM is "probably the greatest missionary organization in the history of the world." He called Cunningham "one of the greatest heroes of faith in modern history."
Evangelist Franklin Graham offered a similar assessment.
"What an incredible life this man lived," the president of Samaritan's Purse wrote on social media. "Loren allowed God to use him, and he was a force for the Gospel for decades."
Cunningham was born on June 30, 1935, in Taft, California, but in his first memories, he was in a tent somewhere in Arizona. He, his parents, and his older sister were making adobe bricks by hand to build a small Pentecostal church.
Hearing from God
Tom and Jewell Cunningham were both ordained Assemblies of God ministers and both second-generation Pentecostal evangelists. Jewell learned to preach as a child traveling from brush arbor to brush arbor in Oklahoma, Texas, and Arkansas. When the couple first got married, they lived in their car while preaching on the streets of Tyler, Texas.
The couple taught their three children to sacrifice personal comfort for the sake of the gospel and to listen to God personally. In his later years, Loren Cunningham remembered learning that the leading of the Spirit could be a matter of life or death. Once, his father was preaching on the street in a Southern California town when his mother suddenly said, "We have to go now. God said we have to go now!"
As the family drove away, an earthquake shook the town and a pile of bricks fell on the sidewalk where they had been standing.
"If God has something important to tell you," Jewell Cunningham said, "he will speak to you directly."
The young Cunningham first heard God when he was six and later recalled it was a regular, sometimes daily experience by the time he was nine. When he was 13, he received a call to ministry while praying in a brush arbor in Arkansas with several cousins. They prayed for several hours on a Monday night, and Cunningham felt like he'd been touched by God.
"God just broke through and made the call very clear to me," he later said. "I had no doubt in my mind I was called to preach."
To celebrate, his mother took him to town and bought him new shoes, quoting Romans 10:15: "How beautiful are the feet of them that preach the gospel" (KJV). Cunningham preached his first sermon at his uncle's church that Thursday.
He had his first experience with mission work when he was 18, traveling to Mexico over Easter with a group of young men to witness door to door and preach on the street in the predominantly Catholic country. Cunningham ended the trip in the hospital with dysentery, but considered it a success because 20 people had kneeled in the street to profess that Jesus Christ is Lord.
The next year, Cunningham attended Central Bible College, an Assemblies of God school in Springfield, Missouri. He and three other students formed a gospel quartet called The Liberators, and traveled the country singing and preaching. During a trip to the Caribbean in 1956, he had his vision of waves of young people a few days before his 21st birthday.
"God speaks in your language," he would jokingly tell televangelist Pat Robertson in 2022, "and I was a surfer as a teenager in California and I saw these waves."
Cunningham initially thought that maybe the vision meant he should be involved in teaching or teacher training. He graduated from Central in 1957 with degrees in Bible and Christian education and went to the University of Southern California for a master's in education.
The failure of Bible schools
As Cunningham worked on a thesis about Bible schools, however, he became disillusioned. He looked at 72 institutions around the world and found that few, if any, were having a significant impact on world evangelization. The majority of graduates were not even going into ministry—much less becoming the kind of missionaries who could carry the gospel to the ends of the earth.
At the same time, Cunningham started doing youth ministry with the Assemblies of God in Southern California, where his father was now an assistant superintendent with a focus on church planting and missions. But Cunningham became disillusioned with that too.
"The young people were all so bright and eager," he told Charisma magazine in 1985. "But I had to admit that most of the activities I planned for them were empty. They missed the heart of the young people because they had no challenge. That's what we all long for, especially in our teens and early 20s. The big challenge."
Cunningham found he was good at firing up young people and convincing them to do bold things for the gospel, but then there was nothing for them to do. The Assemblies of God said if they wanted to be missionaries, they needed to go to school and get about seven years of education and training.
"By which time," Cunningham complained, "most would have forgotten their fiery zeal."
He started experimenting with short-term missions, taking about 100 young Pentecostals to Hawaii over spring break in 1960. There were challenges—many of the young people treated the trip like spring break—but Cunningham became convinced this was the new model for global evangelism. Young people would get fired up and go on short trips, paying their own way or raising their own funds, and telling everyone in the world about Jesus.
That summer, Cunningham took a trip to scout sites where young missionaries might go. He went to Japan, Hong Kong, Thailand, Cambodia, India, Pakistan, Egypt, Lebanon, Jordan, Israel, Turkey, Greece, Scandinavia, and Great Britain. He started making big plans for 1961.
The leadership of the Assemblies of God, however, thought his plans were too big. The denomination offered to put him on salary to launch a youth missions program, but they wanted to start more modestly.
As Cunningham later recalled the conversation, he was told, "You can continue with your vision, Loren, but you'll be taking out a more manageable number—say 10 or 20 young people a year."
He protested that his vision was "much, much bigger than 20 people a year and very much larger than any one denomination." Remembering what his parents taught him about hearing from God personally, Cunningham decided to leave the Assemblies of God and go out on his own. YWAM was officially incorporated in the state of California in February 1961.
In the first few years, however, YWAM did not manage to get 20 young people per year to go on short-term missions—or even 10.
Darlene Cunningham implements the vision
When Cunningham met a young woman named Darlene Scratch in 1962, the struggling missionary organization was sending out about five annually. But Scratch, who had herself dreamed of cross-cultural ministry after her uncle was imprisoned for missionary work in Communist China, saw some ways to implement the YWAM vision practically. Cunningham married her the following year and declared her, ever after, the co-founder.
"There never would have been anything lasting without Darlene," he said.
In 1964, she arranged a "Summer of Service" in the Bahamas and the Dominican Republic. Nearly 150 young American Christians signed up. When they returned to the US in time for school in the fall, they reported thousands of conversions and some miraculous healings.
YWAM then organized trips to Mexico, Puerto Rico, and the Virgin Islands. And then, in 1966, they had 90 people on 17 teams in the Caribbean and another 25 in five large postal trucks driving through Mexico, Guatemala, Nicaragua, and Honduras. All of the missionaries were young, raised their own funds, and didn't let training requirements dampen their zeal.
There were, of course, numerous challenges and many basic mistakes in those early years. More than one vehicle got stuck in the mud on an impassable road. One early flyer misspelled Christ, inviting young people to spend their summer representing "Chist." The YWAMers learned to trust God, pray, and figure it out.
And reports of the challenges actually drew more young people.
"You're going to sleep on the floors, eat food that's different, suffer hot and sticky climates, and be surrounded by mosquitoes," Cunningham told them. "You're going to come up emotionally drained and spiritually attacked. But it's part of growing us up in the Lord."
A laboratory for evangelism
By 1968, YWAM had 30 full-time staff and 1,200 short-term missionaries. The organization decided a little training would be helpful and launched a school in a hotel in Switzerland. The first teachers included Cunningham's parents, evangelical apologist Francis Schaeffer, mechanical engineer and lay theologian Harry Conn, and the Scottish evangelist Duncan Campbell.
"It is not a Bible school," Cunningham explained, "but a laboratory for evangelism."
YWAM launched more schools, ultimately operating University of the Nations in more than 600 locations. One leader said they were the "wave machine" producing the waves of young people that Cunningham had seen in his vision. The schools offer evangelism training but also degrees in sports and fitness, science and technology, education, communication, and art.
Cunningham said he had a revelation about seven classrooms, each corresponding to the seven spheres of society that Christians needed to impact to bring about change.
He went to tell his friend, Cru founder Bill Bright, about this revelation in 1975. But before he could say anything, Bright announced he'd had a revelation and produced a basically identical list of seven spheres. A few weeks later, Cunningham heard Schaeffer make a very similar argument about taking dominion for Christ over these seven different areas: family, religion, education, media, art, economics, and government.
The idea was later popularized by Bethel pastor Bill Johnson and others as the "Seven Mountain Mandate." It became the theological basis for many American charismatics to embrace Donald Trump.
Cunningham, however, did not get involved in politics. He saw the seven spheres as a framework for evangelism and "Great Commission strategies."
By the time Cunningham turned 50 in 1985, YWAM was sending out more than 15,000 young people on short-term trips every year. The ministry operated in 1,100 locations in 170 nations. And yet the visionary leader was convinced, as he wrote in his first book, that those young people were "only a fraction of a fraction of what was needed" and that "the laborers were still few, very few."
He continued to focus on growing, expanding, and innovating.
Accusations of spiritual abuse
YWAM has faced criticism for the way it treated the "waves" of young people. In the 1980s, veteran staff member Gregory Robertson said the ministry was abusive and manipulative. People who disagreed with leadership were told they were rebelling against God or even demon possessed, he claimed.
More recently, former YWAMers have posted videos on social media claiming they were spiritually abused.
"These things happen at every single base," one woman said. "Their ability to 'hear God's voice' always trumps your own connection to the Holy Spirit."
YWAM did not formally respond to the accusations, but a leader in the UK said some young leaders probably did act inappropriately.
"That's going to happen when we're committed to the call of mobilizing young people into all the world," the leader said at the time. "They're going to make some of the mistakes that I made when I was 18 and 19 and 20 years old."
He also noted that abuse happens in many contexts, and argued YWAM's track record was better than most.
The ministry's decentralized model leaves oversight in local hands. Complaints did not go to Cunningham, as he didn't manage training or on-the-ground operations, but focused on the big picture. His job, as he saw it, was to open the floodgates of potential missionaries.
In 1999, Cunningham traveled to Libya and became the first missionary to go to every nation in the world, as well as 150 islands and territories.
When COVID-19 and then cancer restricted his travel in the last few years of his life, Cunningham started using Zoom to speak with people on every continent. He spoke often of the need for more Bible translations in more languages, and urged people to "live 'full on' for Jesus."
"It's been a great life," he said. "I'd say to anyone … have a purpose. Have a call. Make sure that you are doing it for God and His purposes. He is love and you must show His love."
Cunningham is survived by his wife Darlene and their children Karen and David. A memorial service is planned in Hawaii on November 4.