Remembering Kara Tippetts and Her 'Mundane Faithfulness'
Christian mom and blogger saw God in her suffering.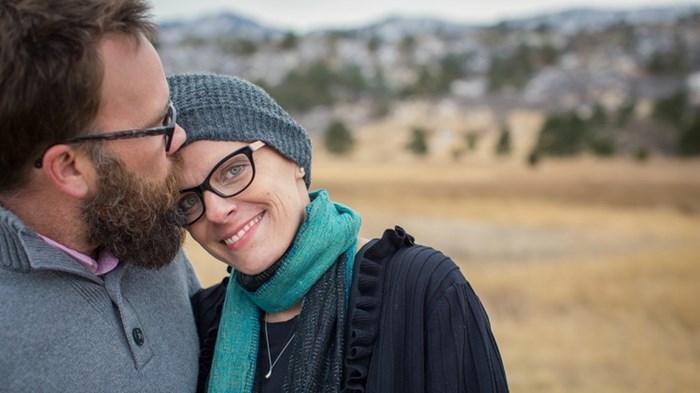 Image: Jen Lints Photography
"The worst possible thing you can do when you're down in the dumps, tweaking, vaporous with victimized self-righteousness, or bored, is to take a walk with dying friends. They will ruin everything for you."
So begins Anne Lamott's latest offering, Small Victories: Spotting Improbable Moments of Grace. "They bust you by being grateful for the day, while you are obsessed with how thin your lashes have become and how wide your bottom."
Especially over the past several months, Kara Tippetts ruined my pity party and busted my ingratitude, modeling an eternal-minded dependence on Christ like I have never seen. I am one of thousands of readers who took a virtual walk with Tippetts through her blog and book, The Hardest Peace, as she battled the inexorable progress of breast cancer.
Tippetts, 38, entered hospice care as 2014 drew to a close, and passed away Sunday, March 22. She is grieved by her pastor husband Jason, their four young children (Ella, Harper Joy, Lake, and Story Jane), as well as the many readers who were touched by the grace wound into both her living and dying.
Tippetts mustered a vulnerability and beauty in the deep, kind love she lavished on friends and family through her last days, a capacity deepened rather than dampened by cancer's unwelcome intrusion into her life. "Loving big in new corners always grows a spirit in strength," wrote Tippetts, first diagnosed with cancer two and a half years ago, ...
1