Women's Discipleship In-Depth
Our Amplify Women series.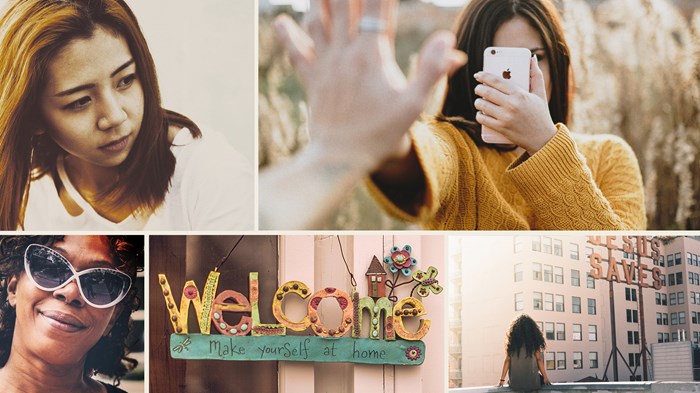 This last spring, we launched a series called #AmplifyWomen that explores the state of women's discipleship in evangelical America. As evidenced by various Twitter discussions, the conversation continues to spread and split into what scientists call a dendritic—a series of branching pathways that resemble a tree or a nervous system. In this case, we have a series of interconnected (and very complicated) questions related to women's ministry, social media, platform, race and ethnicity, orthodoxy and orthopraxy, and ecclesial authority and accountability.
Rather than contain the conversation in one piece, we offer a multiplicity of voices on various topics that all intersect at the nexus point of women's discipleship and the church. Each piece seeks to illuminate the topic from a unique perspective and also interacts with ideas posited by previous pieces (even in the form of hearty disagreement). We hope the series continues to challenge, encourage, and inspire women to, in Tish Harrison Warren's words, "build and shape institutions larger than ourselves" in light of the gospel.

We invite you to weigh in with your suggestions and feedback using the #AmplifyWomen hashtag. Find us on Twitter @CT_women or on our Facebook page.
The Great Female Commission by Andrea Palpant Dilley
As a former Marine Corps officer and seminary grad, mentorship expert Natasha Sistrunk Robinson has dedicated her career to the command in Hebrews 5 that all believers should be teachers of God's Word. In this interview, she invites all women into the work of discipleship. "If a woman is single, if a woman is barren, if she's a professional woman, a widow, or a divorcee, all these women for various reasons often feel marginalized in the local church context and feel as if there's no place for them," says Robinson. "So when you mentor them in a small group setting, you're saying to them, we see you, we've created a space for you."
How Discipleship Is Transforming Nairobi, One Woman at a Time by Levina Musumba Mulandi
Levina Musumba Mulandi has spent her life dedicated to discipling women in Nairobi, Kenya, who face challenges both unique and universal. Although we often think of discipleship in individual terms, Mulandi invites us to think about it as a force for community transformation. "Titus 2:3–5 tells us that the older women are called to participate in the transformation of younger women. ... This model has the power to transform not just individuals but also our communities and cities on this side of eternity," writes Mulandi.
How to Liberate Ourselves from the Perils of Platform by Sharon Hodde Miller
For writers, bloggers, and speakers, the pitfalls of self-promotion are offset by a robust vision of women's gifts in the church. "The gravitational pull of platform is self-ward: Whether it's brazen self-promotion or the narcissistic paralysis of self-analysis, the end result is roughly the same," writes Sharon Hodde Miller, whose doctoral research involved interviewing women in evangelical seminaries. "Unless we actively resist this pull by submitting our platforms to the first and second greatest commands—love God and love others—we will slide back toward self-orientation."
How to Love Your Ideological Enemy by Karen Swallow Prior
If hospitality is a model for discipleship, then we need both open doors and clear boundaries, says Karen Swallow Prior. "As I survey the lines demarcating Christian belief," writes Prior, "I wonder if some of those who have drifted over to heterodoxy—both men and women—might have stayed with us if the contemporary church were better at a particularly powerful form of discipleship: hospitable orthodoxy."
Middle-Aged Women Face a Crisis of Discipleship by Michelle Van Loon
Middle-aged and retired women often feel marginalized as disciples hungry for mature teaching and also as disciplers who have rich wisdom to offer others. Are churches missing out? In this essay, Michelle Van Loon turns our attention to this gap in discipleship. "Our experience and wisdom are incredible resources that can help others grow to maturity and become fruitful in every season," writes Van Loon. "In our own lives, we need to be challenged toward generative maturity, and it is up to us to call for and cultivate models of lifelong discipleship in our congregations and small groups."
Six Ways Men Can Support Women's Discipleship by Trillia Newbell
Male clergy and laity who want to enable women's ministry often don't know how to get involved or what to do. Stepping into the gap, Trillia Newbell invites men to consider six different avenues of support for their sisters in Christ. "When men don't engage in ministry to and for women, women tend to function as a parachurch ministry within the confines of a local church," writes Newbell. "And if they don't find discipleship in their own churches, they go elsewhere."
Who's in Charge of the Christian Blogosphere? by Tish Harrison Warren
The age of the Internet has birthed a crisis of authority, especially for women, and with that crisis come questions of ecclesial and community accountability. "I am grateful for how our technological revolution provides women with greater capacity to use our gifts to connect, to publish, to teach, and to lead," writes Warren. However "part of our responsibility as Christian leaders is to take on the burden, the joy, and the accountability of being deeply rooted in the church—not only privately and personally, but publicly and institutionally."
Why White-Centered Discipleship Hurts Us All by Helen Lee
Arguably one of the greatest challenges facing the evangelical church in America today is the need to address racial inequity. This need is particularly poignant in the realm of women's discipleship. "A growing number of women—particularly those of color—see barriers and imbalances in our discipleship, especially regarding issues of race, culture, and reconciliation," writes Lee. Here, she invites church clergy and lay leaders to "set aside what is familiar and comfortable, lay down power and privilege, and allow other voices from the cultural margins to chart the way forward."