Jerusalem + Judea + Samaria
Canal Not Only Problem in Egypt Today
Christians in Egypt are concerned about the rights of ships to travel through a canal, but they are more concerned about the systematic program of anti-Christian legislation.
Reports from Egypt are as follows:
All foreign mission schools must comply with a government order requiring them to teach the Islamic religion to their Moslem students, along with Judaism to Jewish students and Christianity to Christians.
Meetings of worship are banned, unless they are held in government-licensed churches.
All Sunday sermons in Protestant churches must be approved before they are delivered.
Egyptian consulates abroad must obtain approval from the Ministry of Education before granting entry visas for foreign teachers, Among those affected will be hundreds of teachers in British, French, Italian and American mission schools who returned home for summer vacations.
The government announced that if an Islamic state can be so broadminded as to provide instruction in the Christian religion for Christian students in its schools, then any objection on the part of foreign mission schools to do the same for Moslem students can only be viewed as fanaticism and will not be tolerated.
A bombardment of protest followed, but the government stood firm.
Roman Catholic schools agreed to comply with the law, provided that textbooks, instructors and all expenses of the religious courses be paid for by the government.
Two Church of Scotland schools, which refused with an unequivocal "no compliance," were confiscated and Egyptian principals were appointed.
The American Mission in Egypt, a United Presbyterian group, weighed the pros and cons in an effort to find a solution. Soul-searching questions were asked as to whether it might be the will of God that the mission get out of the school business and pour its resources into strengthening of the church's evangelistic witness.
Glenn Reed, secretary of the United Presbyterian board, said:
"I am not primarily interested in the reaction of Christian people to what we may, or may not, do in the situation that confronts us. If we wrap our skirts about us and walk out of our difficulties in self-righteousness, we shall receive the plaudits of many Christian people … A decision to withdraw will not, I believe, impress Muslim people with the superiority of our religion over their own, nor will it increase the possibility of their encountering Christ in their life experience. God grant that our decision may be true to our missionary calling, which is of God."
Finally, amid tears, a decision was reached, but it was by no means unanimous. The United board agreed to observe the new law, but went on record as being firmly opposed.
This was not the first time a mission board had been confronted with an agonizing decision. In 1937 missions in Korea were faced by the Japanese government with the alternative of students bowing at the Shinto shrines or closing their schools. The Presbyterian U.S. mission and board closed their schools rather than make what they considered a dangerous compromise. Later developments made them feel their action a wise one and a great aid to the national church of Korea in making a clear-cut decision against idolatry.
Widespread alarm was voiced in Egypt during the summer because of the government's order that worship must cease in all churches unable to produce a license. It is almost impossible to obtain one.
Some Christians obtained permits for a "hall" or residence, with a meeting room attached.
Police were posted outside the doors of unlicensed churches to prevent the assembly of Christians when the latest order went into effect. Instances were reported of worshippers brushing them aside as they said, "Kill us if you like, only kill us inside the church."
Appeals brought results. A new law recognized unhindered worship in all church -owned properties.
A Protestant youth publication, in the midst of all the activity, declared, "It now seems necessary to have government permission in order to commune with God."
The government has promised that further demands will not be forthcoming.
But Christians feel they have good cause to wonder!
Jordan's Role
Significant events have taken place in Jordan during recent months. They place the country solidly behind Egypt in her struggle with the West.
Beginning in December, 1955, countrywide riots broke out against Jordan joining the anti-Communist Baghdad Pact. Christians suffered in the rioting. The Mennonites in Jericho saw relief materials worth perhaps $65,000 put to flames by the attackers. Baraka Sanitorium of the Independent Board of Presbyterians (American) was attacked. A doctor's house was entered by force. The American consulate in Jerusalem also was a target of violence.
The rioting began again a few weeks later. The Southern Baptist Hospital at Ajloun suffered an estimated $25,000 damage. Angry, shouting, hate-filled men tore the flag from the American consulate.
In March, King Hussein of Jordan announced the termination of service for General John Bagot Glubb, head of the Arab Legion, and other high English officers. Glubb Pasha, as he was called, served 25 years with the Legion and saw it become what has been described as the best Arab army in the world. One of the biggest causes of dissatisfaction, observers said, was that General Glubb restrained the Arab Legion from retaliating against the Jews.
Because of the Suez crisis, Great Britain in recent weeks has evacuated nonessential subjects, including a number of missionaries.
The tension continues to increase, as Jordan lives up to her role in the struggle against the West.
Thorn In Flesh
The Suez Canal has taken headlines away from Israel-Arab border incidents, but Israel continues a factor in international politics far out of proportion to her size.
Israel's Arab neighbors fear her economic potential. This fear exists for two reasons: religious and political.
Under the Arab religion, Islam, women have few rights. Religious leaders are deeply involved in politics and most political leaders are heavily committed to the Koran and its teachings. In most cases, education is only for the boys and Islam is the predominant subject. The Koran teaches that man's fate is under the absolute control of Allah. A Moslem interprets this in such a way that he sees no value in attempting to better his position. If he is poor, then it is the will of Allah.
Moslems fear that an Israel-promoted economic progress will eat away at the foundations of their religious system. Women will get modern ideas. They will demand equal status with men, remove their veils and insist on a voice in government. Because of this fear, Moslem religious leaders already have declared a "Jinhad"-holy war-against Israel. Such a declaration is virtually a law in Islam.
Secondly, most of the Arab states are controlled by one-man or one-family regimes.
The feudalistic economy is for the benefit of the land owners and to the detriment of the people who work the land for small handfuls of grain. This feudalism will collapse with the trade of machines and ideas.
In spite of the wide publicity given to the Suez crisis, the main problem of Arabs remains the same-how to get rid of Israel. In all probability, the Suez Canal will continue to operate, Egypt will maintain control and faces will be saved.
But Israel will remain the thorn in the flesh of Araby! — D.C.O.
Sign of Sodom
Shades of human nature.
The first of 300 markers erected by the Israeli government for biblical and historical sights was one pointing out Sodom, city of infamy on the shore of the Dead Sea.
Another was placed in a valley along the Jerusalem-Beersheba highway, marking the site where David slew Goliath.
Digest…
A new biblical scroll discovery, about one mile from the caves where the famed Dead Sea scrolls were found in 1947, reportedly contains the five books of the Pentateuch—Genesis, Exodus, Leviticus, Numbers and Deuteronomy .... Native Christians in Turkey number less than two per cent of the total population.
"Our goal is to present men mature in Jesus Christ." Words were spoken by the Rev. John Markarian, conference leader of the Inter-Varsity Christian Fellowship, at first graduation service this year of budding Haigazian College in Beirut, boom city of the Near East.
Africa + Asia + Australasia
Lo, How They Hate
Soldiers of Christ in North Africa, described by some observers as "few and feeble," face many difficulties, including strong nationalist ties and conflicting religions.
The greatest problem, however, seems to be divisions among Christians.
There are organizational divisions and divisions between liberals and evangelicals, but the most serious is spiritual division.
In Algiers recently a church was split over the question of leadership. People in the apartment windows up and down the street witnessed many bitter arguments. They looked on as the two factions tried to lock each other out of the building. A leader of one group had a heart attack during a heated dispute and died.
Said the community godless:
"Lo, how these Christians hate one another."
Both factions are considered conservative and evangelical!
Yet, in the midst of darkness and difficulty, God has planted His light. Some of the light is in the Koran itself. Followers deny the deity of Jesus, but believe that only He among the prophets can give sight to the blind, heal the lepers and raise the dead. A Moslem tribe in Nigeria has granted entrance to the "Jesus people," because of the hope that they, like Jesus, will be able to heal the lepers.
Seventy-five years of organized mission work has done much to repel the darkness. A man from the heart of Tunisia recently appeared in Tunis to buy Bibles for a small Christian church where no missionary had been for years. A wealthy man in Morocco, who had given his heart to Jesus, brought up his nephew as a Christian. A young university track star in Fez found a discarded Christian tract entitled "The Gift of God." He was amazed at the things God wanted to give him and followed through to become an outstanding Christian.
Missionaries have been rejected almost everywhere, but they have left God's Word scattered all over North Africa as a testimony to the love that still shines forth from hospitals, dispensaries and craft schools.
Numbers are more encouraging among the French. Evangelical success in this field has been largely due to the efforts of a few Plymouth Brethren missionaries, some from England and some from France. The most outstanding evangelist, however, is a native of Oran.
Out of a population of 20 million, these few hundred French believers, about one hundred Spanish and a few score Arabs constitute the indigenous church in Morocco, Algeria, Tunisia and Libya.
An estimated 24 missionaries have gone to the North African field in the last three years. A new hospital is under way in Tripoli. A radio ministry in French has been started in Tangier. The staff of the old hospital in Tangier has been strengthened. Even among Moslems, this hospital is known and loved as "The House of God."
Christians feel the day may be neat when foreign missions will be forced to leave North Africa, but believe God will build an indigenous church beforehand that will not be dependent upon foreign direction.
Unprecedented Days
The growing willingness of church groups in the Philippines to cooperate in evangelism, regardless of other differences, was strongly evident as pastors assembled in history-making numbers at two centers this month.
Made possible by Dr. Bob Pierce and World Vision, Inc., the meetings were held at fabled Baguio, mile-high summer capital in the north, and the southern city of Cebu, second only to Manila in size and importance. The Philippine sponsoring agency was the newly-formed National Evangelistic Strategy Committee, headed by the Rev. Jose Yap, executive secretary of the Philippine Federation of Christian Churches.
Church leaders pointed to evangelism as the crucial need in the Philippines today, as evidenced by the fact that evangelism has made it possible to maintain a spirit of oneness in a situation which conventionally could be expected to erupt into discord.
Digest…
"Tremendously impressed" was the report of four American Episcopal clergymen on the unity achieved by the Church of South India in its nine years of life despite the problems of illiteracy, overpopulation, food shortages and an increasingly militant, nationalistic Hinduism.
Some portions of the Scriptures now exist in the tongues used by 98 per cent of India's population. The remaining two per cent constitute seven million people, approximately the population of Australia.
Britain and the Continent
A Burning Heart
Greek Orthodox Layman Charles Malik, who rose from formative years at Tripoli Boys' Mission School to later become Lebanon's able representative in the United Nations and now serves as president of Beirut's American University, spoke challenging words to missions at a meeting in Dhour el-Choueir.
He stated:
"Mission work has tended to withdraw from direct witness to Jesus Christ to mere good works void of a burning heart. Direct testimony is costly, but only in return to a simple gospel witness wherein Christ crucified and risen is clearly proclaimed will missions in the Near East realize God's will in their existence."
In reply to a question on what the evangelical has to offer his church, the Greek Orthodox, Malik replied:
"The evangelical has the power, truth and relevance of the living Word of Christ to offer the Orthodox. That Word is not lost in the Orthodox Church, but is veiled in the smoke of incense and submerged in ceremonial ritual. Perhaps in God's providence, it had to be hidden lest it be destroyed.
"The evangelical must ever point to the power of the Word, but never swing to the extreme of despising tradition and ceremony. Furthermore, the evangelical must give the Orthodox fellowship, remembering at the same time the Orthodox has definitely something to give to him." – C. I. K. S.
110-Year-Old Testimony
It started with a letter.
A Norwegian sailor, Ole P. Petersen, wrote to his fiance, Anne Marie Amundsen, in the town of Fredrikstad. He said he had knelt during a meeting on board a ship in New York harbor and found peace with God.
This was in the year 1846.
The letter was read in many homes and made a deep impression. Anne Marie wrote and asked Ole to come home soon. "Take us by the hand and lead us into the road you have found," she said.
Ole went home. And what he told was even more stirring than the words he wrote. The testimony was used in the conversion of six people on the day after his return. Results spread.
In 1850 Ole returned to the United States with his bride. Three years later he returned to Norway as the first minister for the Methodist Church. In his letter of presentation from Methodist Bishop Waugh, these words were written: "Thou shalt raise up a people for God."
On Sept. 11, 1856, the first Methodist congregation was founded in Norway at Sarpsborg—where the jubilee celebration was held this fall.
The Methodist Church in Norway today has 60 congregations, with a membership of 8,433 and a "Methodist population" of 25,000. The church has 82 missionaries on several fields in Africa and Asia.
It started with a testimony! – T. B.
Digest…
Poland's largest Lutheran Church, Holy Trinity in Warsaw, is being returned to the control of church authorities by the Polish Communist government … The government is now paying the salaries of the Orthodox clergy in Greece … Dr. Theodore F. Adams, president of the Baptist World Alliance who has completed a 32,000-mile tour of 15 countries, said he was impressed with the "vitality of Baptist life and work in all these countries even in the face of persecution and trouble."
Withdrawal of government subsidies from more than 600 Roman Catholic schools in France was attacked by Bishop Antoine Marie Cazaux as an action "depriving Christian parents of the exercise of their rights." Schools failed to meet teacher qualification requirements, according to government. …
Switzerland reports unusual results in two big evangelistic campaigns, one in Zurich and another in Geneva … An estimated 2,000 lay preachers are reported active in Norway. A revival swept Jaeren district, the "granary" of Norway, this summer when lay preacher and missionary to China preached Christ. Farther north, at Karmoy, "the island of the saints," observers told about a revival of many months, with a pilot and preacher serving as co-laborers.
Key quotes:
"It is only the certainty that Jesus is Lord that makes confidence possible in a world like this. It is this that puts steel into your nerves and iron in your blood." —Dr. Leslie Cooke, associate general secretary of the World Council of Churches.
"Your likeliest mission field is the office where you work, the factory or the shop, in places where they are more likely to listen to you than to me." —Rev. J. Frazer McLuskey, chairman of the BBC Youth Department.
North and South America
Chart for the New Age
The National Sunday School Convention received some straight talk from its president, Dr. Harold W. Erickson, at Moody Memorial Church, Chicago, on October 10. It went like this:
"The new age is characterized by a new menace, world communism; a new weapon, the atomic bomb; a new source of power, nuclear fission; and a new nationalism among nations. Unless the Word of God gets a new hold on the hearts of men, this new age with all its potentialities may end in a holocaust of indescribable destruction.
"Our civilization suffers from biblical illiteracy. The Bible must become the chart and compass of the new age.
"The Sunday School is the logical instrument for the sowing of the Word of God in the hearts of childhood, youth and manhood. We must use every legitimate means to put the Bible back into use as the supreme textbook of the Sunday School. Only biblical study can produce a biblical faith. America desperately needs a generation of men and women whose spiritual experience, philosophy of life and moral principles are firmly grounded in the Word of God."
Digest…
The American Civil Liberties Union objects to such questions in 1960 U.S. Census as "Do you believe in God?" and "Do you regularly attend church or synagogue?" … Conversions numbered 900 during eight days of Pan-American Congress of Evangelism held in Caracas. In follow-up work, 700 more made decisions … Theme for the 1956 Worldwide Bible Reading observance from Thanksgiving to Christmas will be "The Bible Speaks Today."
Church membership in United States reached record 100,162,529 in 1955— gain of 2,679,918 over previous year … Adlai Stevenson took time out from campaigning to attend Unitarian All Souls Church in Washington, D.C. … Evangelical and Reformed Church delegates unanimously approved proposed merger with Congregational Christian churches.
"New pattern of holiness" for ordinary Christian men and women urged by Dr. Franklin Clark Fry, president of United Lutheran Church in America … First Baptist Church of Dallas, Texas, adopts 1957 budget of $705,000, with more than half going to missions … United Church of Canada cites need of at least 1,000 more churches to keep pace with soaring population.
Bill authorizing commercial airlines to grant reduced fares to clergy on "space available" basis signed into law by President Eisenhower … Establishment of 1,000 new churches annually for next three years adopted as goal by Southern Baptist Home Missions Board … Dr. Arno Q. Weniger, California, elected president of Conservative Baptist Association.
New York Evening School of the Bible established in Manhattan under sponsorship of 65 evangelical churches and organizations … "Christ for Blind Week" slated Nov. 18-25 in effort to aid 20 million sightless persons … Mrs. Glenn G. Hays, president of National Woman's Christian Temperance Union, charges government has quit publishing statistics on sale and consumption of alcoholic beverages for fear of public reaction.
Remarks on evangelism by the Right Rev. F. H. Wilkinson, Anglican Bishop of Toronto, Canada, at Canadian rally attended by 12,000: "It is the command of God as written in the Bible; it is the word to all the churches, and it is the universal cry of the people." … James Hunter of Toronto proclaimed "Author of the Quarter Century" by Zondervan Publishing House. Best sellers include Thine Is the Kingdom and The Mystery of Mar Saba.
Convention Reports
Lake Junaluska, N.C. — The strangely-warmed spirit of founder John Wesley, who rode the equivalent of ten times around the world during his horseback ministry, hovered over the recent Ninth World Methodist Conference, the largest non-segregated meeting of its kind.
More than 2,000 delegates and accredited visitors, reflecting the life of 18 million Methodists in 44 countries, moved toward main goals of a strong world church and a vigorous denomination—but there was a wistful look toward evangelism.
"If Wesley were alive today, he would most assuredly be an evangelist," remarked Bishop Lloyd C. Wicke of the Pittsburgh area.
Dr. Harold Wood of Australia put it bluntly:
"Nothing can save the world but the Gospel, preached and practiced in a church as pure and as passionate as the primitive church which first proclaimed that Gospel … Not ethical teaching, not even primarily the Sermon on the Mount, which was not the substance of apostolic preaching, but the Gospel of regenerating and reconciling grace: this we have to communicate."
Conference observers felt that Wesley would be comfortably at home in the challenge to social evils. Frontier Methodism in America" had lashed at slavery, alcoholism, gambling and Sabbath violations. Wesley had sought justice for the laboring classes in the cities.
Some observers felt Wesley would have sounded such warnings as "beware of bigness" … "beware of respectability" … "beware of an atmosphere not conducive to the life of the spirit" … or "beware of apostasy, which has a form of religion but lacks its true doctrine and passion for souls."
Presiding officer Bishop Ivan Lee Holt of St. Louis, succeeded as world president by Dr. Harold Roberts, British theologian, remarked to a platform guest, "Some things are being said in Methodism that could not have been said ten years ago."
Despite some reservations, most delegates were inclined to think Wesley would concur proudly that his church, after two centuries, still moves by and large in the direction of its beginnings.
The distance, however, between the place of the Bible in modern Methodism and Wesley's Methodism, was laid bare by Dr. Norman H. Snaith, principal of Wesley College in Leeds, England. Speaking on "The Authority of the Bible," he said:
"The uniqueness of the Bible is not in the myths and legends ... not in the early laws, but in its one grand common theme. This theme, backed by the inner witness of the Holy Spirit, constitutes its unfailing authority . . . This common theme is the action through the centuries of God the Savior ... the work of the Savior God."
World Evangelical Fellowship
PROVIDENCE, R. I. — Fellowship is wonderful, but bolder action is needed to reach a lost world for Christ.
This was the feeling as delegates from 27 countries expedited the World Evangelical Fellowship's transition from a program of fellowship to one of strong action in evangelism, literature and religious freedom.
The movement struck out boldly for a cooperative world program with international leadership in six major world offices. Unusual growth of the organization was noted, with recent applications approved from Vietnam and Indonesia, but it was pointed out that the biggest lag has come in European lands where biblical higher criticism thrives.
By way of achievements, W. E. F. leaders stressed the movement's positive and constructive temper, its emphasis on the spiritual revival of the church and the evangelization of the world, its support of evangelical theological education and literature. The movement supplied the initiative and local organizational nucleus for many of Dr. Billy Graham's strategic rallies abroad. It has carried to distant lands the long-denied evangelistic voices of such men as Dr. Ockenga, Dr. Paul Rees, Dr. Donald Gray Barnhouse, Dr. J. Edwin Orr and others.
Lt. General Sir Arthur Smith of Great Britain was re-elected for a third term as president. Vice presidents are Dr. Rees of the United States, the Rt. Rev. Hugh R. Gough of Great Britain and Dr. A. P. Guruswamy of Ceylon. John Bolten of the United States is interim treasurer. Members of the international executive committee are Dr. Ockenga and Dr. Clyde Taylor of the United States, Calvin Chao of Singapore, J. Bordreuel of France, Dr. John Savage of South America, Dr. Rene Pache of Switzerland, Dr. Everett Cattel of India, the Rev. A. Kurumada of Japan and the Rev. E. A. Lee of Korea.
Christianity Today is a subscriber to Religious News Service and Evangelical Press Service.
Have something to add about this? See something we missed? Share your feedback here.
Our digital archives are a work in progress. Let us know if corrections need to be made.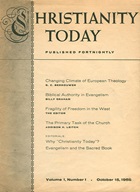 This article is from the October 15 1956 issue.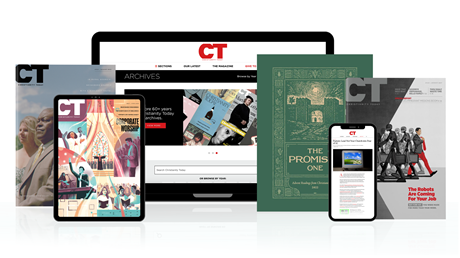 Subscribe to Christianity Today and get access to this article plus 65+ years of archives.
Home delivery of CT magazine
Complete access to articles on ChristianityToday.com
Over 120 years of magazine archives plus full access to all of CT's online archives
Subscribe Now
News Report: Conflict of the Gospel with Paganism, October 15, 1956
News Report: Conflict of the Gospel with Paganism, ...