How deeply do we Westerners understand the souls of men in other cultures? Do most missionaries really come to grips with the hopes, aspirations and fears of people in Asia and Africa? T. A. Beethan probes into this question in an article "The Church in Africa Faces 1957" (International Review of Missions, Jan. 1957). The Gold Coast has just achieved independent statehood. The state of Ghana has been born. Our author points out that during the last 25 years the Church has carried the major burden of developing educational programs but often has given people a sense of false security. Many Africans, he avers, have not yet accepted the Christian view of marriage. Rightly he holds that the answer to and affirmation of monogamy must come from within the African Church itself. Likewise it is highly imperative that the theologians and church historians of Africa emerge from the theological schools of Africa. In too many cases the Christian churches in West Africa are far more European than indigenously African.
Hans A. De Boer of Germany has written a fascinating book under the title Noted en Route (J. G. Oncken Verlag, Kassel). It is a travel book by a young business man and full of intriguing vistas. He tells of walking unarmed into the camp of the Mau Mau rebels in Kenya. His white Christian friends threw up their hands in horror at his very suggestion to visit these people.
But De Boer's faith was vindicated. The Mau Mau rebels received him, at first somewhat suspiciously, then with increasing confidence. A two hour conversation ensued. De Boer frankly told them that their path of violence and murder was dead wrong. "Why don't you negotiate?" was his query. "Indeed we would if all white men would come to us like you have, without arms, in order to speak with us and not to dictate. Then blood would not have to flow. But nobody wants to negotiate with us!"
One cannot read this account without sensing the vast tragedy of the white man's situation in countries like Africa.
De Boer also met Nehru in India. They talked about Christian missions. Nehru expressed his appreciation of many missionaries and their endeavor. The German traveler, however, sensed that Nehru was not impressed by all of them. "Do you want me to give you an appraisal in the order of rank?" asked Nehru. Reluctantly and with a smile he mentioned the following representatives of Christian missions: Roman Catholics, Anglicans, Evangelical-Lutheran, Presbyterians, Baptists and Methodists. De Boer was considerably perturbed about this graded scale of appreciation. All the major denominations had been mentioned. Then he asked: "And which Churches do you esteem most highly?" Nehru instantly answered: "The Mennonites, the Quakers and the Church of the Brethren!"
And why this high esteem of these smaller Christian bodies? "First, because they are free from racial bias. They live modestly and as much like the natives as possible. Nor do they build sumptuous mission stations outside our Indian dwellings, nor do they ride in luxurious cars or meddle in politics. They have but one desire: to preach Christ and walk according to his teachings."
When American Ambassador Bowles used a bicycle instead of a Cadillac while stationed in New Delhi he made a terrific impression upon the people of India. This writer vividly remembers a statement by the late Dr. Theron Rankin of the Foreign Mission Board of Southern Baptists when he said: "While a missionary in China I thought of myself for a long time more as an American than as an ambassador of Jesus Christ!" It is good to realize how others see us.
"Crossroads in Mass Evangelism" (The Christian Century, Mar. 20, 1957) by Malcolm Boyd contains much food for serious thought. The writer is concerned about our modern means of communication such as radio, TV and other mass-media of publicity. "And obviously such techniques are to be claimed for Christ; he is their Lord as he is ours. But does 'claiming' certain techniques for Christ necessarily mean employing them for him? Perhaps we must be as concerned with motivation as we are with new (or old) techniques." Let us beware by all means of exploiting men for Jesus Christ! Well has our author written:
God never exploits man; he has created us with free will. Jesus, far from exploiting the situation in which he found himself, refused all the temptations of worldly power—refused a crown, refused to press an "advantage," subdued the crowd's passions and went off by himself, died alone, defeated, on the cross. This is not only the antithesis but the refutation of exploitation. Indeed, love is always the antithesis and refutation of exploitation.
Hendrik Kramer, the missionary statesman, recently warned students at the Southern Baptist Seminary against the allurements of our all too clever ways of advertising. Boyd warns that publicity, bigness and modern techniques themselves may create a non-Christian climate. Are we "using modern tools and techniques to escape from reality?"
Die Gemeinde, the weekly journal of the Evangelical Free Churches (Baptists) of Germany, under a February 24, 1957 dateline, reports a warning from the Central Bureau of the Evangelischen Hilfswerk with regard to the emigration of older people to the Americas:
At first the joy of parents and grandparents who follow their children abroad may be rather great, but soon the even greater disillusionment sets in: the old folk can no longer accommodate themselves to a new and strange way of living; often the climate does not agree with them; they are in many instances unable to learn the language of the country, and after a few years they cannot even converse with their grandchildren. In that moment these aged people long to return to their native land and often cannot.
This writer has had many dealings with immigrants and refugees in recent years. He can only underscore this word of warning from abroad. One old lady, a kin of ours, felt utterly forlorn in our midst, even though she had escaped the terror of the Russian zone of Germany in 1947. Her deepest sorrow was that she could not hear God's Word in her mother tongue on Sunday. She would attend our church but simply was unable to derive any benefit from the English sermon of the preacher. Meanwhile she has returned to Germany and is happily located in an Old Folks Home in the Rhineland.
The same journal announces that in the future candidates for the ministry from Spain may receive their training in the Rhineland, since the Evangelical Seminary in Madrid has been closed since January, 1956, at the behest of the Franco regime. Love always finds a way. The bond of Christian fellowship is always stronger than the threats of dictators.
Have something to add about this? See something we missed? Share your feedback here.
Our digital archives are a work in progress. Let us know if corrections need to be made.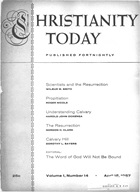 This article is from the April 15 1957 issue.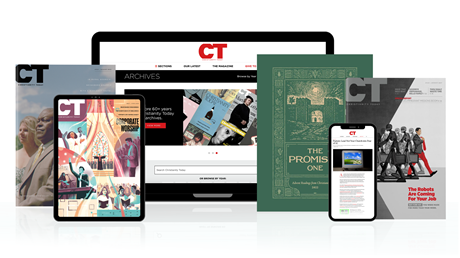 Subscribe to Christianity Today and get access to this article plus 65+ years of archives.
Home delivery of CT magazine
Complete access to articles on ChristianityToday.com
Over 120 years of magazine archives plus full access to all of CT's online archives
Subscribe Now
Review of Current Religious Thought: April 15, 1957
Review of Current Religious Thought: April 15, 1957