The Southland continues to be perturbed over racial desegregation problems. We read of violence and resistance to the Supreme Court decision of May, 1954. What are Southern Baptists, the largest and most influential Christian body in the South, doing about the situation?
It is a fact that a number of Southern Baptist pastors have been ousted from their churches because of their loyalty to King Jesus and their defense of constituted rights for all Americans. The Rev. Paul Turner, pastor of First Baptist Church in Clinton, Tenn., made the headlines due to his courageous stand for righteousness in race relations.
The Alabama Baptist (Dec. 20, 1956) copies from RNS a detailed account of the Rev. Mr. Turner's defense of Negro children's basic rights. This same journal prints an editorial from the Chilton County News in the same issue:
In this day of race problems, would all races accept Him, no matter which He chose to be born into? He is the King of all races and yet, would we listen to His Word if He were anything but Anglo-Saxon?
More likely than not, this editorial continues, were Jesus to appear again, he would not come as a "dynamic business, political, or religious figure," but would "make His appearance where He was least expected."
"Few things are more dangerous than the germs of racial prejudice," writes The Baptist Reflector of Tennessee (Sept. 20, 1956). Christians, it is argued, have a new spirit. They are therefore concerned that all men are treated with fairness. T. B. Matson, professor in Southwestern Baptist Seminary, Texas, writing in the same journal, speaks of the substitution of orthodoxy for basic morality and practical Christian living. "Some of the most unscrupulous, dishonest, immoral preachers are loudest in proclaiming their orthodoxy." Alas, such can also be the worst purveyor of prejudice and hate in race relations!
Pastor Sterling Price of University Baptist Church in Abilene, Texas, spoke to 3000 persons at the Baptist Training Union conference at Wichita Falls with prophetic force when he said:
The Christian churches are failing to take decisive action on such social issues as racial discrimination, labor relations and work opportunities.
Thus reports The California Baptist (Dec. 13, 1956).
The Christmas 1956 editorial of the Florida Baptist Witness stabs us wide awake with these questions: "Are we as concerned for the Mexican in San Antonio as for the one in Mexico City, for the Chinese in Miami as for the one in Hong Kong, for the Indian on the Seminole reservation as for the one in South America, … for the Negro in Jacksonville as for the one in Nigeria …?"
President W. R. White of Baylor University in the Baptist Standard of Texas (Nov. 10, 1956) speaks of the issue of racial integration as the greatest problem confronting Southern Baptists since the days of slavery. "It threatens to sever the fellowship of Southern Baptists in twain." Dr. White senses the urgency of the situation. He counsels moderation, warns against the hotheads on both sides of the controversy, but considers adjustment imperative for several reasons: world opinion is against treating any human being as less than human; Magna Charta, the Declaration of Independence, the U. S. Constitution, the Judeo-Christian concept of God compels us to act; our far-flung missionary endeavors face the shadow of unfavorable reaction; as communistic agitation and Catholic attempts to lure the Negro away from our ranks, these dangers and imperatives compel us to be "Christian in principle, spirit and attitudes."
Professor Stewart A. Newman of Southeastern Baptist Seminary at Wake Forest, N. C., in his The Christian's Obligation to All Races lays bare the tragic race issue in these sobering words:
The extent of this contradiction of our ideals with our attitude and conduct toward other races is illustrated by the reaction of new converts who recently came to America from our mission fields in Africa. Young people who were the product of our Southern Baptist evangelistic and educational work in Africa were unprepared for the disillusionment which they suffered when brought by our missionaries to this Christian land. They were caught up in such a maelstrom of bickering and prejudice, race antagonisms and discriminations as to be ostracized from the Christian fellowship which was the source of their greatest blessing.
This tract bears the imprint of the Christian Life Commission of the Southern Baptist Convention. J. B. Matson's Integration and John Hass Jones' The Unity of Humanity speak with equal vigor and clarity on the issue under discussion and are being widely distributed among Southern Baptists. In due time they will bear fruit, but the going will be hard in the days immediately ahead.
Christianity and Crisis (Dec. 24, 1956) admits—and this is encouraging to all right-minded people in the South—that "vast progress has already been made in the direction of public acceptance of the Supreme Court interpretation of the Constitution, though, to be sure, defiance and outbreaks of violence are what makes headlines." While the editor, E. T. J., considers the Supreme Court decision of 1954 "a great moral judgment," he nevertheless realistically states that "evils that have a tragic character are not expunged by recourse to law." John C. Bennett of Union Theological Seminary, commenting in the same journal (Oct. 29, 1956) on Billy Graham's stand on desegregation of our public schools in Life, calls it a "truly prophetic statement about the racial problem." Bennett believes that "there is no other Christian leader in America who can do so much as Billy Graham to open the eyes of believing Christians to the implications of their faith in this area."
There are other hopeful signs on the horizon of Southern Baptists in this matter of race relations. Their five theological seminaries with their more than 5000 students have been interracial for more than five years. During the recent Thanksgiving season two international house parties with more than 300 nationals from Latin and South America, Africa, Asia, and Europe met in Mississippi and Tennessee for fellowship and discussion of crucial issues facing the life of mankind today.
Other Christian communions in the South are equally concerned about the issue. On the whole, "it seems Christians are more favorable to the abolition of the caste system than secular opinion in the same communities, and Catholics are often more energetic than Protestants, and preachers more positive and articulate on the race issue than laymen." Thus states W. E. Garrison of Houston University in a recent issue of the Virginia Baptist journal, The Religious Herald.
Have something to add about this? See something we missed? Share your feedback here.
Our digital archives are a work in progress. Let us know if corrections need to be made.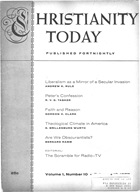 This article is from the February 18 1957 issue.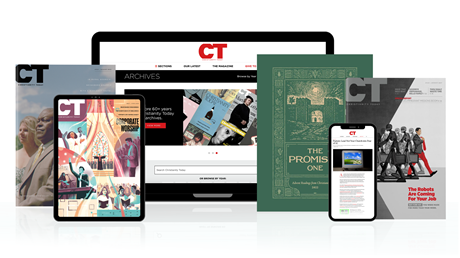 Subscribe to Christianity Today and get access to this article plus 65+ years of archives.
Home delivery of CT magazine
Complete access to articles on ChristianityToday.com
Over 120 years of magazine archives plus full access to all of CT's online archives
Subscribe Now
Review of Current Religious Thought: February 18, 1957
Review of Current Religious Thought: February 18, 1957