What of preaching in current thought and practice? What is the general character of twentieth-century preaching, judging from present-day pulpit men and literature?
Perhaps we can get an historic perspective by glancing at Harry Emerson Fosdick, who is regarded by many as the greatest preacher of our time, and Jonathan Edwards, who is regarded by virtually all as the greatest preacher of the eighteenth century (at least in America).
Though always a candid opponent of historic, creedal Christianity, which he usually dubbed "Fundamentalism," Dr. Fosdick receives high praise from Dr. Ganse Little (The Princeton Seminary Bulletin, February 1957). "We must hasten to add," he remarks, "as Dr. Fosdick does himself, that here is a man literally 'saved by grace' for a ministry of unsurpassed helpfulness to men in every walk of life for well on towards fifty years." Dr. Fosdick believes in "grace" in essentially the same way Pelagius believed in "grace"—and as Augustine proved that Pelagius' "grace" was not the Bible's grace, so Machen proved the same of Dr. Fosdick's "grace."
With respect to Dr. Fosdick's "unsurpassed helpfulness," a remark is in order. It probably would be generally granted that Dr. Fosdick was the most influential American preacher of the first half of the century (at least on ministers and the intelligentsia). Whether he was the most useful would depend, as he would gladly admit, on the soundness of his message. If it was the truth of God, as he no doubt believes and Dr. Little with him, then it would follow that his usefulness was probably unsurpassed among preachers. If his gospel was "another gospel," as many believe, then the effect of his life requires drastic re-evaluation. This is all obvious and no one would admit it sooner, we suppose, than Dr. Fosdick. Dr. Little, though giving a positively delightful review of the autobiography (The Living of These Days) does not wrestle with this problem, apparently because he believes it self-evident that Fosdick's message is basically true and wholesomely liberating.
Of especial interest to us is the turning point in Fosdick's life. One of the early and pivotal events was his repudiation of the preaching of the coming wrath of God (hell). Such preaching turned him from "orthodoxy" permanently and accounts for his lifelong crusade against "Fundamentalism."
Now the turning point in the career of Edwards was precisely the opposite. He had sore problems, as a young theological student at Yale, about divine sovereignty and particularly its exercise in the damnation of some men. However, from feeling this was a "monstrous" doctrine he was inwardly persuaded of the "sweetness" of divine sovereignty and yielded himself absolutely and unquestionably to it. It became the dominant note in his preaching that God "was sovereign in the matter of salvation" and the sermon which he regarded as most fruitful in conversions is entitled "The Justice of God in the Damnation of Sinners." Edwards preached much more than this theme and other than this theme, but he did preach this theme.
And certainly this is a striking contrast, that the most eminent preacher of 1750 stressed the absolute sovereignty of God, even in salvation and damnation, while the most eminent preacher of 1950 found himself in lifelong rebellion against such sovereignty.
What is true of these two champions of the pulpit is an epitome of others, and the cue to twentieth-century preaching in general. It reveals itself in the very way in which most sermons begin. Never did Edwards, or virtually any Puritan, begin with other than the Word of God and its close exposition. Present-day homilies, by contrast, seldom begin with serious exposition unless the text is narrative in character and affords opportunity to tell an interesting and unfamiliar Bible story. Early Puritans used illustrations sparingly even when they, like the parables of Christ, were basically analogous to the revealed truth. In most sermons we now read or hear, the text illustrates the illustration rather than vice versa. The homiletical tail is wagging the homiletical dog, and most of the time the tail itself is only pinned on. But the illustrations—independently considered—are usually very good. As far as the biblical content of modern sermons is concerned, there is simply no comparison with Puritan preaching. One learned something about the Word of God then, while now he usually comes out of church better informed about Saroyan, Ibsen, Freud or Eisenhower. We are having a preaching of the word indeed—but it is the word of man.
The eighteenth-century pulpit was quite down-to-earth and practical, but preaching was always related to eternity—sub specie aeternitatis. This century seldom rises above an obsession or probes any deeper than a frustration. Here is the flyleaf of a current book on preaching: "Emphasizing that good preaching is doctrinal preaching applied to life, this book will assist pastors of all denominations to prepare sermons that will minister to the anxiety, insecurity, loneliness and frustration that beset our times." Preachers seem to dabble more in amateur psychology than exegesis; they would be embarrassed by a person under conviction of sin, would talk a man out of feelings of guilt, and if confronted by someone fleeing from the wrath of God would be sure he was a paranoic.
It is no wonder that a layman has the courage to write: "What's the Matter with Protestant Preaching?" (Church Management, September 1957.) This would take as much audacity, we should think, as it would take for us to write "How plumbers may improve their skill." Men recognize that education, medicine, bricklaying and the like are the work of those specially trained in such subjects. But any one who hears sermons seems qualified to issue canons to direct the preacher who has usually had four years of general and three years of special training in this divine business. We are concerned to note that such supposed lay competence is a symptom of the breakdown of the awareness of the high calling of the ministry on the part of those to whom they minister. It hardly needs saying that this breakdown on the part of the laity is at least in part occasioned by the ministry's own loss of a sense of specian vocation.
If preachers insist on competing with psychiatrists as counselors, with physicians as healers, with politicians as statesmen and with philosophers as speculators, then these specialists have every right to tell them how to preach. If a minister's message is not based on "Thus saith the Lord," then as a sermon it is good for nothing but to be cast out and trodden under foot of the specialists in the department with which it deals.
Have something to add about this? See something we missed? Share your feedback here.
Our digital archives are a work in progress. Let us know if corrections need to be made.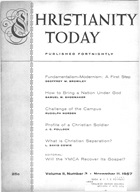 This article is from the November 11 1957 issue.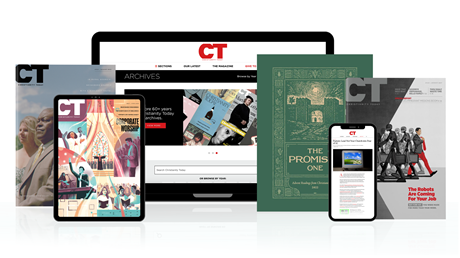 Annual & Monthly subscriptions available.
Print & Digital Issues of CT magazine
Complete access to every article on ChristianityToday.com
Unlimited access to 65+ years of CT's online archives
Member-only special issues
Subscribe
Review of Current Religious Thought: November 11, 1957
Review of Current Religious Thought: November 11, 1957