As this page is being written, seven thousand delegates are participating in the Golden Anniversary White House Conference on Children and Youth. Three volumes of background material under the title, The Nation's Children, have been edited by Dr. Eli Ginzberg, the distinguished economist. Published by the Columbia University Press, these volumes present in the main a faithful portrayal of the potentialities, needs, and problems of American youth today. Unlike much current writing on education, many of the chapters attain a refreshing directness and incisiveness of expression. For Christian educators—and this includes pastors who, according to St. Paul are also teachers (Eph. 4:11)—this trilogy is required reading.
Several far-reaching trends are faced in these volumes. Because Christians, whether they like it or not, are to some extent affected by them, these trends give us pause. There is, for example, the change in the American family brought about by the exodus of American mothers from their homes. As Dean Henry David of the New School for Social Research shows, back in the thirties little more than a tenth of all married women were employed; today almost one third of married women living with their husbands work outside the home. Inevitably there has been a shift in balance from the biblically-patterned home to one where, as Prof. Arensberg of Columbia writes, "The father … is not so much a man, a model of adult manhood for his son, as a 'pal' and another boy, absent and out of sight in the important, non-familial roles of his work existence," a fact that "has already worried psychiatrists, especially in our newer, dormitory suburbs, with their enforced segregation of women and children of like age and interests."
Another revolutionary trend stems from the large amount of leisure and consumer power possessed by the average family in these moneyed days. Americans are fast developing one of the most playful societies history has known. To an extraordinary degree ours is a child-centered culture. As one English visitor remarked, American schools and families seem to be run on the assumption, "The child knows best." Instead of the scriptural exercise of firm but loving parental authority, we have the "togetherness" of family councils with democratic voting to decide everything from vacation plans to whether, as report has it, mother will have another baby.
Along with this change in family authority combined with more ample leisure and with national income at an unprecedented peak, there has come into our way of life an insistent emphasis on fun. As Nelson N. Foote, Research Consultant in Sociology for the General Electric Company, sympathetically declares, "There is … little recognition of and reliance on the voluntary auspices under which the younger generation wishes to conduct its affairs, its insistence, to put the matter flatly, that work he fun (italics Mr. Foote's).… Indeed," he goes on to say, "conducted as fun both work and government are likely to be performed with stronger conscience and higher competence than under pressures of duty and necessity." Well, for the Christian the only comment is a good big exclamation point! Persuasive talk about "this more playful way of life" and "the more festive aspect of family life today" so that "the position of the child in the home has become very much like that of a guest" cannot obscure the fact that responsible adult life, whether in parenthood, professional practice, or civic authority demands some decisions that are agonizingly hard and that, for persons of conscience and compassion, are not fun.
No sensible Christian would deny children their right to play and adults their need of essential recreation. Nevertheless, so closely has the play motive through endless television viewing, power-boat and sports car crazes, cocktail hours and long week ends gripped us that, as Eric Larrabee of American Heritage says, "Childhood in America is also something that adults experience vicariously."
But enough has been said to show the way in which these volumes mirror the social context of our youth. Space prevents discussion of such strong chapters as "The Age of Science" by Prof. Zacharias of M. I. T., and the conscience-probing consideration of our Southern Negro youth and our Spanish-speaking children.
The two chapters that relate to religion—"The Place of Religion in American Life" by Msgr. Gallagher, Rabbi Tanenbaum, and Dr. Villaume, and "Religion and Youth" by Benson Y. Landis—demand special comment. To go no further than the least-common-denominator approach of the Fatherhood of God and the brotherhood of man is unhistorical, because it turns a blind eye to the lofty Christian theology that motivated not only the Pilgrims but also the eighteenth century Calvinists who shared with deists like Jefferson the founding of our democracy. To speak of "pointless differences which now dissipate the strength of religious influence" is to ignore the plain fact that in the particularity of high religion lies its strength. Christ crucified may be an affront to Judaism, the mediatorial place of the Virgin Mary a stumbling block to Protestantism, but these are not "pointless differences." To turn disagreement founded on conviction into bland conformity is to dissolve religion into mere benevolent moralism. To be sure, Norman Cousins writes in the last chapter with eloquent urgency about the appalling problems of our apocalyptic age and cries out for "conversion skills" needed for man's survival. Yet he sees as the means for conversion nothing more than education plus "the basic unity of most religions," a statement based on such well-meant misconceptions as this: "The Islamic faith is as closely related to the Jewish and Christian faiths as the latter two are to each other."
Let it be said again that these volumes are worth studying. Their able picture of the times in which our youth are growing up emphasizes the need for undergirding every agency from the Christian home on through the Sunday School and Christian youth movements that will put spiritual and moral backbone into our children.
Have something to add about this? See something we missed? Share your feedback here.
Our digital archives are a work in progress. Let us know if corrections need to be made.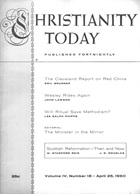 This article is from the April 25 1960 issue.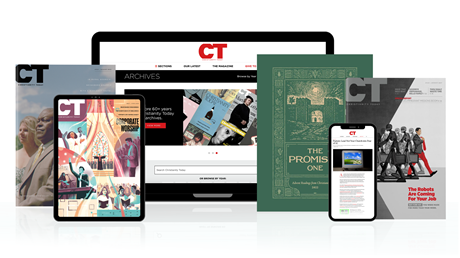 Subscribe to Christianity Today and get access to this article plus 65+ years of archives.
Home delivery of CT magazine
Complete access to articles on ChristianityToday.com
Over 120 years of magazine archives plus full access to all of CT's online archives
Subscribe Now
Review of Current Religious Thought: April 25, 1960
Review of Current Religious Thought: April 25, 1960