Can theology be truly anthropocentric? This question is a live one in the theological discussions of our time. May man legitimately be the center of theological concern? The answer to this question seems at first sight most obvious to an evangelical. God, not man, must be the center of theology. Theology must be theocentric, not anthropocentric.
In 1916 Erich Schraeder stirred the theological community by indicting the theology of the nineteenth century for being anthropocentric, for setting man, religious man, in place of God at the heart of its theology. Shortly after Schraeder published his accusation in his much-discussed volume, Theocentric Theology, Barth and Brunner began their offensive against the man-centered theology of nineteenth century liberalism. Over against the theology of the religious man, they posed the message of the living, sovereign, free, and holy God.
We cannot but acknowledge the value of this offensive in the face of the doctrinally-destructive subjectivism of the theology of the last century. But we would only be losers if we accepted uncritically the contradiction between anthropocentric and theocentric theology. This is not a real dilemma. The Reformation itself, alas, is often presented in terms of this false dilemma. Luther is pictured as the anthropocentric theologian, as the man concerned primarily with the salvation of his soul. Calvin, on the other hand, is presented in contrast to Luther as the theocentric theologian, as the man concerned primarily with the glory of God. Luther's central question, thus, was: how can I get right with God? Calvin's central theme was: soli Deo gloria. But this is not a realistic presentation of the difference between Luther and Calvin. We would be especially misled were we to draw the conclusion that there is a religious contradiction between the theme of sola gratia (Luther) and soli Deo gloria (Calvin).
We can be rescued from this false dilemma if we remind ourselves how consistently man is set in the center of concern in the Bible. Man is not a competitor of God the Creator and Redeemer. The whole of God's redemptive work is directed toward the earth, toward man in his need and lostness. From the perspective of God's interest, there is a persistent concern for man in his seeking and his finding, in his praying and receiving, in his knocking and being opened to. The Incarnate Lord, we are told, proclaimed the Father, not man. But the Father whom he proclaimed was not unconcerned with man. He was the true God who directed his great love to the world of men and sent his Son to become a man. It was when the Lord of Glory lay as a baby in the manger that the angels sang most wonderfully, "Glory to God in the Highest."
The careful reader of the Bible will not be content with a contradiction between an anthropocentric and theocentric theology. The theocentric interest of theology is most keen at the point of divine grace for man. And man gets put in the center of biblical interest in the light of divine grace. God, in the biblical view, does not enjoy greatness only as man becomes unimportant and small. It has been said: "God is everything, man is nothing." As opposed to human pride and pretense, such a statement has value. But it is not a biblical sentiment. It is not true that man becomes nothing when God is all. Indeed, man truly comes into his own when God is most honored. Man comes into his own place, not into God's place. Man enters the service of God not into competition with God.
The Christian Gospel does proclaim a jealous God. God is jealous when other gods are given priority over him (Exod. 20:5). In this jealousy he reveals his wrath and hides his face. But God is not jealous in the manner of men. God does not demand that man disappear when he appears. Heathen gods were jealous of men often. But the God whose Son became incarnate in Jesus Christ brings men into his service and grants them a large place under the sun. Man need not fear self-negation where God is exalted.
Jean Danielou published a brilliant article recently in which he identified the jealousy of God with his wrath. But he correctly points out that the divine jealousy is of another category than what we experience as human jealousy. When God's wrath is revealed, it means he is seeking man to restore him to fellowship. God, the jealous God, is he who in Christ is known as Immanuel, God with us.
There was good reason for branding the typical nineteenth century theology with the term anthropocentric. The religiously-inclined man stood at the heart of this theology. He was the measure of whatever truth one found in the Scriptures. If anything in Scripture did not seem to apply directly to man's own religious feelings and to his personal piety it was not considered of theological value. From this human-centered concern theology turned to a critical attack on the ancient confessions and to a watering down of faith. Man became so big in this movement that the glory, the grace, and the sovereignty of God was hid from view.
In reaction to this man-centered theology, we must not elect for a view of God that takes him away from man, that loses vision for a God whose concern is indeed man directed. The glory of God is seen in his greatness, a greatness which is seen in his salvation of men. Men become jealous out of fear that other men threaten their position or status. But God creates man and rescues him from his own ungodliness, while He sets man in sonship, destined for a glorification of his own. Enough of the notion that there is antagonism between an anthropocentric and a theocentric theology! When God is truly given his place at the center where he belongs, he in turn creates a place for man. When God is magnified, he does not negate man but makes him a real man once more. This is the great secret of the soli Deo gloria.
Saying that God must be glorified seems very easy. But a correct apprehension of this phrase is one of the most difficult tasks of theology. The glory of God never means the abnegation of man. The glory of God cannot be viewed as the counterpart of the shame of man. The true glory of man is not competitive to the true glory of God. God is he, writes Paul, who spared not his own son, but delivered him up for us all. Shall not this God freely give us all things? (Rom. 8:32).
The mystery of divine love is that it creates a place for man. Man becomes terribly important within God's concern. Man is not a competitor but a child once he enters into God's salvation. Therefore we can say that just because the Bible is radically theocentric it is also radically anthropocentric.
Have something to add about this? See something we missed? Share your feedback here.
Our digital archives are a work in progress. Let us know if corrections need to be made.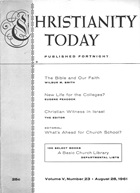 This article is from the August 28 1961 issue.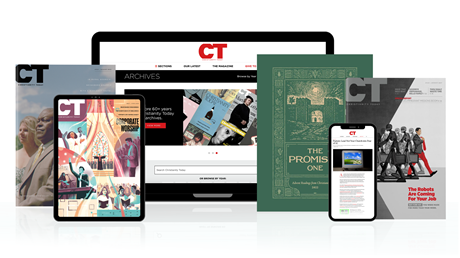 Annual & Monthly subscriptions available.
Print & Digital Issues of CT magazine
Complete access to every article on ChristianityToday.com
Unlimited access to 65+ years of CT's online archives
Member-only special issues
Subscribe
Review of Current Religious Thought: August 28, 1961
Review of Current Religious Thought: August 28, 1961