A young Baptist friend is about to graduate from the seminary, which reminds me that we have come to that time of year when men do graduate from the seminary; and this in turn reminds me that a few years ago when I was teaching in a seminary, we used to wonder out loud just how well prepared seminary men are for the ministry.
All this interlocked just last week with a request I had to speak to a meeting of young ministers somewhat along the line of the nature of their ministry. I think the men who had been chosen for this conference had been out in the ministry of the Church for a very short time and had been brought together for a kind of refresher course. So the season of the year, long thoughts about former days at the seminary, and some preparation for addressing this group of men set several ideas in motion. I had, once again, a few "current religious thoughts."
I was reminded of a conversation I had with one of our seminary graduates one day. When I seriously asked him at what points he thought we might improve our curriculum, he told me with more seriousness than you might guess that what he had needed most in his ministry was a course in "mimeographing and chauffeuring." He thought he had been spending more time at these activities his first few years than anything else. A little more conversation along the same line took us beyond the mimeographing level to the whole theory and practice of the ministry.
What was really bothering him, and what remains a daily bother to most men, is how to adjust the old, old problems of form and content. There is no way at all for the Church to operate as a purely spiritual institution because we are not pure, spiritual beings. The plain fact of our physical bodies requires that we get together sometime somewhere; we are subject to time and space. And as soon as we get together sometime and somewhere, we are in business, with all the busyness of heating a building, hiring a janitor, raising a budget, and getting out mimeographed notices. Some men think that administrative routines take at least 60 per cent of their time, while some might cry out plaintively about a higher figure. Every man I meet is concerned about the problem, and none has a solution. Old heads get used to the problem, but the man just setting out in his ministry is appalled to discover the "realities" of his profession.
A variant on this problem can probably be called "the ideal and the actual." One young minister said to me, "Do you think my elders are really Christians?" I think they probably are; but the difficulty with a seminary course is that we spend so much time on the headliners like St. Francis of Assisi and Bonhoeffer that by the time we are out of the seminary, Christianity is out of focus. This is not to say that people ought not to be Christians like Bonhoelfer; but it is to say that most of the Christianity around, including the church session, may have a better sense of direction than score of attainment. Here again the old minister has made some marvelous and moving discoveries about some of the deeps in people, and he may well have some assurances that a great deal of faithfulness is around. But the impact of the almost endless expediencies with which the church buffets the young preacher is almost enough to defeat him.
Sometime you must read George Adam Smith on Isaiah where he talks about the "three Jerusalems"—the Ideal, the Actual, and the Prophetic. Smith sees Isaiah as a young man with a great vision of what Jerusalem could be plus plain perception of what it actually was, but with also the prophetic discovery that it would take some kind of a "suffering servant" to close the gap between the actual and the ideal. Only the recognition of this solution in suffering can save the man of vision from disillusionment. This is what Christians are supposed to know ahead of time: that there is no crossless redemption. Maybe young ministers need to be reminded of it.
Once he is out of the academic environment, the young minister's next frustration seems to be the impossibility of "keeping up" on reading and study. I have yet to meet the man in any field of endeavor who has enough time to read, and anyone with any kind of mind at all has stacks of books just begging for his time. Here again we face it. We must realize that this is the way things are and this is the way things will continue. I read recently in the public press that a chemist has to read 200,000 pages a year just to "keep up" in his field. Chemists have "abstracts," and I know that doctors can subscribe to digests of medical journals for tape recorders. I wish some enterprising outfit could read and digest and record for ministers. Even if this were done, however, the battle would never be won; and this, I suppose, is at least part of what John Oman means by his expression "the sacrament of failure." All this helps keep us humble, in spite of what we think we know when we come out of the seminary. Humility and patience are not bad virtues with which a young theologian could exercise himself.
By an acceptance of things as they are instead of a frustrating fretting, we may find half the battle already won or at least put in its proper perspective. This, it seems to me, is the immediate maturity that young men should seek.
I think I find that these problems are forcing seminarians into some evasions. Too many of them are planning to go on for further academic training because they know there is still so much to read and study. Too many of them are resolving the difficulties that face them in that "more or less Christian session" by becoming assistant or associate pastors so that somebody else has to face the ambiguities of decision. Too many of them are trying to discover in "the nature of ministry" something other than the pastorate because they are not called to mimeographing and chauffeuring. If these are evasions (and where they are evasions, the evil day is simply put off), the Church suffers, and some of these men never mature. The pastorate itself is the live end of the whole church enterprise; when men pull away there, the whole army retreats. Right now there are hundreds and hundreds of vacant churches. Not all of them can possibly be successes, but we are not called to success; we are called to faithfulness.
This fortnightly review is contributed in sequence by J. D. Douglas, British editorial director, CHRISTIANITY TODAY; Philip E. Hughes, editor, the "Churchman," London; Harold B. Kuhn, professor of philosophy of religion, Asbury Seminary, Wilmore, Kentucky; G. C. Berkouwer, professor of dogmatics, Free University of Amsterdam; and Addison H. Leitch, professor of philosophy and religion, Tarkio College, Tarkio, Missouri.—ED.
Have something to add about this? See something we missed? Share your feedback here.
Our digital archives are a work in progress. Let us know if corrections need to be made.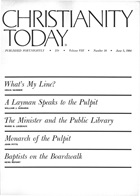 This article is from the June 5 1964 issue.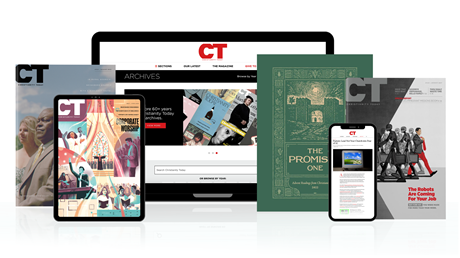 Subscribe to Christianity Today and get access to this article plus 65+ years of archives.
Home delivery of CT magazine
Complete access to articles on ChristianityToday.com
Over 120 years of magazine archives plus full access to all of CT's online archives
Subscribe Now
Current Religious Thought: June 5, 1964
Current Religious Thought: June 5, 1964