Little old ladies make good foils for preachers' stories. There was that little old lady (maybe in tennis shoes) on a guided tour in Westminster Abbey. And there, surrounded by noble and ignoble monuments and competing guides, she asked a ridiculous question. "Tell me," she demanded a little nervously and therefore a little louder than she had planned, "has anyone been saved in this church lately?" The question shattered things; it hung out there in embarrassed silence. "Anybody saved here lately?" My dear lady, have you noticed the beautiful architecture? Have you no feeling for history? Being "saved" is for the Salvation Army, or maybe sweaty tent meetings; this is a cathedral. But there the question stood.
There are things hidden from the wise yet revealed to babes, and the foolishness of God is wiser than men. Apart from becoming like little children, we cannot even see the Kingdom. I am not sure what all that means. But one gets the notion in theology today that both the questions and the answers are being set up and controlled by the deviously subtle experts, and that the questions people really ask are not being answered.
In a theological seminary where I once was the chairman of the question-and-answer period for a visiting lecturer, the famous guest rephrased every question to suit his theological slant. Finally I became blunt and maybe rude and said, "Why don't you answer the question the boy asked?" Well, he was dear enough, too: "Because he asked the wrong question, that's why." That simple questions can be very puzzling and lead to ambiguity or even mystery I should be the first to admit. But such answers as we know should fit the questions. And if the answers can be given and understood only by a man with an IQ of 185, then we are caught in a religion available only to people who are smart enough to get it.
The desperation in the Church regarding integration is both timely and overdue. A white Christian will accept a Negro as brother and indeed neighbor. But he is very naïve if he expects the other people on the street to act with him without his motive. The man who is saved has to find out how to act like a child of God. Those who deny God may be led to act the same way but from a different premise; they will be acting sociologically and not religiously.
Remember the time in the United Nations when the Arabs and the Jews were at each other's throats and a good American New England Congregationalist interrupted their wrangling to ask, "Why don't you people act like Christians?" Well, because they aren't Christians! Youth conferences are full of instructions about living for young people who haven't been born yet. "Are you saved?" Don't confuse the awkwardness of the questioner with the profundity of the question. We shall have to have some Christians before we have a Christian civilization.
All of which leads to the question of authority on such matters. If you want to put a theological faculty in a tizzy, write various professors and ask them a simple question: "Is the Bible true?" They will in most cases do one of three things: (1) not answer your letter; (2) give you an equivocal answer; (3) say that they do not care to be examined by someone improperly informed to ask such a question. So you have a question on salvation and you think the Bible ought to have the answer. But is the Bible true? The great and good Hal Luccock once wrote, as Simeon Stylites in The Christian Century, about the Philippian jailor. "What must I do to be saved?" cried the jailor. "Well," said Paul, "what do you think?" Maybe such questions are answered by committees or by majorities or, even better, by "What Are Youth Today Saying About Salvation?" Or maybe we need the woman's viewpoint.
Another little old lady on her deathbed once asked me about the future life and the promise of eternal life. I could only turn to the Bible. I could only turn to the words of Jesus Christ; without the authority of those words I had nothing to say. It did me no good to give her my opinion or even to ask her opinion in the light of her own existential experience.
How, indeed, does one get assurance existentially about something that is yet to happen and is only a matter of promise? Unless there is some assurance from the beyond, it is impossible for us to be able to say anything with any certainty at all. This, it seems to me, has been one of the terrible results of modern criticism. The ordinary person has been taught to be suspicious of the authority of what is said in the Bible. Can he possibly know what is being said with any assurance unless he first consults the experts? Thus in a very subtle way we have taken away their authority.
So here are the simple questions. Are we saved? If so, where shall we find this out? Then, is the Bible true? Is it true enough for one to rest his assurance of eternal felicity on what is said there in the very words of Jesus himself? And unless He says it, who will say it for us?
Hear what Markus Barth, in the recent book Acquittal by Resurrection, has to say about the Resurrection: "Canonical gospels and apostolic writings alike do not attempt to produce any proof of the possibility, rationality or respectability of the resurrection. They do not ask whether or when it may be opportune to speak of it. They are satisfied to tell that Jesus Christ was raised, to add narrative elements or doctrinal statements that explain the power and relevance and to call for repentance and faith." Again: "The gospels do not ask what can we do with a risen Jesus? Rather they state what he, the resurrected, does and will do for them and all men.… A critical analysis or experimental testing of [the resurrection] was not even attempted. It would have availed them little or nothing at all." Markus Barth goes on to make the interesting observation that the Resurrection was not something believed by believers but was a real event that made believers out of unbelievers.
Many churches have classes in lay theology. Perhaps the laymen will begin to ask again the plain, simple questions, which theology must learn how to answer.
Have something to add about this? See something we missed? Share your feedback here.
Our digital archives are a work in progress. Let us know if corrections need to be made.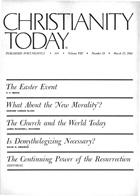 This article is from the March 27 1964 issue.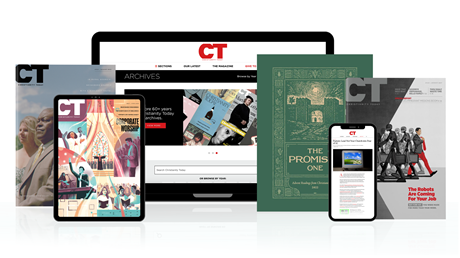 Annual & Monthly subscriptions available.
Print & Digital Issues of CT magazine
Complete access to every article on ChristianityToday.com
Unlimited access to 65+ years of CT's online archives
Member-only special issues
Subscribe
Current Religious Thought: March 27, 1964
Current Religious Thought: March 27, 1964