It seems to be the clever thing to say, so I think I ought to say it: With the advent of The Pill, not to mention the specific qualities of penicillin, those who engage in extramarital sexual relationships are now safe from "conception, infection, and detection." Hence it is generally implied that a great many people have been walking the straight and narrow path because they have feared "conception, infection, and detection."
There are those who are beginning to wonder very seriously whether the old morality can be any more protected in this day of the new morality. By the time the new morality has introduced some very evident rationalizations and justifications (in spite of its horror of such a thought), the old moralities will be pretty well shattered unless we can discover some other basis of authority for ethical action.
For those who are not happy about cynicism in these matters, perhaps it would be good to point out right away that there have been people who have been kept from sexual sin because of the revelations of Holy Scripture. If one is looking for law and order in these matters, what is said in the Bible is perfectly clear. One whole commandment is against adultery; and fornification comes up with great frequency and is constantly condemned.
The slant of mind of the Bible is also interesting in our day of attempted justifications. When Potiphar's wife attempted to seduce Joseph, he could have refused for all the popular reasons—"It's not playing the game you know. Potiphar is a friend of mine. We might get caught. It's bad hygiene. After all, the home is the basic unit of society; and if we do something like this, we will be undermining the foundation of our great land." But he said none of these things. What he did say was, "How can I do this great wickedness and sin against God?"
The Fifty-first Psalm is assumed to reflect the repentant spirit of David in the matter of Bathsheba, a little matter involving adultery and pregnancy and murder and public disgrace—and all this in the king's palace. It is one of the marks of the Old Testament religion as contrasted to the religion of the surrounding countries of that day that the prophet Nathan could walk into the presence of the king and say, "Thou art the man," and not get his head chopped off for his pains. And it is also a mark of the Old Testament religion that the king himself in this psalm cries out in repentance. But notice again what he says: "Against thee, thee only, have I sinned." He is addressing this solemn psalm to God.
In First Corinthians Paul is writing to people who are part of a society so degraded in sexual license that a good insult in that day was to call a man a "Corinthian." Paul has to face the problem of sex in that little church surrounded by the Corinthian society. He finally puts his finger on the central problem, as he always does, and points out that the body is the temple of the Holy Spirit of God. "Therefore," he says, "glorify God in your body." This is a principle that applies to many areas of life; but we note again that the point of reference is not man but God.
It is my belief that the so-called new morality is more a symptom of our times than a cure. In some instances it may serve to protect and stabilize, but in most instances I doubt it. Some may use it as a "way out" rather than a foundation for moral decision. Furthermore, the new morality may be simply an effort to adjust the Christian ethic to the times.
What seems evident in all this, is that if one wishes to build a sexual ethic on the basis of Scripture there is a strong case and a clear one. I think we may say that historically a great many men and women have found victory in the simple matter of obedience to the law of God as set forth therein. Significantly, this law is harmonious with, and not in opposition to, the true nature of man.
It seems to me that the real situation in our day—even in our churches—is that a man or woman feels relieved from the fears of "conception, infection, and detection," and that many people no longer know or care what the Bible says on these matters, and that many have absorbed enough of the rationalization of the new morality to assume that even the Church doesn't look so severely on these matters as it once did. "After all, it's 1966" is an expression that takes care of a lot of decisions. Nothing really worries us more than being considered "square" or "legalistic" or "Victorian," or being asked," What's wrong with you? You think this is the dark ages or something?"
I think there is still another approach that is worth looking at. If I see the picture rightly, whatever shows up in the Bible as the law of God for the behavior of man is not something God just happened to dream up. Nor is it something that was laid on the line in order to take away our fun. The law of God rightly construed is the expression of the nature of God and so of the nature of reality. We can obey if we wish, and we can disobey if we wish; but as H. H. Farmer once said, "If you go against the grain of the universe, you get splinters."
A thing may well be true because it is in the Bible, but I think it is more exact to say that it is in the Bible because it is true. Therefore the law of God, being an expression of ultimate reality, is truly related to how things are and the way we are. The laws of God are the directions on the package of life. We can mix up the ingredients any way we want, but what comes out will not be what is pictured for us on the package.
The other thing that seems to be clear about the law of God is that in the last analysis it is for our felicity if not for our pleasure—and not just in a "pie in the sky by and by when you die" way. The Bible is full of descriptions of the "abundant life" but makes it perfectly clear that one gets to the abundant life by the narrow way. The life is not narrow, but the way is narrow. If you are envious of the kind of life someone else lives, you might check his life out at this point: Did he get where he is with a kind of discipline that you yourself refuse to submit to?
There is here then an innerlocking between biblical revelation and natural revelation, between what the great pagan moralist discovered and what the Bible calls revelation.
Read sometime The Call Girl by Greenwald, case studies by an eminent psychologist of about eight women successful beyond words in their profession. The average income for each woman was $35,000 a year. For that kind of money, they must have been beautiful and reasonably intelligent; and with that kind of money they could afford good clothes, leisure, and "some of the good things of life." With them there was no fear of "conception, infection, or detection." They knew how to handle themselves and their careers. Yet they all turned to liquor and dope; and finally went down the drain.
Is there something built into the way things are that makes it impossible for one, even an expert, to set himself against the law of God? Is the law of God built into the nature of the very ones who would try to live apart from the law of God?
These girls couldn't make it. I wonder whether anyone can.
Have something to add about this? See something we missed? Share your feedback here.
Our digital archives are a work in progress. Let us know if corrections need to be made.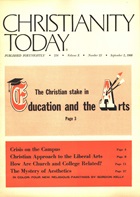 This article is from the September 2 1966 issue.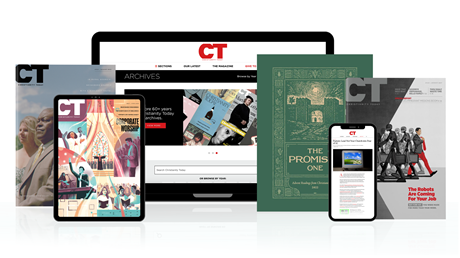 Annual & Monthly subscriptions available.
Print & Digital Issues of CT magazine
Complete access to every article on ChristianityToday.com
Unlimited access to 65+ years of CT's online archives
Member-only special issues
Subscribe
Going against the Grain
Going against the Grain