The life of theology and the Church is vulnerable to all sorts of dangers. Some people, deeply impressed by danger, are fearful of taking any new step lest they fall victim to it. One is reminded of the Preacher's description of people who are getting old: "They shall be afraid of that which is high, and fears shall be in the way … (Eccl. 12:5)." The time of fear is a hard time of life.
We must remember that, in theology and the Christian life, we are not permitted to be driven back by fear of danger, as wide-eyed as we ought to be to its reality. Danger is not a theological term. The man who is afraid of danger is disqualified for creative action in the tension-ridden times that Church and theology are now going through. Hemmed in by fear, we are held to a stalemate. And this is never God's intention for our lives.
Our task and calling must take us straight through danger. If we are possessed by fear, we are unable to do the job and follow the calling. This is true in the ordinary affairs of life and particularly in our Christian endeavors. We need only think of Paul and his own apostolic task. He fulfilled it in an environment of very practical dangers—things like rivers to cross, robber bands, the desert and the sea, raving mobs. The lesson is elemental: dangers may never keep us back from our job in life.
Tempted to act, or to fail to act, in fear, one is well served if he remembers Jeremiah 12:5: "If thou hast run with the footman, and they have wearied thee, then how canst thou contend with horses? And if in the land of peace, wherein thou trustest, they wearied thee, then how wilt thou do in the swelling of Jordan?"
One consequence of exaggerated fear of danger is the absence of joy. In fearful theology, we could never discover the truth of what Barth said about theology, that it is a joyful science. This does not mean, of course, that we play around with danger or ignore its presence. The slogan of the theologian can never be, "Peace, peace," when there is no peace. But dangers ought never to hide from us the clear lines of our responsibility, especially not in times such as ours.
It is tempting to zero in on all the dangers of relativism, irenicism, historicism, "demythologizing," and the like, and then to be so frightened by them that we give up on the task of translating the Gospel for our time for fear of falling into one or another trap. The only response that fear allows is that of the negative "anti," the negative judgment against heresies and rumors of heresies.
When this happens, we are inclined to forget that the Gospel is first of all a mighty pro. Once we are possessed by the power of the Gospel's pro, we will have ample occasion to come to grips with its con or anti side. We will have plenty of opportunities to speak in defense and resistance. But if we fall victim to the anti spirit and close our minds to the powerful pro, we sacrifice humanly speaking, the Church and theology to fear of danger. The future is closed to us when this happens. And we resign the Church to the public image of a group that is only against things, an image opposite to both the content and the spirit of the Gospel.
Nothing is more important for us today than that we blaze a trail through the dangers that surround us. This demands great seriousness and sober analysis of the times. Theology, around the world, is looked to increasingly for a word of power and clarity. But it can not pretend to offer its own "gnosis," a humanly constructed system of knowledge that it claims can open the doors of the Kingdom. Rather, theology must offer itself in humble service to human life, a service that only the Gospel can perform in the power of the Spirit.
Here, above all, we must live in the truth that "perfect love casts out fear" (1 John 4:18). The word John uses is the same one we meet when we read that Jesus "cast out" demons. Theology must cast out fear; it must be unwilling to duck away from any problem. At bottom, problem-ducking is an act of petty faith. In small faith, one suppresses problems out of fear that he and other believers can only be harmed by dealing with them in the open. Faith then becomes a safety zone where problems do not intrude and danger does not threaten. But in this faith there is no longer an opportunity for victory, because there is no longer any conflict.
We should not forget that almost everyone is influenced by modern media of communications, that almost everyone does come into contact with new questions. There are questions raised by the new technology of our time, questions about creation and the acts of God. There are questions raised by the very detailed biblical studies of our time. Anyone ignoring these questions does the Church poor service and inflicts serious damage on our faith and also that of the next generation. The theology of our time has become keenly aware of this.
The Gospel is the power of God to salvation, and Jesus Christ is the same yesterday, today, and forever. If we keep this in mind, we will face the dangers and go on with our task. Theology will be, not a game played in an intellectual ghetto, but a serious calling pursued in an open and fearless confrontation with the spirits of the age. This is how it was with Paul; he fled from no-one, not even the bright philosophers hanging around the Aeropagus. He faced outward because the gospel had taken hold of him, and compelled him to wish nothing more than to share it with others.
Dangers are around us, waiting for us not to capitulate but to conquer. They are there, not to fill us with fear, but to fill us with faith. Theology joins in the fray, answering a summons to cast out fear and do the Lord's work. Theology is a responsible job; and its responsibility should be met with joy and confidence. Fear fertilizes only a stunted faith. But in actual confrontation, faith is nourished with courage and love. This nourished faith is what makes us willing, under all circumstances, to give a reason for the hope that is within us.
Have something to add about this? See something we missed? Share your feedback here.
Our digital archives are a work in progress. Let us know if corrections need to be made.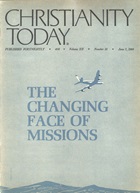 This article is from the June 7 1968 issue.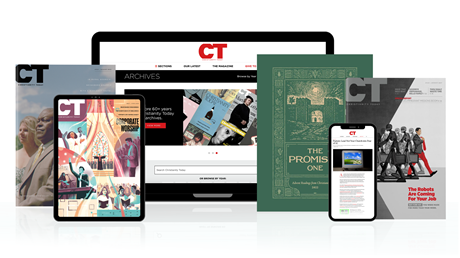 Annual & Monthly subscriptions available.
Print & Digital Issues of CT magazine
Complete access to every article on ChristianityToday.com
Unlimited access to 65+ years of CT's online archives
Member-only special issues
Subscribe
Casting out Fear
Casting out Fear