In St. Louis, a luncheon and all-games party was held in memory of a recently deceased person. Proceeds went to a medical center in California that does research in cancer and heart diseases. At a funeral home in St. Louis, mourners—some wearing mod clothes and wild colors—discussed the stock market. Even at small-town funerals, visitors chatter about relatives and movies and television as if they had just met at the grocery store.
Funerals are attended by fewer people today, says Elwyn Gipson of the National Selected Morticians, and they are becoming depersonalized and shorter. He adds another observation: "Modern ministers are more concerned with comforting the family than with preaching the Gospel."
A reader writes Ann Landers: "In the large city where I live, a funeral procession passes our office almost every day. I have seen small children make faces at the mourners in the cars. I have seen impatient motorists honk their horns and cut in front of a hearse. No respect. No consideration. No kindness. Are people changing?"
A year-long survey of 3,500 undertakers showed that many Americans are changing their attitude toward funerals. The traditional funeral with public viewing of the body still prevails in rural areas, particularly in the Midwest and the South. But in East and West Coast metropolitan areas, many consider the funeral only a utilitarian necessity and are moving toward simpler, non-religious, and less expensive funerals.
Who is at fault for this secular trend? It is easy to blame "the times," perhaps correctly. And many blame the morticians.
But I am going to make a bold alternative suggestion: Too many of us who are ministers have retreated from the true function of a Christian funeral, content to go along with the times. A Christian funeral is not a one-day revival. Nor is it an occasion to say a few pretty words or listen to sentimental music. The purpose is Christian worship. The goal is to focus attention on the greatness and goodness and everlasting nature of God. Congregation and mourners alike should be caught up in a worship experience that transcends circumstances, that strengthens and undergirds.
This is easier said than done, but here are some suggestions for accomplishing it:
1. Pastors must arrive at a conviction about what a funeral should be and discuss this with their congregations—before the need arises.
2. A planned worship service is better than a see-saw affair of a song and a Scripture passage and a song and a mini-talk and another song. The pastor should use the great hymns of the Church, as he would at a Sunday service, and involve the congregation and the family in worship through congregational singing, responsive readings, and the saying of the Lord's Prayer.
Often the family members are shielded in a side room at the funeral home. But why should they be? The family that shares in Christian worship receives much more support than the family that sits passively by, perhaps unable to see the minister or to hear what he says.
3. Music should focus attention on God ("A Mighty Fortress") rather than on the deceased ("Tell Mother I'll Be There"). The use of excessively sentimental songs has, I feel, turned many people against funeral music; today some families request that there be no singing at all. In the hour of great need, we ought not to deny ourselves the emotional support of the world's universal language, music. And if there is ever a time for a Christian to sing, it is in the face of death. To say we cannot stand music at a funeral is to say we have nothing to sing about.
4. Usually the service can be in the church, despite the frequently used excuse that a church funeral is too much "bother." Bother for whom? The mortician? That's what he is paid for and what he is equipped to do. There is no need for a long processional or pallbearers. The mortician can move the casket and the flowers to the church the morning of the funeral. Then the family and friends simply gather at the church, rather than at the funeral home. Most ministers feel out of place leading Christian worship in a funeral home, which at best creates an artificial situation. Acoustics are sometimes bad. Not everyone can see the minister. No hymn books are available for use in worship.
5. The family should view the body before the service, perhaps the morning of the funeral, so that the benefits of worship will not be annulled by the emotional strain of a final viewing.
6. The minister should encourage more people to attend the funeral of Christian worship, though no one should attend out of morbid interest in how the family is "taking" the death, or in how many people sent flowers. Sometimes friends spend all their energy preparing food, making telephone calls, and arranging flowers, so that the funeral becomes an eighteen minute anti-climax. In metropolitan areas, the processional to the cemetery may need to be eliminated, except for the immediate family. One does not help members of the family as much by driving an hour through city traffic to and from the cemetery as by standing beside them in the worship service.
7. Ministers should share their ideas freely with local morticians. Most morticians are willing to cooperate with the minister as well as with the family. Often, they make unwise suggestions simply because no one has offered better ones. In turn, the mortician should consult the minister before the time and place is set. Too often the minister is called last, after all details are set.
8. Instead of hiding the pulpit or altar with a bank of flowers, it might be better to arrange the flowers tastefully in hallways, foyer, or narthex of the church. A simple spray can go on the casket at the altar. More and more churches are following the custom of using a funeral pall. And why not? Attention should focus on God and his everlasting arms, not on the number of floral pieces.
In autumn, when the leaves turn a hundred hues, it is death that causes the blinding show of color. But it is a fierce and flaming death. So let our final rites for the Christian dead be a flaming and glorious experience of corporate worship—not a colorless, sentimental ditty.
lambs or tigers
Observe how quickly a wild tiger committed to a zoo becomes docile. Down through history most people, once enslaved, have readily adjusted to their altered situations; their lot becomes the new normalcy, and any break with it is upsetting and prompts resistance. We have so long become accustomed to the powedul d.omination of fuzzy-minded liberal theologians that we have come to accept it as a fact of life. Evangelicals must learn to swim in thick sand. It is time to break the status quo. Every year the problem of theological ambiguity grows larger. It is action, not slogans, that we need, not the profession but the practice of the truth. God is bypassing many of the great denominations today because they refused to maintain a pure testimony to the truth. If we do not wish to see our schools, presses, and buildings, fall into the hands of men who bow to the spirit of our age, then we need to act now.—Dr. CLARK H. PINNOCK, associate professor of theology, New Orleans Baptist Theological Seminary.
Have something to add about this? See something we missed? Share your feedback here.
Our digital archives are a work in progress. Let us know if corrections need to be made.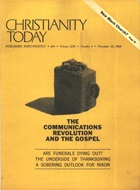 This article is from the November 22 1968 issue.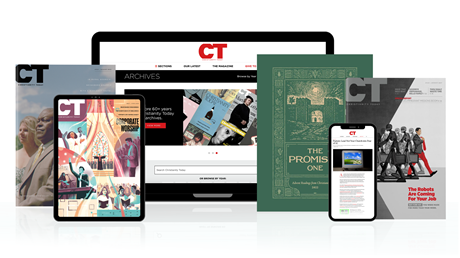 Annual & Monthly subscriptions available.
Print & Digital Issues of CT magazine
Complete access to every article on ChristianityToday.com
Unlimited access to 65+ years of CT's online archives
Member-only special issues
Subscribe
Are Funerals Dying Out?
Are Funerals Dying Out?