The Magazine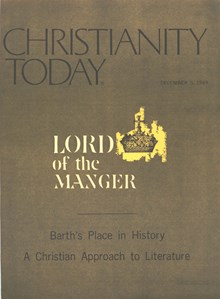 Read CT online anywhere you go.
Subscribers get full print and digital access, including:
10 award-winning print issues
PDFs of each issue
Full web access to ChristianityToday.com
60+ years of magazine archives
Table of Contents
The CT Archives are a rich treasure of biblical wisdom and insight from our past. Some things we would say differently today, and some stances we've changed. But overall, we're amazed at how relevant so much of this content is. We trust that you'll find it a helpful resource. - Mark Galli, editor-in-chief
Also in this Issue:
Editor's Note from December 05, 1969
The Lord of the Manger
Karl Barth, 1886–1968: His Place in History
A Christian Approach to Literature
Paul's Thorn and Ours
Book Briefs: December 5, 1969
Eutychus and His Kin: December 5, 1969
After Much Prayerful Consideration …
Christmas Power
The Peace March: A Post Mortem
A Time to Say 'No'
Budget Planners Note
Cross and Sword in Latin America
The Ministry of Admonition
Realities
Theology on the Rebound
Black Churchmen Plan NCC Takeover
NCC Crisis: Ecumenism at a Crossroads
Peace Protest: Carrying The Coffins
Christian Camps: Unique Opportunity
Bishops Move (Slowly) toward Collaboration
News Briefs from December 5, 1969
What Difference Does Faith Make?