Alive And Well
Dr. William Barclay of Glasgow, Scotland, is alive and well and still writing the popular religious books and Bible commentaries for which he is well known.
The Dr. William Barclay, 86, who died in London, Ontario, last July (see August 22 issue, page 43), was also a native of Scotland. He served as a president of the Canadian Council of Churches, and for twenty-four years was pastor of Central Presbyterian Church, Hamilton, Ontario.
A Religious News Service release incorrectly ascribed to him the authorship of several books written by the living William Barclay, a professor in the University of Glasgow Department of Divinity and Biblical Criticism.
In a letter to an American pastor last month explaining the mix-up, the Glasgow Barclay noted wryly: "I am not dead but very much alive.… I hope in the future to produce still more books which I hope you will find useful."
Biblical Scholarship: '30 Years Closer To Jesus'
The prevalent belief that Mark is the earliest of the Synoptic Gospels—and the most historically accurate—has been challenged by a Southern Baptist missionary in Jerusalem. Luke's gospel is both older and more reliable than Mark's, claims Robert L. Lindsey, 52, a Bible scholar from Oklahoma who has been translating the New Testament into Hebrew during the past ten years.
If true, the theory would upset much New Testament scholarship developed during the past century. Lindsey reported that he accidentally stumbled into his hypothesis while translating Mark into "good" Hebrew; he found he couldn't do it without distortions. In contrast, he found Luke translated easily into Hebrew, leading him to believe that the Greek text had been based on a Hebrew source.
In Lindsey's view, Mark contains numerous "non-Hebraic" words and phrases, as well as other problems of literary construction almost totally absent in Luke.
Instead of viewing Mark as the basis for the narratives of Luke and Matthew, Lindsey concludes that Mark used Luke (along with a protonarrative), and that Matthew drew heavily from both Luke and Mark but chiefly from Luke.
Lindsey characterizes Mark as a Midrashic rabbi type, interested in "words and word parallels following a more or less normal Jewish literary pattern," in the style of a journalistic rewrite man. The scholar, who went with his family to live in Israel in 1954, finds that Mark's editorial habits exhibit a "tendency to word redundancy … a willingness to play on words … and a penchant for dramatization or exaggeration."
In the eighty-page introduction to his translation just publishedA Hebrew Translation of the Gospel of Mark, Dugith Publishers, Baptist House, Box 154, Jerusalem, Israel., Lindsey notes that only in comparatively recent years has Mark been considered the earliest and most authentic gospel writer. He points out that "the earliest references to Mark's gospel, a fragment of one of the writings of Papias (c. 135 A.D.), shows that Greek Christians of the second century were critical of the gospel. Its unpopularity is also seen in the order the gospels take in some very early unicals, Mark's text appearing sometimes at the end of the four gospels. It was not until the sixth century that a Greek writer even bothered to compose a commentary on Mark."
The theory of Mark's primacy gained acceptance among New Testament scholars eighty years ago. According to H. J. Holtzmann, who was probably the father of the theory, before the writing of Mark there existed a protonarrative, very similar in content and language to the present Gospel of Mark. It may have been used by Matthew and Luke in addition—or possibly in preference—to Mark, according to Holtzmann.
Lindsey's position squares more with that of the leaders of the first-and second-century Church who saw and understood Mark's Gospel as an unoriginal rewrite, somewhat garbled, copied from better sources known and used in Christian circles of that day.
Some scholars have hailed Lindsey's book as the most scientific work of New Testament translation into modern Hebrew in the past hundred years (the last translation was made by Franz Delitsch in 1870 before Hebrew was revived as a spoken language).
Dr. David Flusser, professor of comparative religion at the Hebrew University in Jerusalem, said that to accept Lindsey's theory means a revolution in understanding and interpreting the New Testament. The hypothesis makes Luke more credible from the standpoint of history, he said. He noted that scholars can now work through the Greek with the sure knowledge that an earlier Hebrew source existed, probably written around A.D. 40–50.
"This," commented Flusser, "brings us some thirty years closer to Jesus."
DWIGHT BAKER
Ottawa Congress Hits Squall
The Canadian Congress on Evangelism has encountered squall conditions, and several evangelical leaders are running up storm warnings. The congress, patterned after the Berlin gathering, is slated for Ottawa next August (see November 7, 1969, issue, page 49). Now, eight months before its opening, two leading Toronto evangelicals have publicly expressed their misgivings; one reportedly has withdrawn from participation.
Dr. Paul B. Smith, pastor of The People's Church, Canada's largest Protestant congregation, has made his apprehension known in an open letter that received wide circulation. Said Smith: "At the time of its formation, the congress, in my opinion, had great potential. Unfortunately its high aims have been sidetracked due to the all inclusive attitude which is pushing to places of influence men, who by their own statements, do not adhere to the evangelical position."
Smith referred to alleged undue influence that old-line denominations are exerting. He stressed that he did not object to the participation of committed evangelicals, whatever their denomination; his protest was aimed at the participation of non-evangelicals. It has been authoritatively learned that Dr. William Fitch of Knox Presbyterian Church, who had been secured as the morning Bible-study speaker, has resigned from the roster of speakers for similar reasons. Fitch was one of the sixty-four original sponsors of the Berlin Congress on Evangelism.
Another prominent Toronto evangelical firmly disagreed with Smith and Fitch. The Rev. Kenn Opperman, of the Avenue Road Church of the Christian and Missionary Alliance, is invitations chairman for the Ottawa congress. He declared that "the overwhelming majority of those invited are committed evangelicals."
Congress organizers are hoping that the flurry is only the result of poor communications, and that the whole Canadian evangelical constituency will rally to support the gathering.
LESLIE K. TARR
God Goes To High School
A school campus cannot be declared off limits to God.
So ruled the Alameda (California) County Counsel last month in a case that attracted national interest. It involved Steve Minyen, a soft-spoken 18-year-old senior at Washington High School in Fremont.
During lunch hour one day, Minyen and some friends were chatting outside when the conversation turned to drugs and sex and the meaning of life. Minyen, who has attended Assembly of God churches all his life, related how Jesus Christ has helped him. A dozen youths gathered to listen. A school administrator, sensing trouble brewing, plunged into the group and spirited Minyen inside to principal Robert Callahan.
Callahan, an ex-Marine who runs a tight school, instructed the youth to refrain from talking about his faith while on school property or face suspension. He cited the state education code, which prohibits religious teaching "directly or indirectly" on a public-school campus.
Minyen replied that he could not obey the order because God was "the most important factor" in his life. The irritated principal sent the student home with a request that he return next day with his parents. Minyen's mother and his father, a brick-layer, backed their son. Talk of drugs or Marxism, they accused, would not have incurred censure. They and Callahan agreed to a cease-fire and submitted the matter to the county attorney for an opinion.
In the ensuing week, the case crept onto front pages of San Francisco Bay area dailies. It also became a major topic of radio talk shows, and Minyen appeared as a guest on several.
County Counsel Richard Moore ruled that Minyen was within his rights of free speech so long as he did not interfere with the school's operation. Other students, he said, were free to walk away if they did not wish to listen.
Most high schoolers are interested in spiritual things, observed Minyen, who is still talking about Christ on campus. They sometimes ask about church, he says, "but I don't stress that too much. The main thing is to experience Christ, to accept him inside."
RICHARD TAYLOR
Second Lunar Visit: An Ecumenical Memento
A white linen banner with crewel-embroidered Christian symbols in assorted colors accompanied the Apollo 12 astronauts during their November voyage to the moon.
The banner, measuring fourteen by eighteen inches, was the idea of Alan L. Bean, one of the three Navy commanders who conducted the second lunar landing manned mission. His plan was to bring it back and give it to the Clear Lake (Texas) United Methodist Church, which he helped to found several years ago. Another charter member, Mrs. S. Milo Keathley, made the banner.
The 37-year-old Bean is a life-long Methodist. The Apollo 12 commander, Charles (Pete) Conrad, is an Episcopalian. Command module pilot Richard Gordon is a Roman Catholic; his wife said she planned to attend mass each day of the mission. Interviews with the astronauts prior to the moon trip showed Bean to be the most outspoken about his religious convictions, an inclination for Playboy magazine notwithstanding. "Two things are major factors in a man's life," he was quoted as saying. "One is his technical knowledge and ability, the other is his ethics, which are mainly the result of religious convictions."
The APL News Service, a branch of Aerospace Ministries, said he has taught Sunday-school classes and has served on several church commissions. A World Book Science Service report declared that "Bean balances his intensity with a good sense of humor. Asked who he would like to be if he could be in someone else's skin, he replies: 'Sophia Loren.' (Playboy ranks fourth among his nontechnical reading.)"
Religion In Transit
A District of Columbia judge ruled that Washington, D. C.'s anti-abortion law is partially unconstitutional, saying abortion is a matter between a woman and her physician. The ruling thus exempts licensed physicians from the law, and paves the way for a rash of court battles—predicted to reach the U. S. Supreme Court level.
A two-and-one-half-hour movie based on the life and work of the late Dr. Martin Luther King, Jr., will be shown in more than 1,000 theaters in 300 cities next year.
Burglars absconded with three $1,000 bills hidden in the pages of a family Bible in the home of Thomas Williamson, Scarborough, Ontario. "I never thought anyone would look in the Bible," mourned Williamson.
Someone spirited away the one-ton bell in the belfry of St. Jarlath Roman Catholic Church, Chicago, on Halloween night. An astounded wrecking company official commissioned earlier to remove the bell estimated that a crane with a 125-foot boom would have been needed to perform the feat and could offer no explanation of how thieves did it.
Deaths
FRANK GOAD CLEMENT, 49, three-term governor of Tennessee, lay preacher; in Dickson, Tennessee, in an auto accident.
WALTER CORLETT, 65, director of World Vision's ministries in India and West Asia, a founder of Youth for Christ in India, pastor of Carey Memorial Baptist Church, Calcutta; in Calcutta.
JACK HUME, 52, religion editor for the Cleveland Press, president of the National Religious News Writers Association; in Cleveland, Ohio.
ERNESTO SCHLIEPER, 60, president of the Evangelical Lutheran Church of Brazil, Lutheran World Federation executive; in Porto Alegre, Brazil.
Personalia
Assemblies of God general superintendent Thomas F. Zimmerman was reelected chairman of the Pentecostal Fellowship of North America at its twenty-second annual convention in Virginia Beach, Virginia.
Presiding Bishop Hans Lilje of the Evangelical Church of Hannover, Germany, has asked the denomination's synod to replace him as he plans to retire for health reasons.
Dr. John H. Tietjen was installed as sixth president of Concordia Seminary, St. Louis, during the Missouri Synod Lutheran school's 130th anniversary last month … Loyed R. Simmons resigned as president of California Baptist College at Riverside, California, after eleven years at the post … Dr. Harm A. Weber, pastor of Covenant Baptist Church in Detroit, was appointed president of American Baptist-related Judson College at Elgin, Illinois, this month.
"I kept the Lord in front of me," was the way Mrs. Annie Mae Bankhead explained how she was able to "save the town" of 5,000-population College Station, Arkansas. She was cited by the National Council of Women of the United States for her efforts extending over forty years in bettering conditions there. The slender Negro woman, voted Woman of the Year and recipient of the Woman of Conscience Award, put her four children through college.
World Scene
The Reformed Churches (Gereformeerde Kerken) in the Netherlands voted by an overwhelming majority to apply for membership in the World Council of Churches. The Reformed bodies have a membership of 450,000.
After keen debate, the Board of Missions of the Australian Presbyterian Church decided to let each aboriginal mission and reserve determine for itself whether or not to allow the use of alcoholic beverages on the premises.
The Baptist Union of South Africa has withdrawn from the South African Council of Churches, citing long-standing "differences with the council's liberal stance."
The Rev. H. G. Goddard has purchased from the Methodist Church the Primitive Methodist Chapel in Colchester, England, where evangelist Charles H. Spurgeon was converted in 1850.
Four Protestant and three Roman Catholic seminaries in Toronto, Ontario, have pooled faculty resources to form the Toronto School of Theology, with an enrollment of 350 (200 Catholics).
A mosque in Peking—opened in 1966 and tolerated as "a gesture to African Muslim countries"—is the only religious building still believed open to worshipers on mainland China, according to the South China Morning Post.
Have something to add about this? See something we missed? Share your feedback here.
Our digital archives are a work in progress. Let us know if corrections need to be made.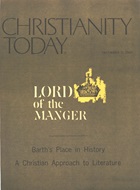 This article is from the December 5 1969 issue.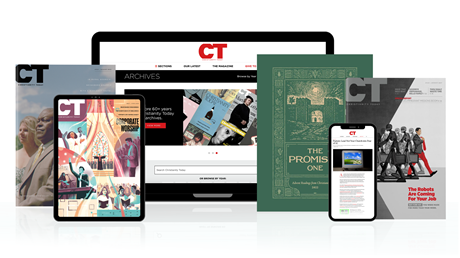 Annual & Monthly subscriptions available.
Print & Digital Issues of CT magazine
Complete access to every article on ChristianityToday.com
Unlimited access to 65+ years of CT's online archives
Member-only special issues
Subscribe
News Briefs from December 5, 1969
News Briefs from December 5, 1969