The story of Paul's thorn in the flesh is given in the twelfth chapter of his second letter to the Corinthians. He begins his account of this experience with a statement of his great and abounding privileges in the Christian life. The visions and revelations of the Lord he has had, he says, have lifted him up to a third heaven of rapture and delight. But, he goes on at once, "lest I should be exalted above measure"—a phrase he repeats, no doubt in order to emphasize its importance—"there was given to me a thorn in the flesh, the messenger of Satan to buffet me." That is to say, Paul was given this thorn in the flesh in order to save him from that most ugly and devastating and deadly of sins, spiritual pride.
What was this thorn in the flesh? Paul does not identify it. Probably he left it vague quite deliberately. For one thing, Paul was never a man to chatter about his troubles; he had no desire to magnify his difficulties so as to make himself out to be a hero, and thus win sympathy; he did not have any martyr complex. For another thing, by leaving it indefinite, his experience could be of value and help to all who might have any sort of burden to endure.
The question of just what this thorn of Paul's was, however, has continued to excite the curiosity and to call out the ingenuity of students of the Bible ever since the Apostle's words became part of Holy Scripture. Three main types of interpretation have been suggested. First, some Roman Catholic expositors, especially those with monkish leanings, have thought Paul was referring to carnal desire, bodily temptation, the solicitations of the flesh. This explanation has perhaps been suggested by the Latin Vulgate translation, "stimulus carnis." It is, however, rather unlikely. For one thing, there is nothing in Scripture to suggest that Paul was particularly subject to bodily temptation; and if he had been, he would have prayed about the matter, not three times—as he did about his thorn—but constantly.
Second, such commentators as Chrysostom, the great preacher of the Eastern Church, and Erasmus, the great Christian humanist of the sixteenth century, have suggested that Paul was here referring to a personal enemy who sought to slander and discredit him and thus undermine his Christian work and witness. In Second Timothy 4:14 Paul says that Alexander the coppersmith did him much evil, and in First Timothy 1:20 he speaks of the opposition of Hymenaeus. So, according to Chrysostom and Erasmus and other interpreters, Paul's thorn in the flesh may have been someone like Alexander or Hymenaeus. This explanation, while possible, is not very likely, for Paul would probably not have referred to such a man as "the messenger of Satan."
A third explanation is that Paul's thorn in the flesh was some physical or nervous ailment. For example, G. Campbell Morgan thought that his thorn was weak eyesight; and in the Epistle to the Galatians there is evidence that Paul had eye trouble, at least occasionally. Sir William Ramsay, the great Scottish Pauline authority, suggested that Paul's thorn was the burning malarial fevers so frequent in his day in Asia Minor, where so much of his missionary work was done. Lesley D. Weatherhead thinks that perhaps the affliction was nervous exhaustion, maybe superimposed on some physical ailment. This third explanation, that Paul was referring to some physical or nervous malady that caused him acute frustration and agony, seems most probable, but there is no certainty about it.
What is quite clear, however, is that this thorn, whatever it was, drained his strength and seemed to interfere with the progress of his missionary and evangelistic work, and he prayed God three times to remove it. No doubt the members of the churches that he had founded joined their prayers to his.
God answered this prayer—but not in the way Paul had expected and hoped for. He did not take the thorn away: to that aspect of Paul's prayer God's answer was simply "no." But he did something far better. He answered it by saying: "My grace is sufficient for you; for my strength is made perfect in weakness." In other words, God's answer was: "No, Paul, I am not going to remove the thorn from your flesh. But I am going to do something far better for you—I am going to give you grace to overcome it." And Paul, having learned his divinely taught lesson, said this: "Most gladly therefore will I rather glory in my infirmities, that the power of Christ may rest upon me." Although he might never have thought this in advance, Paul gained some of his deepest and richest Christian experience right there, through the thorn in the flesh that afflicted him.
Paul's handling of this problem has important lessons to teach Christ's followers in at least three areas of their own experience. First of all, it offers guidance as to the Christian response to frustration. Frustration seems to be an inescapable part of human experience; everyone has some project to complete or some ambition to realize in which success is denied him. The most common reaction to such frustration is to try to escape from it. Some seek escape in cynicism and bitterness of spirit. About the year 1700 one of the most able clergymen in the Church of England was the Irishman Jonathan Swift. He hoped to be given some position of importance in the church, perhaps a bishopric, but received nothing higher than the deanery of St. Patrick's Cathedral in Dublin. As a result he became cynical and bitter about life. One evidence of this is his well-known book Gulliver's Travels, which is a cynical exposure of the smallness, the meanness, the bitterness of human nature. The little money Swift managed to accumulate during his life he left in his will to establish a madhouse, and he wrote the following epitaph:
He left the little wealth he had,
To found a house for fools and mad;
And showed, by one satiric touch,
No nation needed it so much.
A second way of seeking to escape from frustration is through alcohol. Edgar Allan Poe was brought up by foster parents in Richmond, Virginia. When he entered the University of Virginia at Charlottesville, he was not given much spending money, and this put him at a disadvantage in relation to his many classmates who, as the sons of wealthy planters, had plenty to spend. Poe gambled to recoup his losses; but he lost again. In his frustration he took to drink and became an alcoholic.
In extreme cases people seek escape from frustration in suicide. In the mid-eighteenth century a young English poet named Thomas Chatterton went up to London, the literary Mecca of the England of that day, to seek fame and fortune as a literary man. But recognition was slow in coming, and Chatterton committed suicide. William Wordsworth, in one of his poems, speaks of "Chatterton the marvelous boy, that sleepless soul that perished in his pride"; but it was much more in frustration than in pride that Chatterton died.
The Christian response to frustration is not to run away from it, nor to seek to escape it. It is, rather, to accept it, and by the grace of God to make the most and the best of it. This is what Paul did with his thorn in the flesh; and this is how Christian men in every age have responded. As a young man, Robert Louis Stevenson had literary ambitions, but he was handicapped by tuberculosis (which was to bring him to a premature grave in Samoa at the age of forty-four). This physical weakness, however, did not prevent him from pursuing his literary ambitions. At first he wrote with his right hand. When this failed, he learned to write with his left. When he could no longer do this he dictated his literary works; and when speech failed him, he dictated a novel in the deaf and dumb alphabet. This was the man who wrote, "This world is so full of a number of things, I am sure we should all be as happy as kings."
Paul's experience of his thorn in the flesh gives guidance as to the Christian understanding of unanswered prayer. Of course, to the properly instructed Christian, prayer is much broader and fuller than mere petition; it should include adoration, thanksgiving, and confession of wrongdoing. But petition is a definite part. The Christian asks God not merely for spiritual blessings but for material things as well; for example, right in the middle of the prayer that Jesus taught his disciples there is this petition: "Give us this day our daily bread." Sometimes God does not answer such requests affirmatively. But the petitioner who asks in faith will always be answered; he will be rewarded with what Robert Louis Stevenson called a "gracious visitation." Adoniram Judson, one of the pioneer missionaries from the United States a century and a half ago, once said that no prayer of his had gone unanswered. But he had prayed to be sent to India, and had to settle for Burma. When his wife took sick he prayed that her life might be spared, but she died. He was imprisoned by one of the Burmese rulers when war broke out between that king and the British, and although he prayed for release, it did not come for months. All the time, however, the great prayer of his life was being answered; for through his work and witness and sufferings the Christian Gospel was coming to Burma in a vital way.
Finally, the experience of Paul's thorn in the flesh illustrates something of the Christian attitude toward suffering. The Christian faith does not deny the reality of suffering. It is a grim, stabbing reality. Nor does the Christian faith teach that suffering is necessarily the fruit and punishment of sin, though it may be that. After all, what did Paul do to deserve his thorn in the flesh, or Jesus to merit his death on Calvary's cross? But Christianity asserts that suffering, if properly responded to, if taken in the right spirit, can carve and mold Christian character. Said Dr. Harry Emerson Fosdick:
If our vocabulary did not have in it words like "trouble," "adversity," "calamity," "grief," our vocabulary by no possible means could have in it words like "bravery," "fortitude," "patience," "sacrifice." He who knows no hardship will know no hardihood. He who faces no calamity will need no courage. Mysterious though it is, the characteristics in human nature which we love best grow in a soil with a strong admixture of trouble [The Secret of Victorious Living, p. 14].
If Paul's thorn was given in order to save him from spiritual pride, it undoubtedly succeeded in doing so. When he started out on his Christian pilgrimage, he described himself as "an apostle"; when he had progressed somewhat, he called himself "less than the least of all saints"; and when he had progressed still further, he described himself as "the chief of sinners." Paul learned humility through the thorn in the flesh that afflicted him. To the Christian who responds in faith, suffering can produce greater Christ-likeness of character and richer and fuller Christian usefulness and service.
Norman V. Hope is professor of church history at Princeton Theological Seminary. He is a graduate of Edinburgh University with the M.A., B.,D., and Ph.D. degrees.
Have something to add about this? See something we missed? Share your feedback here.
Our digital archives are a work in progress. Let us know if corrections need to be made.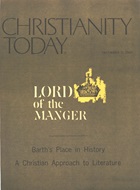 This article is from the December 5 1969 issue.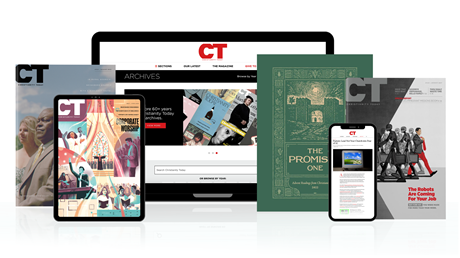 Annual & Monthly subscriptions available.
Print & Digital Issues of CT magazine
Complete access to every article on ChristianityToday.com
Unlimited access to 65+ years of CT's online archives
Member-only special issues
Subscribe
Paul's Thorn and Ours
Paul's Thorn and Ours