Fourth in a Series
There is no need whatever to apologize that a Buddhist may chair a university religion department or teach in an elementary or secondary public school; public education can accommodate even proponents of the death of God or other momentarily fashionable views. Something else is at stake, however, when public education reflects the religious heritage of the West and the basic commitment of the citizenry mainly through the perspective of those who disown it, or professes to be neutral while denying adequate representation to traditional religion. Such a posture is akin to religious propaganda and not to academic objectivity.
The Supreme Court makes it clear that the teacher of the history of religion, comparative religions, and sacred texts must not endorse one religion over competing faiths in the classroom, nor give systematic indoctrination in any creed. The fact is that many religious colleges and day schools thrive in the United States mainly because American public education is thought not to deal adequately or fairly with the religious heritage and commitment of the masses. Some persons no doubt busily blast public schools as such in justification of private schools. But private schools do not depend upon inept public schools for their existence; they have a legitimacy of their own, whether public schools fulfill their proper role or not. The private school need not be in competition with the public school in the area of religious teaching and religious adequacy.
To be sure, the public campuses are not evangelical colleges or Christian elementary and secondary schools and are not expected to be so. But a school jeopardizes rather than protects its public character if it virtually excludes competent scholars who reflect the religious heritage of the West on its own presuppositions. Apart from a few noteworthy exceptions, the representation on secular campuses of evangelical scholars in religion and philosophy departments is proportionately very small; it might well be asked whether an anti-supernaturalistic and anti-evangelical bias has gained religious academic tenure.
Not only historic Protestant Christianity but the Catholic faith and traditional Judaism suffer maltreatment from such prejudices. Fair treatment must be accorded all religious perspectives, whether minority or majority faiths. We are now seeing on public campuses the rise of divisions of Jewish studies in affiliation with religion departments; divisions not only of Christian studies but of Catholic, Orthodox, Protestant and/or evangelical studies and of other alternatives as well may emerge unless a truly representative overall balance of scholarship is maintained, providing a comprehensive overview of the past religious heritage and of the present religious scene.
Unfortunately, modern academic tolerance often is reduced simply to indifference over questions of religion and ultimate values, and even to polite disdain for the Judeo-Christian heritage; current resignation to value-free education nurtures the peculiar suspicion that attention to religious traditions will somehow prejudicially taint education. The Schempp decision declares that a complete education requires "a study of comparative religion or the history of religion and its relationship to the advancement of civilization." If this is so, what can we say about a generation that has had virtually no academic exposure to Old Testament and New Testament religion, or whose impressions are often limited to the prejudices of those contemporary thinkers who dismiss the supernatural as mere myth or linguistic bewitchment?
Study about religion in the public arena calls, assuredly, for both academic competence and an academic spirit. It is remarkable that across the years few states have included religion as a required subject for teaching certification at the elementary level. Recently Michigan and California approved religion as a teaching minor; Wisconsin also has an approved program at Marquette. But religion has traditionally been taught simply in an introductory crash course. The question now arises whether only prescribed institutions are to hold a monopoly of religious training that counts toward state teaching credentials, or whether all accredited institutions preparing elementary and secondary school teachers will be free to declare religion studies a part of their teacher program. And are faculty recruits for religion offerings to be drawn from public institutions whose religion departments are prone to exclude candidates who do not bend easily to the prevailing religious orientation?
The Schempp decision applies in principle to public education at all levels. It is now often emphasized, however, that elementary and secondary education differ significantly from higher education. At elementary and most secondary levels, students stand in a compulsory educational relationship to educators; at higher levels this relationship is voluntary. Some observers would also add that elementary and secondary students are more prone to indoctrination by their teachers. This may be true, but in this mass-media age even elementary school children are not exempt from skepticism over television commercials; college and university students, on the other hand, frequently parrot or mirror the views of their professors even in areas like philosophy that presumably demand critical reflection.
The second point in the Schempp decision refers specifically to the Bible. Public schools obviously cannot be expected to teach the Bible in the same way as do church institutions. Many church-related schools, for example, insist that the Scriptures be taught by believers only, and that Scripture be presented as the Word of God or as qualitatively unique. The Bible, according to the Supreme Court decision, merits study "for its literary and historic qualities." For an evangelical Christian to insist that the Bible cannot be studied as literature or history unless one is a believer, and unless the Bible is accepted in advance as the Word of God, is inexcusable. The believing instructor ought not to forget that faith is a divinely engendered response that not he but God presses upon man. It is equally inexcusable for a non-evangelical to insist that one must be a modernist or a disbeliever to appreciate the literary and historical facets of the Bible. [To be continued.]
Have something to add about this? See something we missed? Share your feedback here.
Our digital archives are a work in progress. Let us know if corrections need to be made.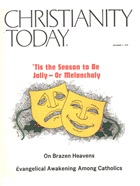 This article is from the December 7 1973 issue.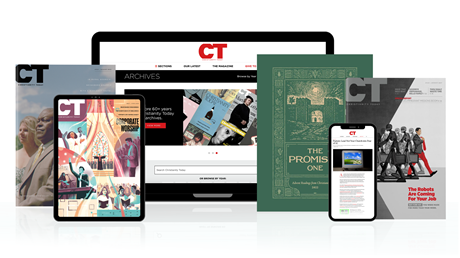 Annual & Monthly subscriptions available.
Print & Digital Issues of CT magazine
Complete access to every article on ChristianityToday.com
Unlimited access to 65+ years of CT's online archives
Member-only special issues
Subscribe
Religion in the Schools
Religion in the Schools