Fifteen years ago in England John Osborne's play Luther was first produced. Later it came to the New York stage. More recently the American Film Theatre included it in its series of filmed plays. The theater released this version last summer for rental to schools, colleges, and other interested groups. Osborne's portrayal of Martin Luther is gaining a wider audience. But who is Osborne's Luther? Osborne gives us the answers by the way in which he structures the scenes and handles the dialogue.
Act One opens with the ceremonies marking Luther's formal acceptance into the Augustinian order. Osborne dramatizes the actual practices at such ceremonies; even the theatrical prostration of the candidate with arms extended in the form of the cross is historically authentic. Martin's father, Hans, asks, "What made him do it?" As we know from Luther's later writings and table talk, Hans was indeed puzzled and even resentful, but he stayed home on this occasion. Osborne includes him to introduce the audience to the strained relationship between father and son, a prominent situation throughout the play.
The next scene shows Martin's life in the cloister and includes a period of communal confession. The other monks confess infractions against the rules of the order, as they were supposed to do at such times; Martin vividly confesses his dreams and his fears. How, he wonders, can he justify himself? Martin addresses no pleas to God. Rather, he grovels about his own identity and tells of dreams a modern audience recognizes as loaded with psychiatric material.
As the monks are in the choir, chanting one of the offices, Martin, moaning, comes out of his stall, "muscles rigid, breath suspended, then jerking uncontrollably as he is seized in a raging fit" (stage directions). The scene ends as he shouts, one word at a time, "Not!… Me!… I … am … not!" and is then dragged away, about to vomit. This powerful spectacle is based on legends about Luther, but Osborne again neglects the spiritual side. A version of the legend claims that the gospel passage telling of Christ's exorcism of a devil from a deaf mute caused Luther's extreme reaction. Osborne wants us to find his actions the result of a disordered personality.
In the following scene, Osborne reinforces this in Luther's opening soliloquy:
"I lost the body of a child, a child's body, the eyes of a child; and at the first sound of my own childish voice. I lost the body of a child; and I was afraid, and I went back to find it. But I'm still afraid.… I'm afraid of the darkness, and the hole in it; and I see it sometime of every day!… And there's no bottom to it, no bottom to my breath, and I can't reach it. Why?… There's a bare fist clenched to my bowels, and they can't move, and I have to sit sweating in my little monk's house to open them. The lost body of a child, hanging on [its mother], and close to the warm body of a man, and I can't find it" (this and all subsequent quotations are taken from the Signet-New American Library edition of the play).
Osborne's anal emphasis undercuts Luther's spiritual insight.
Martin, lost, is seeking some kind of security to replace the mother and father he cannot find. His constipation is one symptom; another as Brother Weinand says, is his over-scrupulous conscience that prevents him from trusting God's mercy.
Luther's father is present at his son's first Mass, as he really was in 1507. And his speeches are historically accurate. He flings the commandment "Thou shalt honor thy father and thy mother" at his son—Luther refused a lawyer's career—and he says of the vision that led to Martin's entering the monastery, "I hope it wasn't a delusion and some trick of the devil's."
Osborne adds his own touches to the scene. Hans tells Martin that having children is the only way to frustrate Old Nick when he comes for you; later he tells his son that "you can't get away from the body of your father and your mother!" They also discuss why Martin hesitated during his first Mass. Luther says, "I dried up—as I always have" when he tried to talk with God. The dramatic context here implies that his difficulties with God are an extension of those with his father. Hans Luther says of the eucharist, "Bread thou art and wine thou art/And always shall remain so." Osborne highlights here the tensions between the earthy father and the would-be ascetic son. The scene ends with Martin, alone, sipping a glass of wine, and saying, "But—what if it isn't true?"
Luther in the play explains how spiritual illumination came to him. In a personal, introspective sermon he reveals what led him to the doctrine of justification:
"While I was in my tower, what they call the monk's sweathouse, the jakes, the john, … I was struggling with the text I've given you: 'For therein is the righteousness of God revealed, from faith to faith; as it is written, the just shall live by faith.' And seated there, my head down, on that privy just as when I was a little boy, I couldn't reach down to my breath for the sickness in my bowels, as I seemed to sense beneath me a large rat.… I sat in my heap of pain until the words emerged and opened out. 'The just shall live by faith.' My pain vanished, my bowels flushed and I could get up. I could see the life I'd lost. No man is just because he does just works. The works are just if the man is just. If a man doesn't believe in Christ, not only are his sins mortal, but his good works.… I need no more than my sweet redeemer and mediator. Jesus Christ."
Although the authentic Lutheran doctrine of justification by faith is here, Osborne undercuts it by its context. He plays up the story that Luther's moment of illumination came to him in the privy, a story Luther's biographers tend to omit or relegate to a footnote. He adds to it the suggestion of deep psychological fears—the rat beneath—and links the spiritual insight to relief of a condition earlier established as psychosomatic.
The remainder of the play deals with the further events of Luther's break from Rome. There are scenes involving the interview with Cajetan, the decision of Pope Leo to issue the bull against Luther, Luther's burning of the bull (here Osborne again plays up Luther's overwrought personality and his doubts about God), the Diet at Worms, and the Peasants' War.
The final scene takes place in Wittenberg in 1530. Osborne has Staupitz (who actually died in 1524) visiting Martin and Katherine in the former cloister. Martin, still afflicted with intestinal trouble, tells this sympathetic listener that his father, Hans, was finally pleased with him when he married and his wife became pregnant. Staupitz holds Luther responsible for the Peasants' War, and in discussing it Luther admits to a continuing uncertainty about the rightness of his actions. The play ends with Martin rocking his sleeping son and reflecting on his life:
"What was the matter? Was it the devil bothering you?… Well, don't worry.… So long as you can show him your little backside. That's right, show him your backside and let him have it. So try not to be afraid. The dark isn't quite as thick as all that. You know, my father had a son, and he'd to learn a hard lesson, which is a human being is a helpless little animal, but he's not created by his father, but by God. It's hard to accept you're anyone's son, and you're not the father of yourself.… You should have seen me at Worms. I was almost like you that day, as if I'd learned to play again, to play, to play out in the world, like a naked child. 'I have come to set a man against his father,' I said, and they listened to me. Just like a child. Sh! We must go to bed, mustn't we? A little while, and you shall see me. Christ said that, my son. I hope that'll be the way of it again. I hope so. Let's just hope so, eh? Eh? Let's just hope so." Osborne throughout the play emphasizes Luther's concern with things anal, his struggle to clarify his own identity over against that of his father, and his failure to be sure of his relationship with God. The audience leaves with the echo of "Let's just hope so."
Osborne never satisfactorily answers Hans Luther's question, "What made him do it?" We don't have here a man of faith, a great reformer of the Christian Church. We instead find a tormented, insecure, searching Luther, with modern doubts and confusions, more a man in need of a psychoanalyst than one to whom others looked for great spiritual leadership. One of my students called Osborne's Luther a classic example of an anal-retentive type; others might want to extend to this Luther the judgment Erik Erikson made of the historical Luther, that he suffered a prolonged identity crisis (see his Young Man Luther: A Study in Psychoanalysis and History). Osborne emphasizes those incidents in Luther's life that support such a picture. By framing the play with scenes revealing this side of Luther, the author placed even the decisive declarations of faith in the context of psychological struggles and doubts. Even though there is some truth to this picture—it is supported in some respects by Luther's own talk and writings—it is not a full picture of the Lord's servant.
Martin Luther.
Paul K. Hesselink teaches English at Covenant College.
Have something to add about this? See something we missed? Share your feedback here.
Our digital archives are a work in progress. Let us know if corrections need to be made.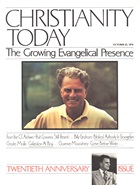 This article is from the October 22 1976 issue.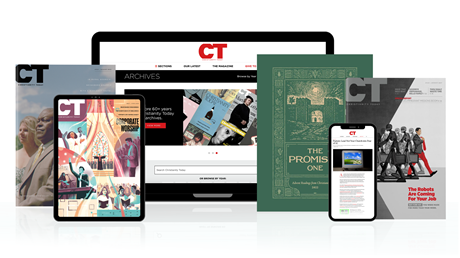 Subscribe to Christianity Today and get access to this article plus 65+ years of archives.
Home delivery of CT magazine
Complete access to articles on ChristianityToday.com
Over 120 years of magazine archives plus full access to all of CT's online archives
Subscribe Now
Refiner's Fire: John Osborne's Martin Luther
Refiner's Fire: John Osborne's Martin Luther