The Magazine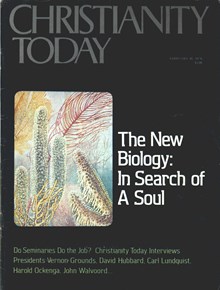 Read CT online anywhere you go.
Subscribers get full print and digital access, including:
10 award-winning print issues
PDFs of each issue
Full web access to ChristianityToday.com
60+ years of magazine archives
Table of Contents
The CT Archives are a rich treasure of biblical wisdom and insight from our past. Some things we would say differently today, and some stances we've changed. But overall, we're amazed at how relevant so much of this content is. We trust that you'll find it a helpful resource. - Mark Galli, editor-in-chief
Also in this Issue:
Bracing for Battle
Editor's Note from February 10, 1978
FILLER TITLE
What's so Bad about a Low I. Q.?
Seminarians: Out of the Classroom, into the Pulpit
The New Biology in Search of a Soul
Refiner's Fire: The Inn Book in American Literature
FILLER TITLE
Sanding Sailboats
Christians and Animals
FILLER TITLE
Israeli Law: Toward Convert Control
Son of God, or Fabricated 'Christ'? Does It Matter?