The town was on the edge of one of the great lakes. The wind swept the waves onto the shore in cold splashes. Snow flurries reminded everyone that summer was gone. People shivered a bit as they came into the warm auditorium of the church where I was lecturing on marriage. Among the things I talked about in an hour and a half was the importance of strengthening human ties, and working on the continuity of relationships as a creative thing of beauty, worthy of career status. I suggested a variety of new starts to the husband and wife relationship, ways of finding new ways to work together, such as growing indoors as a hobby as well as for producing food, growing a vegetable garden, or cultivating rare fruits and berries, or recovering furniture and producing a joint work of refinishing wood and upholstering, of making a croquet court, or a chicken coup. "Do you love to swim, and does your husband prefer mountain climbing? Try learning to climb with him to surprise him, and to discover a new dimension of sharing discoveries. There are things to be seen and enjoyed on the whole trail, not just from a peak, which can't be found under water. Find a kind of book he enjoys and try reading out loud for an evening instead of watching T.V., and discover the togetherness of discussing chapters, or even paragraphs, and put it aside to make a milk shake or to cut a melon when there is a drop in interest."
New beginnings are important in an evening, as well as in a week, a month, a year, or a decade of a human relationship. It takes imagination and a certain amount of practice to put the other person first, for husbands and wives. The secret is the discovery of practical ways of literally fulfilling the admonition, "he that loseth his life for my sake shall find it" combined with "And whosoever shall give to drink unto one of these little ones a cup of cold water only in the name of a disciple, verily I say unto you, he shall in no wise lose his reward." If love, or charity, is to begin in our own households, then it is also clear that the things we are to do for others because of our love of the Lord, are also to begin with our treatment of our husbands and wives, children and parents, as we do things for them which we know the Lord deserves. In putting our own desires aside, the amazing thing is that we are not the ones to lose something; we are the ones to find something more precious than gold. A fresh beginning of putting the other person's interest and pleasure first not only opens up new communication with the other person, but is for us as Christians a fresh opportunity to grow in understanding in a way no theoretical study could ever help us to grow, as we practice that which we are being taught in God's Word.
We need not think that we have to travel the ocean and cross the deserts to find someone to do something for. It can be someone across the world, or across the street, or on the other side of your bed. In learning to put the Lord first, in learning what it means to want to bring joy to our heavenly bridegroom, certainly we need to discover in horizontal relationships the area in which we can practically put a brother or sister, a mother or father, a husband or wife, a child or a grandchild first in our choice of how we are going to use an hour, a day, a week, or a month. The thrust of striving for rights or having everything equal blots out the key, or the secret that God has so specifically handed to us of how to find our lives. Life is very short, and if in our marriage (for those who are married) we are not discovering a specific place where we are putting self aside to do something the other person has been wanting us to do with them, the lack of fresh dimensions of growth in the relationship can be traced to a complete ignoring of what God has made so definite in his Word. So often people are spending so much time talking about, or questioning, the Word of God, that they leave no time to do it, or practice the clear directions given. God has shown us how to make fresh starts and to open up exciting new areas of growth in our human relationships as we put aside something we want to use time and energy for, to put in its place the use of time and energy for another person.
With glowing eyes and a flush of excitement on her face, a very attractive young woman came up to me after my lecture, waiting until the circle of people had diminished a bit before she said firmly, "I want you to know that I made a decision as you talked tonight. My husband has always wanted me to help him build a sailboat, but I always said no, because I couldn't care less about boats. Tonight I am going home to tell my husband that I'm ready to start building that sailboat with him right now. You can think of me this winter filling in seams, and sanding the sailboat." The words "sanding the sailboat and filling in seams" conjur up a gorgeous picture of these two working together on a project that will bring joy when the lake waves become more gentle, and rain replaces snow, and they work the boom together in their first sail of the season. But it also conjurs up a vivid illustration of what all our marriages need. We need to "sand the sailboat" and "fill the seams" of our relationships in togetherness of one kind or another. We need a sharing of work, as well as the sharing of wind in our faces, on foot, bicycle, horses, skiis, sailboats, canoes, or whatever. Just what am I putting aside, are you putting aside, to build a boat and do some sanding with the person whose relationship is important to rebuild? Surely the ministering to one another as Christians, is not just a providing of medicine and bandages, or of food and shelter in giving hospitality, or in visiting the sick. That is all included, but the ministering should be to the whole person, as much as is possible, physically, intellectually, spiritually, in a diversity of ways putting someone's needs before one's own. If this is to be done to the Lord, as we do it to others, surely it is to include our own husbands and wives, and the wider family relationships.
Paul speaks of Onesiphorus who often refreshed him when he was in Rome and was not ashamed of Paul's chains, but sought him out to do things for him. "The Lord grant unto him that he may find mercy of the Lord in that day: and in how many things he ministered unto me at Ephesus, thou knowest very well" (2 Tim. 1:18). We aren't meant to simply "refresh" or minister unto missionaries, pastors, or a specialized group of people in order to minister unto the Lord. It is our moment by moment, hour by hour, day by day possibilities that are immediately present where we are fulfilling, or pushing aside the practical reality of sanding sailboats when we couldn't care less about them.
Have something to add about this? See something we missed? Share your feedback here.
Our digital archives are a work in progress. Let us know if corrections need to be made.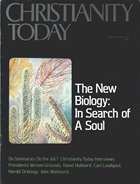 This article is from the February 10 1978 issue.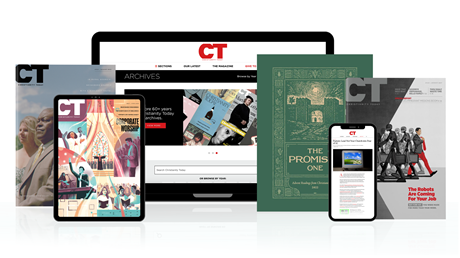 Subscribe to Christianity Today and get access to this article plus 65+ years of archives.
Home delivery of CT magazine
Complete access to articles on ChristianityToday.com
Over 120 years of magazine archives plus full access to all of CT's online archives
Subscribe Now
Sanding Sailboats
Sanding Sailboats