The Trumpet Shall Sound When?
We are pleased to announce the first annual "Eutychus Pan-prophetic Conferences," which will meet for the first time. (Please note the hyphen.) There will be four conferences, each one devoted to a different view of prophecy. At no time will the delegates meet together since there is enough trouble in the world already without adding more. Also, we sell more books this way.
The Amillennial Conference will meet in Rotterdam. Highlight of the conference will be a tour of the tulip fields, directed by a noted Calvinistic scholar, yet to be chosen. Dr. Herrmann von Ritterhavenhorst will give a series of lectures on the real reasons why Calvin never wrote commentaries on Daniel and Revelation.
The Pretribulation Conference will assemble in Dallas and last only one day, although it may seem like a thousand years. We are not revealing the day or the hour, so be prepared. There will be a special display of old prophetic charts, as well as a series of lectures on why pretribs write commentaries only on Daniel and Revelation and ignore the other 64 books of the Bible. All delegates who register early will receive a free pocket calculator for figuring out prophetic dates.
The Midtribulation Conference will last exactly three-and-a-half days, Greenwich time. Several locations are under consideration, including Mount Saint Helen's, Rome, and Chicago. Music will be provided by "The Uncertain Sound," a trumpet trio composed of students from three confused seminaries. There will also be a lecture on olive trees and candlesticks, plus a panel discussion on why midtribs write commentaries on only half of Daniel and Revelation.
Finally, the Posttribulation Conference will be held on the Mount of Olives and will last for seven days. White robes are included in the convention fee. We are anticipating a numberless multitude, so get your reservation in early. No lectures are planned, but there will be a great deal of singing—and maybe some tears and much sighing.
The management reserves the right to cancel all conferences should the Rapture take place. If it does, we'll all get together and enjoy a panel discussion on "What difference did it make who was right anyway?"
EUTYCHUS X
In the next issue, we will reveal the identity of the irrepressible Eutychus X. It is rumored that he has recently moved to a bomb-shelter house, purchased a bullet-proof vest, and gone into deep retirement.—Ed.
Courageous and Objective
I felt compelled to respond to your editorial, "Why We Print the Bad News, Even About Fellow Christians" [Jan. 22], and commend you for your courage and objectivity in religious reporting. Prophets never have been universally acclaimed! A prophet's voice is often an unpopular voice as he refuses to deny the reality of sin and shortcomings in the surrounding secular and religious institutions. Perhaps if we evangelicals would be a little more self-critical the secular press wouldn't have such a field day with us.
JOHN WEBER
Garland, Tex.
Overzealous Writer
I have been closely associated with the porno fight in Council Bluffs, and I believe the Concerned Citizens for Christian Standards has made a valiant effort. But in your article [News, Jan. 1], the writer was overzealous. We haven't even gotten our state legislators to enact a bill to allow "home rule," which means our city council has no authority at present over the porno challenge here in Council Bluffs. But if you are a praying man, we could use your prayers.
REV. RON FICHTER
Twin Cities Christian Church
Council Bluffs, Iowa
Word of Clarification
John Perkins was very gracious in his comments about Wheaton College and about me ["John Perkins, the Prophet" Jan. 1]. The resolution entitled "The Threat of War" adopted by the National Association of Evangelicals provided a common ground for both pacifists and nonpacifists. It was suggested that our country "exercise reasonable restraint" as far as nuclear weapons were concerned. Both sides needed to give a little and graciously did so.
As a nonpacifist, I was pleased that the National Association of Evangelicals could maintain its strong bond of fellowship even when considering the difficult and complex issue of nuclear armament.
HUDSON T. ARMERDING
Wheaton College
Wheaton, Ill.
Perkins is quoted as saying: "They [Moral Majority] have reduced loving Jesus down to doing nothing." Moral Majority, of which I am proud to be a supporter, is not a religious organization; it is a political action group. Moral Majority takes no position whatsoever on loving Jesus. As a matter of fact, one need not necessarily even believe in Jesus to be a member of the Moral Majority.
DENNIS T. LOWERY
Rustburg, Va.
Premature Boasting
As a nonfundamentalist fundamentalist, I learned much from Elmer L. Towns's "The Perils and Impact of Independent Churches" [Jan. 1]. However, if I were he, I would not be so quick to boast 55,000 members at Chattanooga's Highland Park Baptist Church if only 7,000 (including visitors, I presume) appear for a service. Ditto for Hammond's First Baptist if only 13,000 out of 52,000-plus come on a Sunday morning.
Do fundamentalists have their own translation of Scripture? "[Jesus] went to the synagogue, as his monthly custom was, on the sabbath day" (Luke 4:16). "Let us consider how to stir up one another to love and good works, not neglecting to meet together semiannually, as is the habit of some …" (Heb. 10:24–25).
REV. MERWIN VAN DOORNIK
Trinity Reformed Church
Holland, Mich.
Sermon Dozing
Jerome Lucido had a good point in his story, "A 'SAD' Sermon Analysis" [Jan. 1]. Better preparation by pastors would be of great help.
The other side of the coin is that if Mr. Lucido and his kin would not stay up until one or two o'clock on Sunday morning, their chances of staying awake during the sermon would improve immensely.
REV. GARY SKAGERBERG
Church of the Nazarene
Enumclaw, Wash.
What About Philip?
Despite David Benner's valid concerns ["Psychotherapies: Stalking Their Spiritual Side," Dec. 11], I fear we will be stalking Philip's healing for a very long time if we allow ourselves to believe that Freud, Rogers, and Ellis each contain an "aspect of the biblical view" of man. In all honesty, isn't Freud's deterministic pessimism as far from the biblical view of fallen man as is Carl Rogers's view that man's problems are more superficial? After all, is not Christ's healing power far deeper than the depth of our sinful nature? I find the whole process of selectively identifying formal parallels with Christianity to be very arbitrary.
I fear we as evangelicals are apt to stand confused and paralyzed as we arbitrarily pick therapies from the vast secular warehouse of conflicting systems. Why not develop an integral Christian therapy—one that will grow authentically from within the depth and breadth of the biblical set of answers, answers to Philip's problem and answers to our own?
JAMES C. PETTY
Christian Counseling and Educational Foundation
Laverock, Pa.
A Striking Difference
The idea of the coming of Christ being the fulfillment of all myth is intriguing [Current Religious Thought, Dec. 11]. I have recently been reading The Illustrated Golden Bough, a condensation of Sir James George Frazer's 13-volume work.
He discusses many mythological motifs that relate to Christianity. One of the many striking differences in Christianity is that in Christ's death and resurrection the sacrifice is "once for all," not necessary annually like the Old Testament sacrifices.
STEPHEN L. RANNEY
Portland, Oreg.
Correction
Contrary to the impression left in "Where Have All the Young Folks Gone?" [Nov. 6], Trinity Evangelical Divinity School is owned and operated by the Evangelical Free Church of America. It has been a privilege for us to train and minister to hundreds of young people from other denominations as well as our own. Our faculty and staff represent a broad background in denominational traditions, but a thorough commitment to biblical theology and evangelical concerns.
THOMAS A. MCDILL
Evangelical Free Church of America
Minneapolis, Minn.
Letters are welcome. Only a selection can be published. Since all are subject to condensation, those of 100 to 150 words are preferred. Address letters to Eutychus and His Kin, CHRISTIANITY TODAY, 465 Gundersen Drive, Carol Stream, Illinois 60187.
Have something to add about this? See something we missed? Share your feedback here.
Our digital archives are a work in progress. Let us know if corrections need to be made.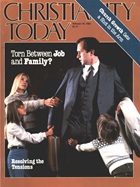 This article is from the February 19 1982 issue.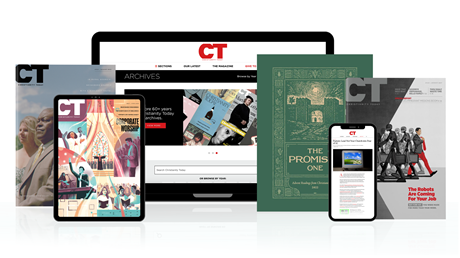 Subscribe to Christianity Today and get access to this article plus 65+ years of archives.
Home delivery of CT magazine
Complete access to articles on ChristianityToday.com
Over 120 years of magazine archives plus full access to all of CT's online archives
Subscribe Now
Eutychus and His Kin: February 19, 1982
Eutychus and His Kin: February 19, 1982