Fifty black students are crowded into a social studies classroom at Lanier High School in Jackson, Mississippi. The teacher introduces the speaker: "Rev. John Perkins is here today. He is a pioneer in community development, and he loves the Lord." Perkins thanks the teacher, then says, "I'm here to tell you that the easy life is not the best life. The difficult life gives us discipline. Then we can be all that we can be." Perkins, stooped and graying, seemed small in front of the big blackboard. I could sense that he had faced much personal hurt over the last decade or so. Yet he seemed relaxed and at peace with himself. "My mother died," he told the students, "and my father was a drunkard and gave my brothers and sisters and me to my grandmother, and we grew up on a plantation in New Hebron.
"Do any of you know what a plantation was?" he asked. Then, without waiting, he explained: "It was another way of holding black people in subjection after Emancipation. But in 1964–5 the system was broken in this state."
The students were not paying close attention. They were acting as if Perkins were just another speaker; some of them seemed to be daydreaming. "I didn't really understand economics, but I began to learn when I was about 11," he said. "A lot of people were beginning to migrate to Detroit, Chicago, Memphis, and Jackson.
"So kids would come back in the fall and tell us about life in other places. We felt bad because we hadn't been there. So we'd pretend that we'd been to Jackson."
The students burst into laughter. Here was an honest fellow who was just like them. He admitted he had lied to save face. The room began to come alive, and the young people concentrated on Perkins's words. "But when other kids who had been there would ask us about things, we didn't know what they were talking about."
The students loved it. They laughed and hooted. "What you say, John," one fellow shouted at a classmate across the room. Perkins had their attention.
"One summer my brother and I spent a day in another town about 10–12 miles from New Hebron. We thought we would get paid $1.50 for the day, but when I went to collect, the plantation owner gave me a dime and a nickel.
"I was mad. I wanted to throw it in his face. He had done me wrong, and I didn't want his money. But I took it."
The Lanier students identified with his anger. "Tell us," a young man in the front row said. "Tell us."
"You see," Perkins said, "you are here to be informed, to understand what is going on around. If you don't, you won't have the skills to cope."
During the next hour, Perkins spoke to those students in a way they had never heard. He won them over. Here was a man who had succeeded. He had been angry, had been cheated, had lied. And he told it straightforward. They could trust him.
"I left Mississippi and went to California," he said. "I got good jobs and experience, and I practiced control. However, my life was changed. In 1957 I was going to a Bible study, and we were studying Galatians, and I got to know Jesus," Perkins said, linking his conversion to the economics lesson.
"I began to look beyond myself. I was limited. I was not very productive. I was not using my creativity to help other people. I was not really successful because I was thinking only about myself instead of about others.
"You see," he said, gesturing at a young man about five or six rows back, "you have to think of the quality of life for those who live around you. To do this you have to develop skills. The national government gave us food stamps and other things, but all that money went to the rich who owned the means of production. Now we are moaning because we don't have anything. But we didn't develop our skills.
"You have to do it. You are the hope of the next 20 years in America. Nobody owes you anything. You have the opportunity. You have to do it."
Then Perkins thanked the group. But before he could sit down, the principal, who had come in late, said to the students, "I want to thank Rev. Perkins for being here. We're going to have him here next fall to speak to a school assembly."
The bell rang. But the students lingered, crowding around Perkins, asking questions, telling him about themselves. As I watched and listened, I realized what a live alternative this man offers teen-aged blacks. And I wondered what young black man or woman would have the charisma, the understanding, or the personal resilience to lead this generation in the 1990s.
One young man stayed with us, walking down the hall. He seemed in need of one last affirmation. "You can do it," Perkins said. "I'm counting on you, and you come see me when school is out." The young man grinned, then headed to his next class.
When CHRISTIANITY TODAY asked me to spend several days with John Perkins, the founder of Voice of Calvary Ministries, I thought back to 1970 when I first met him. He had been part of a boycott of merchants in Mendenhall, where he was then living, a town of 3,000 located in the Piney Woods section of Mississippi, about 40 miles southeast of Jackson.
Police had arrested a black teen-ager, and as a result of demonstration marches, Perkins had been jailed in Brandon and beaten. When he and several other blacks were released, a civil-rights attorney in Jackson called a press conference at which each black spoke. All the communications media were represented.
"I believe that's the reason I'm alive today," Perkins told me. "Mississippi people saw the welts on my head. I didn't scream and show hostility, and the people of Mississippi believed that what I said happened, did happen. I believe the Spirit of God was there, and the people understood."
Ten years before, Perkins had returned from California to his native Mississippi and gone to work picking cotton. Slowly, through Sunday school classes, vacation Bible schools, and finally public schools he began to find ways to teach the Scripture. He recalls that God taught him that real evangelism takes a Christian to the point of standing face to face with the real needs of a person, and then reaches out to help meet those needs.
Founding Voice of Calvary Ministries (VOC) in 1964, he dealt with crises in housing, health care, nutrition, education, and skills. In time he became involved in voter registration and in starting small business co-ops to break the cycle of poverty that trapped the poor.
Voice of Calvary Ministries now includes a housing co-op, a network of thrift stores, three Christian health care centers (which also provide pastoral counseling), and the International Study Center, which helps young people develop into leaders through on-the-job training in VOC ministries.
Perkins has now assumed new responsibilities. For years he was the organization's primary developer, manager, and fund raiser, but those responsibilities have become too big for one man. He recently resigned as president of Voice of Calvary Ministries, and the board of servants has named him minister at large. "We are in the midst of discovering what John's role is in VOC," H. Spees, head of the health center ministries, said in late July. "No one is going to replace him. Nobody could. Lem Tucker has been named president, and John will be president emeritus."
Perkins says, "I gave up being chief executive officer and will be minister at large. I'm elected to the board of servants, and I'll raise funds and work on projects with other organizations." Perhaps VOC has avoided the founder's trap that has constrained so many evangelical organizations.
"We have some negative models," Perkins admitted when asked whether he would be like other evangelical leaders whose feelings were hurt when they no longer were in charge of day-to-day activities. "I want to be part of VOC, and I want our young leaders to be independent of me," he said. "As founder there is a danger that I'll assert my authority over them, and they will not be able to develop." The cut-and-dried management techniques of Western corporations may not be sophisticated enough to provide guidelines for such a not-for-profit, parachurch organization.
Voice of Calvary's health center serves the public at low rates, with an obvious personal touch. It is a VOC ministry that did not even exist 10 years ago. Now it is one of the most visible and thriving. Its staff is integrated, as are the other VOC staffs.
Perkins does not think it is up to the white man alone to bring about racial reconciliation. "I don't believe that I have to leave my destiny to a white man," he told me at breakfast the next morning. "If you believe the gospel you accept a positive message. When that gospel is preached, then God's power is let loose in a community and believers become a supernatural body. That is the only hope for a bad-looking situation—not white men or black men, but God's men."
When we stood to leave, a lieutenant from the Jackson Police Department left his table and approached us. He extended his hand, "Rev. Perkins, you doing all right?"
"Were you at Lynch Street when we had the festival?" Perkins asked the officer.
"No, I had another assignment that day," he said, "but I heard it was a success."
Lynch Street, in the black community near Jackson State University, is where a white policeman had been killed a few weeks earlier. The policeman had been dispatched to the scene because someone was firing a gun. When he arrived, a black man was locking up a store. Hearing the policeman drive up, he turned, and blasted him.
To affirm the police, Voice of Calvary sponsored a festival on Lynch Street, which drew 4,000 people. Merchants on the street bought booths and displayed their goods. Voice of Calvary set up a tent. The VOC choir sang, and there were bands and speakers. As a result, crime in that area was greatly reduced during the weekend.
"The police and city officials are so appreciative of what we are doing," Perkins said as we returned to the car. As we drove, he continued. "I explained to the lieutenant that it is time for black and white folk to take positive action in support of police action. Instead of always being negative we need to affirm the police when they do what is right." We had reached Highway 49 going south out of Jackson toward Mendenhall and New Hebron. "The initiative that brings a policeman to a scene usually doesn't come from the policeman. So police often overreact. We at Voice of Calvary want to attack the problem in the community, not the symptom that results in police brutality or police fatalities."
Perkins and I spent most of that morning in New Hebron, visiting the health center and talking with staff members. Before leaving, we walked around the corner to a little alleyway where a policeman had shot and killed Perkins's brother many years earlier. On the way out of town we pulled off the road several times to pick wild plums. Perkins chattered enthusiastically about the fine young leadership at voc. We went by the Voice of Calvary facilities and the health center in Mendenhall, and we walked through the modern co-op store.
When we returned to Jackson, we visited the Thriftco store, and then one of the buildings on Saint Charles Street in time to watch the beginning of a child evangelism class. A white college student stood facing four or five rows of black boys and girls sitting on folding chairs.
"Welcome to our Good News club," they sang. "We're so glad you're here." They were smiling and wiggling; their faces shone as they went through motions to illustrate the song.
They weren't singing to me, but I was glad I was there. They symbolized John Perkins's investment in the future. They illustrated how important it was that this black man had given up the good life in California to return to the state where his brother had been shot by a law enforcement officer, and where his people were suffering. Today the church is seeing the result: an effective, biblical balance between community development and evangelism.
Have something to add about this? See something we missed? Share your feedback here.
Our digital archives are a work in progress. Let us know if corrections need to be made.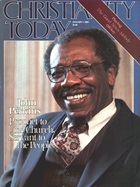 This article is from the January 1 1982 issue.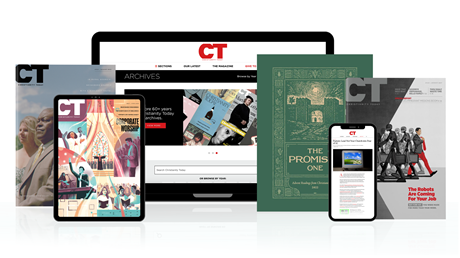 Annual & Monthly subscriptions available.
Print & Digital Issues of CT magazine
Complete access to every article on ChristianityToday.com
Unlimited access to 65+ years of CT's online archives
Member-only special issues
Subscribe
John Perkins, the Stature of a Servant
John Perkins, the Stature of a Servant