The Magazine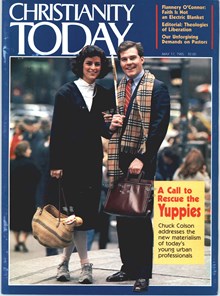 Read CT online anywhere you go.
Subscribers get full print and digital access, including:
10 award-winning print issues
PDFs of each issue
Full web access to ChristianityToday.com
60+ years of magazine archives
Table of Contents
The CT Archives are a rich treasure of biblical wisdom and insight from our past. Some things we would say differently today, and some stances we've changed. But overall, we're amazed at how relevant so much of this content is. We trust that you'll find it a helpful resource. - Mark Galli, editor-in-chief
Also in this Issue:
Eutychus and His Kin: May 17, 1985
A Message from the Publisher: May 17, 1985
Liberation Theologies: Looking at Poverty from the under Side
A Call to Rescue the Yuppies
Faith Is Not an Electric Blanket
"Be a Skeptic"
Dying for a Drink
The Age to Come
Is Heaven Any Earthly Good?
The Problems of Battered Pastors
Church Leaders Challenge the Notion that America Is a Melting Pot
Fund Will Benefit Minority Workers in Parachurch Groups
Historic Peace Churches Seek a New Evangelistic Emphasis
Part I: Well-Known Evangelical Author Thomas Howard Converts to Catholicism
Part II: Why Did Thomas Howard Become a Roman Catholic?
Part III: Is Evangelical Faith Enough?
Experts on Nontraditional Religions Try to Pin down the New Age Movement
Evangelical Orthodox Church Seeks Official Recognition from Eastern Orthodoxy
New Strategies to Evangelize Muslims Gain Effectiveness
Book Briefs: May 17, 1985
Tree Trunks and Other Trivial Pursuits
Tithes and Temptations
Evangelism Takes Time
Have Your Neighbors Read This Book?