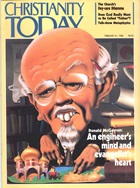 This article is from the February 21 1986 issue. Subscribers can read all of CT's digital archives.
The Philippines is at a turning point, according to attorney Agustin B. Veneer, Jr., general secretary of the Philippine Council of Evangelical Churches. In the following interview, he offers a Christian perspective on the complex issues facing the government and the church in the Asian nation. CHRISTIANITY TODAY asked Sharon Mumper, managing editor of Evangelical Missions Information Service, to interview Veneer when he visited the United States before the Philippines' February 7 presidential election.
What is the most important issue at stake in the election?
The credibility of the election is the most important question. That is more important than who is elected. An honest election makes the elected leaders acceptable to the people. And credible leadership would give our people a reasonable basis for hope that something better is ahead of us.
In contrast, more socio-political unrest and a crisis of leadership—eventually leading to economic collapse—would result from an election that is not credible. An economic collapse would mean the spread of the Communist movement, and eventually you would have bloody revolution in the land.
How legitimate are President Ferdinand Marcos's charges that the opposition Unido party is infiltrated by Communists?
I know some of the opposition leaders, and I don't think they are all Communists as Marcos charged. But many of the people surrounding opposition candidate Corazon Aquino have had some leftist leanings. In the past, they have committed lawless acts.
The opposition leaders have strongly criticized Marcos's violations of human rights, … and yet they do not have clean hands themselves. There are accusations that the military has savaged people, but there are also liquidations on the other ...
1
How Did Evangelicals Prepare for the Elections?
How Did Evangelicals Prepare for the Elections?