Four recent books on evangelism
Evangelizing the Hard-to-Reach, by Robert D. Dale and Delos Miles (Broadman, 1986, 129 pp.; $4.95, paper).
The great contribution of the church-growth movement has been to focus the attention and energies of church leaders on the strategies that contribute most effectively to numerical growth. But that has also been the movement's main drawback. Many church leaders have concentrated on the easiest souls to catch—and ignored the challenge of patiently flycasting for the truly tough cases.
Evangelizing the Hard-to-Reach is not an explicit critique of church-growth philosophy. It simply helps church leaders identify those more elusive fish and think carefully about their responsibility to reach for them as well.
Statistically speaking, the average unchurched American is a young adult male, unmarried, a manual worker who has not graduated from high school, and who lives in a city of over 50,000 persons somewhere in the Pacific Coast region. But Dale and Miles recognize that churchless Americans actually appear in an infinite variety. (In fact, this book could have been titled Varieties of Unreligious Experience.) However, for the convenience of discussion, the authors divide the hard-to-reach into four major categories: the Left-Outs, the Drop-Outs, the Locked-Outs, and the Opt-Outs.
Left-Outs are "largely invisible persons" who take no initiative toward the church and who are judged unattractive prospects by congregations. Examples? Handicapped persons, the poor, language groups, and migrant workers.
Drop-Outs may be "technically affiliated" with the church "but have become marginal in commitment."
Locked-Outs are "persons whose lifestyles differ from the church's values and traditions." Under this heading, file social deviants such as drug addicts, countercultural granola eaters, and ex-convicts. But also include others who may be perceived as deviant by the congregation: ethnic minorities, for example, or even celebrities.
Some of Dale's and Miles's Locked-Outs seem not to be truly "hard to reach." They actually might be quite receptive to the gospel. It's just that their deviance reminds us too much of our own temptations. In our discomfort, we lock them out.
Opt-Outs are "persons who have decided on an active stance against faith or against religious standards." Opt-Outs may be hard to reach because they have formally adopted a philosophy of life such as atheism, secular humanism, or hedonism. Or they may simply be garden variety agnostics or hedonists who find religion annoying or cloying and prefer to worship their RVs or their TVs.
Dale and Miles help us evangelize these varied churchless people in two ways: first, through need analysis, and second, through case studies.
"One way to think about reaching specific groups of persons with an effective witness …," they write, "is to think of the group's basic relational and theological needs. What is their baseline need for human relationships? What theological theme speaks to their core need most powerfully? When these questions are answered …, strategies for evangelism can be tailored to that group."
Thus they point out, for example, that Left-Outs need friendship. "They feel no one really cares for them—not even church people. Physically or emotionally handicapped persons feel unattractive and worthless. They want to sense 'we're alike' from other human beings in spite of physical or mental differences. Most of all, handicapped folk want to know their Creator continues to recreate His people and make us whole."
The case studies provide insight for readers who might not realize what a Christian outreach can mean to a culturally alienated person. The authors comment on each case, often underscoring the obvious to make sure the sleepiest reader understands.
Evangelizing the Hard-to-Reach, a part of the Broadman Leadership Series, reads as if it is addressed to Southern Baptists. But church leaders of any stripe can find this book to be a good stimulus to action in neglected areas of evangelism. That is, after all, the point; for, as the authors remind us, "All planning finally degenerates into work."
An Excerpt
Evangelizing the Hard-to-Reach
"Churches which actively exclude persons in their evangelizing exhibit a tendency to violate the foundational" principle of dignity.
"Divorcees and Mexicans I joining good ol' boys and Southern belles in worship won't cause the church building to fall down.… The Locked-Outs may not be the threat to church and society we've made them out to be."
Group Effort
Small Group Evangelism: A Training Program for Reaching Out with the Gospel, by Richard Peace (IVP, 1985, 190 pp.; $5.95, paper).
Many churches have small groups—prayer groups, fellowship groups, Bible study groups, even therapy groups. They have found small groups to be effective ways to build community and to support people through times of personal crisis.
But few churches use small groups for evangelism.
Nevertheless, says Dick Peace, small group evangelism has a lot going for it:
It does not require specially trained experts (as a matter of fact, seminary grads may intimidate others). It does not require a lot of money. And it can reach behind high-rise apartment security systems.
In evangelism, like reaches like. People come to Christ and join churches through contacts who share similar life experiences. Thus young married couples can reach other young married couples through small groups. Retired senior citizens can reach retired senior citizens. University students, homemakers, and professional musicians—all can create the comfortable setting where their peers can confront important life issues.
Small Group Evangelism is designed to train small groups in evangelism. The eight chapters in Part I deal with basic concepts: overcoming doubts and fears, the skills of a Christian conversationalist, and the content of our witness, for example. The balance of the book contains outlines of eight group training sessions and leaders' helps.
Peace cautions small group members not to try to bring others to conviction of sin, for that is the work of the Holy Spirit.
"Since we cannot convict others of sin," he writes, "all we can do is create a climate of openness and affirmation, in which all are free to acknowledge sin.… Indeed, this is why small groups are so powerful.… The key elements to it are history giving and active affirmation. By history giving I mean that you must build into each group session the opportunity for people to share yet more of their own life history.… History giving and affirmation create the climate within which it becomes possible to name and own personal need."
We suspect that small groups also provide the social structure in which Christian belief and action become plausible. Many non-Christians do not consider the faith simply because they do not know people who take it seriously. But they will respond to evidence for the faith with the plausibility structure of a like-minded social group.
Small Group Evangelism is for people who are out to change lives.
Alter Call
Stand Up and Be Counted: Calling for Public Confession of Faith, by R. T. Kendall (Zondervan, 1985, 127 pp.; $5.95, paper).
The Spirit of the Lord was moving mightily through Connecticut in 1741. In Enfield, Jonathan Edwards preached his now-famous sermon, "Sinners in the Hands of an Angry God." And not far away in Lebanon, preacher Eleazar Wheelock had to raise his voice in order to be heard over the moans and outcries of those who were distressed over their own spiritual condition. He despaired of finishing his sermon.
And then, Wheelock gave the first "invitation" in modern times. He called the distressed to gather in the seats just below the pulpit that "he might the more conveniently converse with them, counsel, direct, exhort them, etc."
R. T. Kendall finds significance in the fact that the modern "altar call" began spontaneously in a real revival. In its original context, it was not a means of manipulating people into an emotional decision, but a way of ministering to overwrought people who needed to understand the theology of conversion.
Today, says Kendall, who is minister of London's Westminster Chapel, we are not in the heat of a great revival. Therefore, the invitation (or "public pledge," as he prefers to call it) must serve a different function. Instead of being an occasion to instruct those who are seeking salvation, the invitation should offer an opportunity to those who have been converted during a sermon to give public witness to an accomplished fact.
Stand Up is a Calvinist's version of the sawdust trail. Although Kendall distinguishes himself from high Calvinists and hyper-Calvinists, he firmly holds to a strong doctrine of election and of irresistible grace. Many Calvinists reason that since God has already sovereignly chosen those who will be saved, there is no point in inviting the unsaved to come forward at the end of a sermon. But Kendall believes that an invitation to make a public pledge in response to what God has done during a particular service is not only theologically sound, but is often God's chosen means of bringing some to conversion.
Kendall answers objections that his fellow Calvinists would offer him—not with tight logic, perhaps, but with fierce devotion. And while he mentions others who would object to his practice—liberal universalists, Barthian universalists, and baptismal regenerationists—he wisely sticks to addressing his fellow Calvinists (whose theology he hopes to expand) and his Arminian counterparts (whose practice he hopes to improve).
Kendall is sensitive to the abuses of the altar call. (His most entertaining chapter is a string of horrifying anecdotes.) And any preacher who follows Kendall's suggestions is unlikely to be guilty of manipulating worshipers to enhance his own ego.
Stand Up and Be Counted is an interesting attempt by a Calvinist writing on Arminian turf, trying to transform evangelism's Eliza Doolittle into a reserved Englishman's fair lady.
Uncommonly Good
Know and Tell the Gospel, by John C. Chapman (Navpress, 1985, 192 pp.; $5.95, paper).
For a popular work on personal evangelism, Know and Tell the Gospel is remarkably subtle. Most short books on evangelism are content to rely on the Great Commission to assert that every Christian should do evangelism. But Chapman takes seriously the objection that the Commission was given to the apostles and that Paul speaks of the gift of evangelism that is given only to some. He therefore goes behind the Sermon on the Mount and Paul's and Peter's instructions on Christian living to show that Scripture considers the Christian life implicitly evangelistic.
Other authors have been content to teach people to invite others to "open their hearts and let Jesus in." Chapman insists on our sharing a gospel that not only offers forgiveness but also makes demands.
Many evangelists are only too eager to threaten unbelievers with hellfire and damnation. Chapman believes that unbelievers are in danger of hell and judgment, but he writes of these themes in a way that portrays God in a good light (see box).
Many books on evangelism are content to discuss means of moving people to decision, but Chapman pauses to explore the doctrine of election and to affirm that it is not only God who initiates evangelism, it is also God who initiates the human response.
The ordinary book on evangelism is eager to promote a particular evangelistic approach. But Chapman suggests a tremendous variety of techniques. Technique should vary according to the personalities and gifts of the evangelist as well as to suit the people being approached. However, because all techniques must be subjected to the biblical teaching and sound theology, method takes a back seat in both Chapman's theory and his practice.
And while most such books are happy to offer standard evidences for belief, arguments for decision, and favorite biblical passages to motivate decision, Chapman holds these up to scrutiny, urging that we must be completely honest and fully accurate. Thus, in his appendix on evangelistic sermons, Chapman chastises those who so often misapply John 1:12–13 ("to those who believed in his name, he gave the right to become the children of God") and Revelation 3:20 ("I stand at the door and knock").
As director for evangelism for the Anglican Diocese of Sydney, John Chapman might be expected to view the church, not the individual believer, as the unit of evangelism. Anglicans, after all, are prone to regard the church as a sign of the kingdom. However, Chapman focuses almost exclusively on individual believers as the agent of evangelism, with the ministry held responsible for training these lay witnesses. Perhaps it has been such a struggle to convince Anglicans of their personal responsibility that he has shifted his emphasis away from the role of the whole church.
Reviewed by David Neff.
An Excerpt
Know and Tell the Gospel
"Many people find it difficult to believe that a loving God will punish people.… However, it is because of His intense care about us and the world that He will not allow people to go on wrecking other people's lives or the world. That we have wrecked this world is a fact. We will not be allowed to wreck the next one. He will see that right, not might, prevails. The only way that judgment could be done away with is for God to become indifferent to what is happening in His world, in fact, to become careless about everything. Such a prospect is horrific—it means that there would be no right or wrong, but that might would be right for-ever!"
Have something to add about this? See something we missed? Share your feedback here.
Our digital archives are a work in progress. Let us know if corrections need to be made.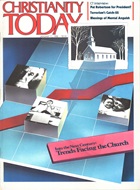 This article is from the January 17 1986 issue.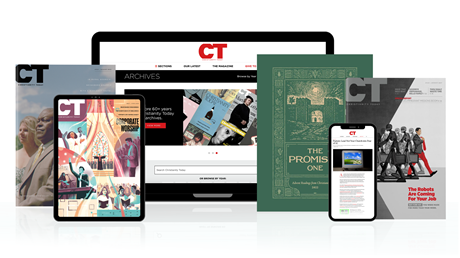 Subscribe to Christianity Today and get access to this article plus 65+ years of archives.
Home delivery of CT magazine
Complete access to articles on ChristianityToday.com
Over 120 years of magazine archives plus full access to all of CT's online archives
Subscribe Now
Seeking the Lost
Seeking the Lost