The U.S. Supreme Court has remained at the center of attention in Washington, D.C., long after its term ended June 26. The unexpected resignation of Justice Lewis F. Powell, Jr., and President Reagan's subsequent nomination of Circuit Judge Robert H. Bork have prompted sharp discussion about the ideological balance of the Court.
Powell, who is 79 years old, cited age and poor health as the reasons for his retirement. Considered by Court observers to be a moderate with a key "swing vote," Powell often sided with the Court's liberals on issues, including abortion. Bork, a former Yale law school professor, is a conservative scholar who favors judicial restraint. He has been hailed by conservatives as a pivotal appointee who will adhere to Reagan's ideals into the next decade.
Civil rights and proabortion groups are lobbying vigorously against the nomination. The National Organization for Women has planned public rallies against Bork and is establishing a telephone bank to generate constituent opposition. Norman Lear's People for the American Way has five people working full-time against the nomination and has budgeted nearly $400,000 for the project. Conservatives are countering with their own efforts to mobilize grassroots support for Bork.
However, the real battle will be waged in the U.S. Senate, which must approve Bork's confirmation. Reagan's third Supreme Court nominee is expected to face a tough grilling before the Senate Judiciary Committee on his views about abortion, affirmative action, and church-state separation. A drawn-out, bitter battle is expected, and many committee members have taken strong public stands against Bork. Sen. Edward Kennedy (D-Mass.) said, "Robert Bork's America is a land in which women would be forced into back-alley abortions, blacks would sit at segregated lunch counters … [and] children could not be taught about evolution."
At the Rutherford Institute, a conservative legal advocacy group, special counsel Tayton Dencer observes this focus on ideology is a relatively new phenomenon. "Historically, ideology has not been the issue. Competence has been the issue, qualifications, personal character, and so forth," he said.
President Reagan has urged the Senate to confirm Bork before the Court takes up its new term in October. However, many senators have vowed they will not be rushed into a decision.
Three Church-And-State Cases
Before Powell's resignation, the Court handed down three important church-state rulings. In a highly publicized creationism case, Edwards v. Aguillard, the high court struck down a Louisiana law requiring the balanced teaching of creation science and evolution in public schools. Proponents of the law had argued it was an attempt to provide academic freedom in the classroom. But in a seven-to-two ruling, the Court determined the primary purpose of the law was to "restructure the science curriculum to conform with a particular religious viewpoint."
Writing for the majority, Justice William Brennan said the act violated the First Amendment because "it seeks to employ the symbolic and financial support of government to achieve a religious purpose." Justice Antonin Scalia, in a dissenting opinion for Chief Justice William Rehnquist and himself, countered that the ruling was "an illiberal judgment, [a] Scopes-in-reverse," referring to the 1925 trial that convicted a teacher who taught evolution.
Opponents of the law, including the American Civil Liberties Union and People for the American Way, hailed the decision as an affirmation that creation science is "nothing more than an effort to reintroduce religion into the public schools." But Wendell Bird, lead counsel in support of the law, emphasized the Court's ruling does not mean the teaching of creation science is inherently unconstitutional if it is adopted for a secular purpose.
In another case, the Court ruled that churches and other religious organizations may hire only persons of their faith—even for "non-religious" jobs, defined as jobs not directly related to the organization's religious purpose.
With a unanimous vote, the justices upheld a federal law that exempts religious groups from the requirement that employers not discriminate on the basis of religion.
The case, known as Corporation of the Presiding Bishop of the Church of Jesus Christ of Latter-day Saints v. Amos, was brought by several members of the Mormon church who had been fired from church-owned organizations for not being members in good standing. The Supreme Court's decision overturned a lower court's ruling that the church could not discriminate on religious grounds for "non-religious" jobs.
The Baptist Joint Committee on Public Affairs in Washington watched this case closely and praised the outcome. The committee's general counsel, Oliver Thomas, said, "The Court wisely recognized that it is perfectly proper for Congress to pass laws that protect religious institutions from government interference with or entanglement in their internal affairs."
Heidi Hagerman, of the Christian Legal Society, said the Amos ruling was especially significant because the Court recognized the need for religious groups to operate without an officially imposed "understanding of what constitutes religious activity."
In another unanimous opinion, the high court struck down an airport's ban on the distribution of religious literature inside an airport terminal. In Board of Commissioners of the City of Los Angeles v. Jews for Jesus, Justice Sandra Day O'Connor called the Los Angeles resolution forbidding First Amendment activities "unconstitutional" and "overbroad."
The ruling was a victory for the evangelical group Jews for Jesus, which has consistently triumphed on this issue in lower courts. The airport commissioners' board brought the case against Jews for Jesus. (This is contrary to an earlier report in CT [July 10, p. 36], which incorrectly stated that Jews for Jesus filed suit.)
"We will continue to proclaim the good news of the God of Israel in public places through free distribution of religious pamphlets, because that issue is a matter of life and death," said Jews for Jesus executive director Moishe Rosen. However, the high court did not rule on the more general question of whether an airport is a traditional public forum as Jews for Jesus had argued.
Looking Ahead
Before any new cases are argued before the Court next term, the confirmation hearings for Bork will capture the spotlight. His elevation to the Court could change the course of U.S. legal precedent on several major issues this fall. On abortion, the justices will be hearing a case held over from last term involving an Illinois law that requires minors seeking abortions to notify their parents 24 hours before the procedure. Bork has said the Supreme Court's support for legalized abortion is unconstitutional and should be a matter for local concern.
Another important case will be the review of a New Jersey law requiring a moment of silence "for quiet and private contemplation and introspection" in public schools. A lower court has struck down the law. Bork's views on the separation of church and state are unclear at this point, and many see this as an important test case.
The Court will also hear a trio of free-speech cases, including a principal's censorship of student-written articles on teen sex and pregnancy; a Virginia law that bans the unrestricted display of sexually explicit material; and Jerry Falwell's suit against Hustler magazine for publication of a derogatory parody of him.
By Kim A. Lawton.
Our digital archives are a work in progress. Let us know if corrections need to be made.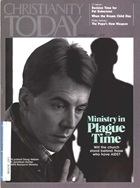 This article is from the August 7 1987 issue.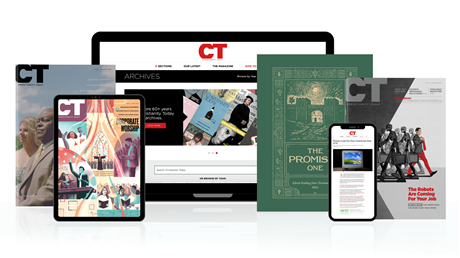 Find hope and historical insight. For a limited time, explore 60+ years of CT archives for free!
Daily devotions from Timothy Dalrymple during this pandemic.
Hundreds of theology and spiritual formation classics from Philip Yancey, Elisabeth Elliot, John Stott, and more.
Thought journalism that inspires you to think more deeply about your faith.
A Look at Robert Bork and Rulings Affecting the Church
A Look at Robert Bork and Rulings Affecting the Church