From a sermon delivered at Saint Peter's Episcopal Church, Hillsdale, Michigan, upon the baptism of Jacob Stewart Roche.
It was some 40 years ago, but I remember it well: a baby's cry at three in the morning. I reached out my hand, rocked the cradle, and groggily assured our firstborn that his daddy was near and that all was well: "Sleep, baby, sleep. Don't worry about a thing!"
I recalled this nightly exercise the other day when I read the Sermon on the Mount and noted again how, almost repetitiously, Jesus exhorted his disciples: "Do not worry" (Matt. 6:25, 31, 34), and "Why do you worry?" (6:28).
At the beginning of the twentieth century, many theologians and philosophers also were saying, "There's nothing to worry about." They said it, however, on foolhardy assumptions, like that of the essential goodness of man, the inevitability of progress, and utopia-just-around-the-corner. Swiss theologian Karl Barth preached that optimistic view until he was suddenly shocked awake.
The steady loss of young men from his congregation and the ever-increasing black armbands worn by women whose husbands and sons and sweethearts would never return from the battlefields of World War I shattered his confidence in the future. Barth then read and reread Paul's epistle to the Romans. There he found plenty to worry about: the sinfulness of man, the perversity of history, the dread judgment of a holy God, man's need of supernatural salvation.
Some years ago, while lecturing abroad, I lodged with a professor friend in Seoul, Korea. One Sunday morning as he left very early to preach at an army compound, he said, "Don't worry about a thing!" Soon I heard strange noises in that unfamiliar home, and on investigating found that water pipes in the basement were leaking—in fact, leaking furiously.
Mrs. Henry and I set to work at once emptying pans and then pails of water as we tried to cope with a situation that worsened steadily, for in that maze of pipes I could not find the master control. "Don't worry about a thing" is scant comfort when one is caught in a swirl of circumstances that seemingly have no purpose and are indifferent to personal expectations.
It is that way, too, when modern scientism postulates a universe without purpose, regards man as an accidental by-product of an evolutionary explosion, and engulfs human personality in a network of impersonal processes. Someone has called this an effort to capture the real world in a laboratory test tube. It leads to the contemporary creed, "I believe in Big Bang yesterday, in Big Brother or Big Bucks today, and in Big Blank in the life to come." Adept at controlling cosmic power, scientism is a stranger to moral and spiritual power. Once hailed as the biggest advance in Western civilization, the Atomic Age now cannot cope with nuclear waste and even trembles as the clock of destiny ticks, perhaps relentlessly, toward nuclear midnight.
"Sleep, baby, sleep! Don't worry about a thing!" No, Jacob Stewart Roche, there is much to worry about; there is good reason to cry in the night. The prophets of liberty are vanishing, the freedom is fragile and not self-sustaining. Predatory powers are restless for world revolution. Totalitarian nations have gulags. And free world nations mortgage their future by spiritual neglect.
Sooner than you know, Jacob Stewart, you may need to decide whether some ideals are worth living for, even worth dying for. You will need to decide whether to betray or to augment the great moral and spiritual heritage of the West. Someday you must decide between deities true and deities false, and choice of the wrong God will lead to a dead end for human worth and destiny. We refuse to yield you to a world of chance, change, relativism, and skepticism; we who cherish you, claim you instead for the living Lord, for God the Creator and Redeemer and Judge.
When Jesus said, "Do not worry," he knew only too well the horrendous reality of evil and the dread depth of the human predicament. He knew the whole range of earthly anxieties: "The pagans run after these things" (Matt. 6:32), he said, the things they made their priorities—food, raiment, survival.
But when Jesus said, "Do not worry," he was reassuring disciples and believers, not pagans. Put first the kingdom of God and his righteousness, he said, and everything else will fall into place. "Do not worry."
His point was not that natural evils and moral evils do not exist, or that believers will be spared hardship and pain and suffering. In Jesus' day, anesthesia and antibiotics were unknown; pain was unmitigated pain, and suffering was unmitigated suffering. Saul of Tarsus wrote, moreover, that the apostles were perceived as "men condemned to die … a spectacle to the whole universe … fools for Christ … the scum of the earth" (1 Cor. 4:9–13). He suffered political injustice, and at the height of his career was confined to the Mamertine prison. When you are in Rome, see for yourself what sort of hellhole it was.
What Jesus taught his disciples was to put God first and to subsume all else under him: Caesar, survival, money, status, power, everything. Caesar has his place, but there is one Lord, the Lord Jesus Christ; survival has its place, but he who clings to physical life above all other values betrays eternal perspectives; mammon has its place, but love of money is a root of evil; other things have their place as well, but life's true fullness does not consist of an infinity of sex, of status, or of things.
Accordingly, the early Christians anchored their lives to three great certainties:
They knew that—for the believer—the worst that can happen is already past. God had already judged their sin and Christ had borne it; they had made their own the redemption that is in Christ Jesus. They knew Jesus as "the way to the Father."
They knew that—for the believer—however dark it may be, the present always has a brighter side. And we know that "in all things God works for the good of those who love him, who have been called according to his purpose" (Rom. 8:28). For Paul, the "all things" of Romans 8:28 included even "the things that happened" to him in Rome (Phil. 1:12), including his imprisonment and eventual execution by Roman soldiers. As the psalmist put it: "He alone is my rock and my salvation; he is my fortress … trust in him at all times" (Ps. 62:6–8). God is the God of all seasons and the God of "all things."
They knew that—for the believer—the best that will happen lies in the future. Even sudden death is sudden glory, for to be "with Christ" is "better," yes, "far better," than what this earthly life offers (Phil. 1:23).
When Jesus impressed these truths on his disciples he was poised on the very brink of eternity. It was while on the way to the cross, to his own crucifixion, that he told his disciples to believe in God and also in him, the Redeemer Son. On the way to the cross it was Jesus who had peace, whereas the disciples, although not facing crucifixion, had troubled hearts. To those troubled disciples and to us as well Jesus bequeathed his own unique peace: "Peace I leave with you; my peace I give you. I do not give to you as the world gives you" (John 14:27).
I tell you that a peace that can look beyond the terrors of crucifixion to resurrection morning—a peace that can see in the very death of the cross itself God's victory over all that would put an end to Christ's cause, and the conquest of death itself—is a peace adequate for any exigency that you or I will ever be called upon to face. On that cross, divine mercy triumphed; by the Suffering Servant our debt was paid.
Abba, Father—literally, in Aramaic, Daddy—has his eye on the cradle of his children. When we cry in the night, a nail-pierced hand beckons us not to worry. "My peace I give you," said Jesus. "Do not let your hearts be troubled and do not be afraid."
"Why do you worry?"
Carl F. H. Henry was editor of Christianity Today for 12 years and is the author of more than 40 books, including the six-volume God, Revelation, and Authority (Word).
Have something to add about this? See something we missed? Share your feedback here.
Our digital archives are a work in progress. Let us know if corrections need to be made.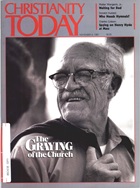 This article is from the November 6 1987 issue.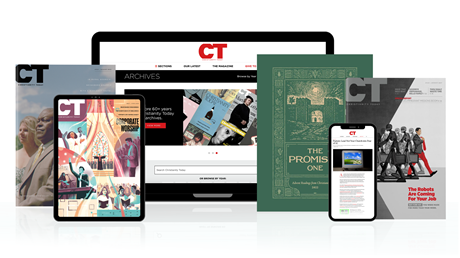 Subscribe to Christianity Today and get access to this article plus 65+ years of archives.
Home delivery of CT magazine
Complete access to articles on ChristianityToday.com
Over 120 years of magazine archives plus full access to all of CT's online archives
Subscribe Now
An Eye on the Cradle
An Eye on the Cradle