Conservative Christians are showing considerable Republican clout this season, but some worry about the new power bloc.
Nineteen-ninety-two may well be remembered as the year Godspeak resurfaced on the American campaign scene. Certainly religion and politics have been deeply intertwined in the legacy of American democracy. However, the level of religious rhetoric that has permeated this presidential race has been unprecedented in post-World War II politics, with George Bush criticizing the Democrats for leaving the letters G-O-D out of their platform, and Bill Clinton countering by comparing his Republican opponents to the "sanctimonious moneychangers" that Christ drove out of the temple.
Indeed, Republicans have made the "family values" theme—which Bush says includes a faith in God—a cornerstone of all their campaigns. "We believe … in the Judeo-Christian heritage that informs our culture," their platform states in its opening paragraphs. The Democrats have been highly critical of the strategy, with Clinton accusing Bush of promoting "an atmosphere of intolerance."
Still, Clinton has spent more time this year campaigning in churches than any Democratic candidate in recent memory, save Jesse Jackson. Clinton's own campaign theme, "A New Covenant," was borrowed from the Bible, and both he and running mate Al Gore quoted Scripture in their acceptance speeches during the Democratic National Convention. (Alert Christians have since criticized Clinton for significantly altering the wording of 1 Cor. 2:9 and Gore for attributing a nonbiblical phrase to Scripture.)
Behind all the rhetoric, observers say, is a growing realization of the importance of the evangelical community as a voting bloc; the last Democrat to sit in the White House was a born-again Christian who enjoyed widespread evangelical support during his first campaign but lost re-election when evangelicals turned to Ronald Reagan.
Republicans appear to be holding on to evangelical support, according to a comprehensive study released last spring by the Ray C. Bliss Institute of Applied Politics. The study found a decade-long trend of white evangelicals moving away from their Democratic roots to replace mainline Protestants as "the core of Republican voting in national elections." The highly visible role many conservative evangelicals have been playing in this campaign season is apparently continuing that trend.
But despite the frustration many evangelicals are feeling with the Democratic party, (CT, Aug. 17, 1992, p. 40), Bliss Institute director John Green says the GOP should still not take evangelical support for granted. Green argues that deep concerns over the economy and a lingering dissatisfaction with Bush could drive a significant number of evangelicals—particularly moderates—to the Clinton camp.
The Road To Re-Election
Bush/Quayle campaign officials recognize that support from evangelicals will be crucial to a win in November, and they are unabashedly courting the conservative Christian vote. "We look forward to strong support from [evangelicals]," said the campaign manager, Fred Malek.
A specific section of the campaign organization is devoted to evangelical outreach. The "evangelical desk" has a full-time staff directed by former Reagan administration aide Herb Ellingwood, who has also worked for the Christian Broadcasting Network. In addition, the campaign has hired former Moral Majority executive director Roy Jones to act as an evangelical consultant.
"For the first time in political history, a major party has decided to earmark a significant portion of its budget for doing voter ID and turnout in the evangelical community," Jones told CHRISTIANITY TODAY.
Among the efforts being aimed at evangelicals:
• Special appearances. Both the President and the Vice-president have been taking an extraordinary amount of time to pay personal visits to evangelical gatherings. President Bush on August 22 addressed about 10,000 Christian leaders in Dallas for the National Affairs Briefing organized by the Religious Roundtable. He has also appeared on Pat Robertson's "700 Club" and the "Focus on the Family" broadcast with James Dobson.
• Giant conference call. The campaign is planning a nationwide teleconference call this fall when it hopes to put the President on the phone live with some 10,000 pastors.
• Personal endorsement list. Under the auspices of the campaign, an "Evangelical Leaders and Laymen Coalition for Bush/Quayle '92" is being organized, giving individual evangelicals the chance to make a personal endorsement of the Republican ticket. At press time, 135 leaders had signed on, including leading black pastor E. V. Hill, pro-family leaders Tim and Beverly LaHaye, Assemblies of God general superintendent G. Ray Carlson, National Religious Broadcasters president David Clark, and entertainer Pat Boone.
Republican Revival
On the other hand, conservative evangelicals have emerged as major players this fall in Republican politics. Nowhere has this been more evident than at the Republican National Convention in August, which Jerry Falwell likened to a "Baptist revival meeting." Pat Robertson's Christian Coalition (CC) estimated that 300 of the more than 2,000 delegates were CC members, with the strongest representations coming from Oregon, Washington, Alaska, Iowa, Virginia, and South Carolina. And according to Bush/Quayle campaign officials, more than 40 percent of all the delegates claimed evangelical beliefs.
In many ways, the showing represented the first fruits of a reorganized Religious Right, whose new strategy is to concentrate on the grassroots (CT, July 20, 1992, p. 42). CC executive director Ralph Reed says Christians have been joining local campaign steering committees, becoming state party officials, and running for local office themselves. "Over a period of time, that cumulative knowledge and wisdom has definitely increased our influence, increased our power, and allowed us to leverage our numbers in a way that was never possible before," Reed says.
And Christians leveraged that influence in many ways at the convention. For example, they were at the forefront of assuring adoption of a conservative party platform that included acknowledgment of belief in God, a staunch prolife plank, opposition to gay rights, support for educational choice and school prayer, opposition to the distribution of condoms in schools, and a pledge to fight pornography. Several prominent evangelicals either gave addresses or prayed.
Ironically, the standard bearer for Republican evangelicals is Bush, a man with whom many evangelicals have never been fully comfortable despite his strong church-attendance record and his opposition to abortion. Even this summer, as many conservative evangelical leaders were lining up with endorsements for Bush, representatives of two key evangelical groups, the National Association of Evangelicals (NAE) and the Southern Baptist Convention, were expressing concerns about Bush's reluctance to take an outspoken stand against gay rights. The two groups have since pulled back from their criticism, following the placement of a firm antigay rights plank in the platform and stronger statements from Bush on the subject, including a private phone call of assurance to NAE president Don Argue.
"To a certain degree, they heard our concerns and responded," says NAE policy analyst Richard Cizik. And, he adds, despite the flak he received from both the White House and fellow evengelicals, he is glad he spoke out on the issue. "I believe that if evangelical leaders aren't willing to stand up for right, then our whole movement must ask ourselves, What are we here for? Is our allegiance to the Republican party or to the Lord Jesus Christ?"
Falwell acknowledges that evangelicals have been less than enthused about his good friend Bush, but he is certain that momentum is building. Evangelicals, he asserts, know full well what is at stake in this election because of the differences between the two candidates: "Bill Clinton in the White House would so skew and destroy the family values that have been established that we might lose the country over it," Falwell told CHRISTIANITY TODAY. "God just might get a little weary of tolerating us."
Falwell has stepped temporarily out of political retirement to volunteer in Bush's re-election effort, working closely with the Bush/Quayle campaign to set up a specific plan to target the evangelical community (see "The Road to Re-election," p. 51).
Another Special-Interest Group?
Predictably, opponents of the Religious Right, such as People for the American Way and Planned Parenthood of America, have viewed its new influence with alarm. But even within the Christian community, red flags are being raised. Association for Public Justice executive director Jim Skillen says that moderate evangelicals like himself find it "very inadequate to have the Christian agenda being defined by one group of people." And in Skillen's opinion, the agenda coming out of the Religious Right is based on "sloganeering," not a "clearly defined Christian public philosophy."
"If the way God gets dragged into the process is in these superficial ways, then it makes it all the more difficult for those of us who want to take God and his will seriously to do it in a way that doesn't make him look like the mascot of a football team," he says.
Some religious conservatives are raising concerns as well. Former Reagan aide and 1984 Republican platform drafter Don Eberly says he is particularly disturbed by the tone of much of the Religious Right's rhetoric, which he deems to be "highly strident, polarizing, insular, and triumphalistic." A committed Christian and a committed conservative, Eberly says he fears that as a result of Religious Right activities the church will become known as "just another power bloc to be pandered to."
"We're probably sacrificing a major opportunity to participate in a much broader cultural debate about values because we are narrowcasting our concerns in terms that are understandable only to the Christian Right," he says. "And it is unfortunate that our own community, which could lead society back to common-sense values, is being seen now as just another part of what is wrong with politics."
Cizik agrees the church should not allow itself to become another special-interest group, but at the same time, he says, Christians need to stay vigorously engaged in what he sees as an "ideological battle for the soul of the Republican party."
The key is keeping it all in perspective, according to local political activists Stephen and Susan Patton. The Pattons were national convention delegates for the first time this year. They say the strong "God and country" emphasis they saw at the national party level contrasts sharply with their experience locally in Rhode Island. "We need to remember that we can't remake the country through politics," says Stephen. "It is the gospel of Jesus Christ that saves souls and regenerates fallen mankind." But, adds Susan, "the Christian community definitely needs to have a voice about what's going on in our country today."
By Kim A. Lawton in Houston.
Have something to add about this? See something we missed? Share your feedback here.
Our digital archives are a work in progress. Let us know if corrections need to be made.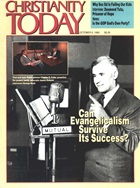 This article is from the October 5 1992 issue.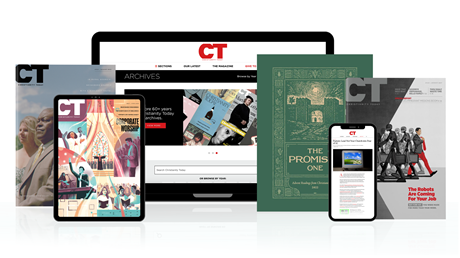 Annual & Monthly subscriptions available.
Print & Digital Issues of CT magazine
Complete access to every article on ChristianityToday.com
Unlimited access to 65+ years of CT's online archives
Member-only special issues
Subscribe
A Republican God?
A Republican God?