The Magazine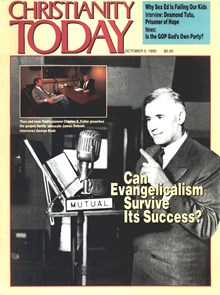 Read CT online anywhere you go.
Subscribers get full print and digital access, including:
10 award-winning print issues
PDFs of each issue
Full web access to ChristianityToday.com
60+ years of magazine archives
The CT Archives are a rich treasure of biblical wisdom and insight from our past. Some things we would say differently today, and some stances we've changed. But overall, we're amazed at how relevant so much of this content is. We trust that you'll find it a helpful resource. - Mark Galli, editor-in-chief
Also in this Issue:
A Republican God?
Don't Touch that Dial
Letters
Same Old Benny Hinn, Critics Say
Speaking out: Why Pick on Hillary?
Bungee-Jumping, Anyone?
Vision Quest
Can Evangelicalism Survive Its Success?
The Doctrine Wars
Why Sex Ed Is Failing Our Kids
A Prisoner of Hope
The Reckless Tongue
The Importance of Being Western
Classic & Contemporary Excerpts from October 05, 1992
A Green Gathering of Evangelicals
Ivory Coast: African Megachurch Challenged over Teaching
News from the North American Scene: October 05, 1992
A Battle for Japan's Bible
World Scene: October 05, 1992
Conservatives and Progressives Tug at Church's Fabric
Christian Jews Blamed for 'New Holocaust'
Ethics Panel Rebukes Hatfield
Prime-Time Fallout for Lea and Tilton
The Whole Prayer Catalog
Better a Socialist Monk than a Free-Market Rogue?