In 1985 my wife and I went to the renowned Shakespeare Festival in Stratford, Ontario, Canada, expecting a refreshing Elizabethan respite from life in postmodern America. Instead, we found ourselves transported right back to the seamiest side of Chicago. Actors and actresses wearing skimpy leather-and-chains costumes sidled up to theatergoers in the lobby. There was whispered talk of transvestites, nightclub raids, and drug charges.
When the play began, strobe lights and the wail of police sirens filled the hall. The provocative characters who had visited us beforehand were now locked in a cage, writhing obscenely and fondling each other. One woman held the key: the nun Isabella, spotlit in a flowing white dress, the heroine of Shakepeare's play.
Measure for Measure deals with the issue of personal and public morality. To stem the tide in decadent Vienna, the Duke has appointed the stern Angelo to enforce a strict new code of morality. As a showpiece of his crackdown, Angelo arrests young Claudio, a man who got his fiancée pregnant. The plot thickens when Claudio's lovely sister Isabella, a virgin aspiring to the convent, visits Angelo to plead for her brother's life.
Angelo makes Isabella a cynical offer: only if she becomes his lover will he free her brother. Otherwise, Claudio must die. Thus the state's official enforcer of morality will show mercy only if she agrees to an even worse crime. Isabella weighs the consequences. Which is worth more, her own virtue or her brother's life? On one person's integrity hung the future of society.
A Muslim acquaintance once said, "In the Qur'an, I can find nothing to teach us how to be a minority religion, while in the New Testament I can find nothing to teach Christians how to be a majority religion." So how do Christians living in a pluralistic society respond to a decline in morals? Do we, like Isabella, focus on our personal morality and leave the public morality to hypocrites like Angelo? Or can we, as the Duke eventually does, perform some civic role that helps balance the competing demands of morality and mercy?
A helpful first step, I believe, is to sort out two goals, moralization and Christianization. We can "Christianize" people, but not institutions. We can baptize, teach, and hold accountable individuals, but not a government, school, or court system. Thus we have no mandate to "Christianize" the United States—an impossible goal in any case.
Yet Christians can work simultaneously toward a different goal, the "moralization" of society. We can help tether the values and even the laws of a society to some basis in transcendence. This is where our founders began, declaring our rights "unalienable" and "endowed by their Creator." Though not establishing a Christian nation, they assumed that laws rested on a foundation of moral authority transcending both the courts and the public.
I am borrowing the word "moralization" from Gertrude Himmelfarb, a historian who specializes in the Victorian Age. Her book The De-Moralization of America presents that era as one in which the trends were all going in the right direction. Illegitimacy rates in the poorest section of London stood at 3 percent, compared to 80 percent in some inner-city neighborhoods today. The crime rate in England dropped by half in the last half of the nineteenth century, compared to a five-fold increase in recent U.S. history.
What caused the progress in Victorian England? Himmelfarb, like many historians, credits a campaign of "moralization" led by evangelicals. Methodists, in particular, actively pressed for reforms in the labor movement, housing, prisons, public education, sanitation, and health. Just as important, she says, were the Victorian values of integrity, compassion, hard work, cleanliness, and self-respect, which began in the church and spread through all society, effecting a kind of moral reformation.
Himmelfarb's portrait of "Victorian values" runs counter to the stuffy image that phrase conjures up today—which, she says, is part of the problem. The United States has taken such a turn against public morality that, for example, a recent surgeon general could not bear to use the word immoral to describe promiscuous sex among teenagers and preteens. Says Himmelfarb, "We are now confronting the consequences of this policy of moral neutrality."
"Agnosticism," wrote Thomas Merton, "leads inevitably to moral indifference."
That is why there was something peculiarly strange and funny about the feeble efforts of the bourgeois generations of the late nineteenth and early twentieth centuries to bring up their progeny with a respect for moral and social obligations but with no belief in God. … "In the name of whom or what do you ask me to behave? Why should I go to the inconvenience of denying myself the satisfactions I desire in the name of some standard that exists only in your imagination? Why should I worship the fictions you have imposed on me in the name of Nothing?
At the end of the twentieth century, Merton's words have a haunting, prophetic ring.
Last Updated: October 2, 1996
Have something to add about this? See something we missed? Share your feedback here.
Philip Yancey
Philip Yancey is editor at large of Christianity Today and cochair of the editorial board for Books and Culture. Yancey's most recent book is What Good Is God?: In Search of a Faith That Matters. His other books include Prayer (2006), Rumors of Another World (2003), Reaching for the Invisible God (2000), The Bible Jesus Read (1999), What's So Amazing About Grace? (1998), The Jesus I Never Knew (1995), Where is God When It Hurts (1990), and many others. His Christianity Today column ran from 1985 to 2009.
Previous Philip Yancey Columns:
Our digital archives are a work in progress. Let us know if corrections need to be made.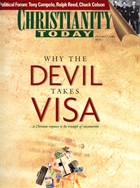 This article is from the October 7 1996 issue.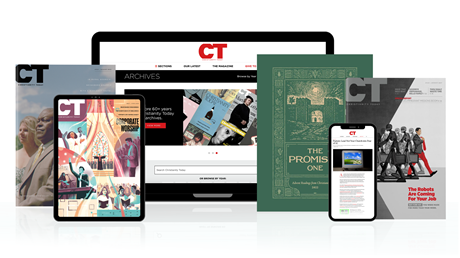 Subscribe to Christianity Today and get access to this article plus 65+ years of archives.
Home delivery of CT magazine
Complete access to articles on ChristianityToday.com
Over 120 years of magazine archives plus full access to all of CT's online archives
Subscribe Now
The Other Great Commission
The Other Great Commission