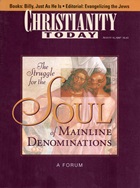 This article is from the August 11 1997 issue. Subscribers can read all of CT's digital archives.
In November 1995 I was flying back from a meeting of the American Academyof Religion and the Society of Biblical Literature in Philadelphia. A groupof eight or ten women, who earlier had been associated with the radical feministRe-Imagining conference, were returning from the same conference I had attended.Across the aisle of the plane they were discussing "the takeover of thedenomination at the big showdown in Albuquerque" in 1996. At Albuquerquethe General Assembly of the Presbyterian Church (U.S.A.), my denomination,was scheduled to make a definitive decision on the question of the ordinationof practicing homosexuals. The talk in the plane was how to commandeer theprocess in favor of ordaining homosexuals.
What interested me most about this airborne caucus was that only one or twoof the women were Presbyterians. The others with whom I was familiar wereCatholic, Methodist, Lutheran, or United Church of Christ. It was clear thatadvocates of a radical agenda—across denominational boundaries—were targetingAlbuquerque for purposes beyond those of the Presbyterian Church (U.S.A.).
This illustrated for me how a significant realignment is taking place withinmainline Protestantism today. Most mainline denominations are witnessingthe emergence of two camps or movements within them, with supportingorganizations and publications for each one. The one camp inclines towardthe conservative side of the spectrum, committed to recovering the biblicaland theological basis of the church. The other camp leans to the liberalside of the spectrum and defines the nature of the church in terms of pluralismand inclusiveness.
Neither camp has any formal membership insignia, but it is usually no secretwho belongs to which camp. In fact, ...
1
At the Crossroads