As our Fundamentalist forefathers withstood the winds of liberalism that were sweeping across the Atlantic, so we in our generation must withstand the tide of secularism that has permeated every level of society. … Let us raise the flag of Truth and wave its banner high. We must stand without compromise for the Truth that has set us free.Fundamentalist Journal
That thunderous call heralded Ed Dobson's 1982 debut in the pages of the new, fast-rising Fundamentalist Journal. Later editor-in-chief of that magazine and close associate to Jerry Falwell, this Irish-born pulpiteer has traveled an intriguing spiritual path—and one that has not always pleased his one-time mentor.
In his heady years with the Moral Majority, Ed Dobson was something of a point man. He advanced the cause of social redemption through political activism, parachurch structures, and media connections. He relished the slings and arrows that came his way as badges of honor.
Today, he still works for redemption, but from a different platform. Dobson, now 47, stands each weekend before more than 6,000 worshipers at Calvary Church in Grand Rapids, Michigan, where he serves as senior pastor and shepherd. Instead of strong-arming politicians, he has chosen the model of spiritual empowerment through the local church.
Still, Ed Dobson's world view today is not a total rejection of his past. Rather, he has come to a deeper understanding over the years of what his true "fundamentals" are.
Up, Up, Up
The quick mind and work ethic of the wiry young Irishman with the sparkling eyes drew attention from the minute he arrived in Lynchburg at age 23. His first job was to be Liberty University's dean of men, but before long he was also teaching New Testament survey, coaching the soccer team, and taking on more administrative duties. In time, Dobson was named vice president for student life as well as associate pastor of Thomas Road Baptist Church. When the Moral Majority was organized in June 1979, he was on the board.
Three years later, the premiere issue of Fundamentalist Journal listed him as one of two senior editors, and he became editor-in-chief two and a half years after that. Somehow he found time to earn a Ph.D. in higher education at the University of Virginia, 60 miles northeast in Charlottesville. "I was on the fast track in those days," Dobson recalls, "doing political debates, speaking on secular college campuses, giving media interviews—plus getting to preach the Bible, which was always my first love. The combination was exhilarating."
Jerry Falwell managed to find this go-getter at a vulnerable moment in the young man's life, when Dobson's career seemed stillborn. Fresh out of Bob Jones University with a master's degree and a new bride to support, he yearned to get started as an evangelist. "The only trouble was, nobody wanted to hear me preach," he admits. In bewilderment, he spent the next six months digging graves while working for his brother-in-law, who had a contract with several Greenville, South Carolina, cemeteries.
Resurrection day came in November that year (1972), when the phone finally rang with a call from Lynchburg. Dobson had met Falwell the year before when he had brought a bju student group to sing at Thomas Road Baptist Church's "Super Sunday," a special day for high-school students. Dobson had preached, and the group had even been invited to stay around to sing for Falwell's half-hour live television program late that evening.
By the beginning of 1973, Ed and Lorna Dobson were on their way to an exciting season of life that would last more than 14 years.
Falwell and Dobson developed a fast friendship, recalls Nelson Keener, another Moral Majority executive at the time. "Jerry and Ed were both mavericks. In fact, they egged each other on. Ed could push the edges and Jerry would still trust him, because Ed was never obnoxious or pesky about it. He always knew how to reassure Jerry of both his personal loyalty and his theological reliability."
Re-evaluation
Sometime in late 1985 Dobson flew to New York City to appear on The Phil Donahue Show. There he defended the Boy Scouts of America, who recently had denied a West Virginia boy's promotion to Life Scout because he said he didn't believe in God. While liberals called this mean-spirited and coercive, conservatives hailed the Boy Scouts for setting guidelines that honored the Lord and for sticking to them.
On the midtown-Manhattan set that day, young Paul Trout, the scout in question, and his mom sat waiting to tell their story. The minute Donahue introduced "Ed Dobson, who works for Jerry Falwell," the studio audience erupted in boos.
"I was thrilled," Dobson recalls. "I told myself, I'm the only voice here to speak for righteousness, and promptly waded into the debate."
That night on the way home, something happened in the Charlotte, N.C., airport that unsettled forever Dobson's view of the world and ministry. He was changing planes to catch the short hop to Lynchburg when he happened to run into a colleague, a Liberty University professor.
"He asked where I was coming from, and I told him about my exciting day in New York—being picked up by a limousine, meeting Phil Donahue, arguing for faith and morality on national television. The show was aired live over much of the country in those days.
"The professor just looked at me, and when I stopped to take a breath, he said, very seriously, 'Well—you're casting your pearls before swine.'
"I was caught totally off guard. 'What do you mean?' I responded.
" 'Ed, you are first and foremost a preacher and a pastor,' he said with utmost sincerity. 'All of this other stuff is a waste of your time. It doesn't matter for eternity.'
"It was a very bold statement, and I didn't agree with him, of course. But there wasn't time to continue the discussion. I had to run for my plane."
Cruising through the nighttime Carolina sky, however, Ed Dobson was seized with reflection and self-examination. Could it be that he had wandered from his first calling? Could it be that his battle to change the popular culture was misguided?
Lorna met him at the Lynchburg airport, and on the way home he told her about the encounter. She quietly began nodding her head. God had been impressing her, she volunteered, with some of the same thoughts.
This led to more than a year of soul-searching and prayer. Ed and Lorna said little to others, but deep inside, they sought to rediscover just what God considered "fundamental" and what he had gifted them to do. They were riding high on the religious and cultural horizon—but was this the center of their mission?
Ed's office was next to a prayer chapel, where he began spending 30 minutes to an hour after lunch every day, reading Scripture and listening for the voice of God. In time he became convinced that his days with the Moral Majority were numbered, and that God would specifically open a door to pastoral work—although he had no idea how or where.
Stranger in a Strange Land
Seven hundred miles to the northwest, in cold, snowy Grand Rapids, the search committee of evangelical bastion Calvary Church was into its third year of work. Trying to fill the pulpit once held by the redoubtable M. R. DeHaan, founder not only of the church but also the well-known Radio Bible Class, was proving difficult. The prospect list stretched well beyond 130 names, with no finalist in sight.
An elder driving in his car one day happened to dial in to Jerry Falwell's radio program, which was recycling an Ed Dobson series on marriage and divorce first delivered at Thomas Road. The elder didn't recognize Dobson's name but was taken with his approach. That's the kind of straightforward Bible teaching we've been looking for, he said to himself. He added Dobson to the prospect list—even if he was a Baptist from the South who worked for Jerry Falwell.
Once the committee got to know Dobson, they found out his roots weren't Southern at all. In fact, he had spent the first 14 years of life in Northern Ireland, where his father was a minister. The family had immigrated to New Jersey in 1964, just as Dobson was ready to begin high school. He breezed through in two years, his Irish education having put him far ahead of his American peers. His only adjustment was getting used to going to school with Catholics.
When it was time for college, Dobson looked toward Penn State, where he could play soccer and study pre-med. But his father, remembering that his son was only 16 years old, urged him to go to a Christian campus. That ended up being Bob Jones—although before the youngster left home, his father told him, "Don't believe anything they tell you down there unless you can prove it from the Bible."
That approach sounded good to the heirs of M. R. DeHaan. Still, Calvary was not a Baptist church; its roots were Reformed. They didn't consider themselves fundamentalist with a capital F. Could Ed Dobson get along here?
After three interviews, the group took a deep breath and decided to recommend him to the membership. At the business meeting on Thursday night, March 19, 1987, the vote was 99.7 percent affirmative, and a phone call was immediately placed to Lynchburg.

"If our church gets overrun
with homosexuals, that will be
terrific. They can take their place
right next to the liars, gossips,
materialists, and the rest of us
who entertain sin in our lives.


It could not have come at a more turbulent moment. The day before, Dobson had held his breath in a conference room with no more than a half-dozen other men as the reins of Jim Bakker's PTL television ministry were dramatically passed to Jerry Falwell. Within a matter of hours, Falwell turned to his trusted associate and pleaded with him to forget about Grand Rapids. Falwell needed him in South Carolina to help straighten out the muddle he had inherited, a job he felt might make or break the future of Christian broadcasting.
"I was terribly torn," Dobson says. "I wanted to help Jerry as I had always done, but on the other hand, my future would be more of the same. The next day, when the call came from Michigan, I went to my office and spent most of Thursday night trying to discern what God wanted me to do." (His wife had gone to bed that evening so confident of God's leading that she said that there was "nothing to pray about.")
He read over the journal he had been keeping over the previous year and a half; he read Scripture; he examined what he saw was the scope of God's leading in his life and ministry.
"By morning, I knew," says Dobson. Everything pointed to Michigan: the journal entries, the Scripture readings, the deepest desire of his heart.
"I wrote my resignation and turned it in that Friday."
More than a few people mistakenly assumed Dobson's departure was a protest against Falwell getting involved with PTL. That was untrue. The impetus had started long before, during that night back in the Charlotte airport. He heard God telling him that he was first and foremost a shepherd, not a crusader. Soon Ed, Lorna, and their three children were on their way to Michigan.
Two Fundamentals
Today, Calvary Church is perhaps the premier church of the city, having nearly quadrupled in attendance over the past 10 years. It occupies an impressive, debt-free 23-acre campus along the freeway. If you ask Ed Dobson how this has happened, he will tell you he had no strategic plan in the beginning—and still doesn't. He employed only the "strategy" he had received in the form of advice from Truman Dollar, long-time fundamentalist pastor in Detroit: "When you go up there to Grand Rapids, don't try to be an administrator, a CEO, a fund raiser, a staff boss, or anything. You only need to do two things: Love people … and preach the Bible."
This was the core of his calling. This was what God expected of him, no more, no less. These two instructions would become his twin watchwords.
He gave public invitations for salvation the first year or so—but few responded. "I said to myself, Why don't people walk down an aisle here like they did in Virginia? They must be Northerners. But then I realized it had more to do with their professional, upper-middle-class nature. These doctors and lawyers and business executives wanted Christ in their lives, but they weren't about to make a show of it."
Dobson soon switched to having a separate prayer room staffed with lay counselors, where today people come and receive Christ in a steady stream.
Although his Irish accent is long gone, the plain-spokenness remains. He is not one to shade his point in light of who is listening. He doesn't waste words, nor does he mince them. "If there's any 'downside' to Ed," says his friend Ed Hindson, "it's that Irish stubbornness. He will not be pushed into a corner. He is totally principle-oriented. Doing the pragmatic thing just to stay out of trouble is something that never even crosses his mind."
Principle does, however, drive him to innovation. In the early years he noticed that a lot of Calvary's growth in heavily churched Grand Rapids was simply "Christians going from one fish bowl to another [church hopping]. That bothered us; it wasn't our intent. We started asking what we could do that would attract unchurched people." Thus began the contemporary-styled Saturday night service, complete with drama, avant-garde music, and a question time following the message.
Part one of two parts; click here to read part two.
Have something to add about this? See something we missed? Share your feedback here.
Our digital archives are a work in progress. Let us know if corrections need to be made.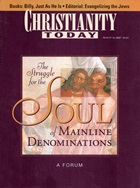 This article is from the August 11 1997 issue.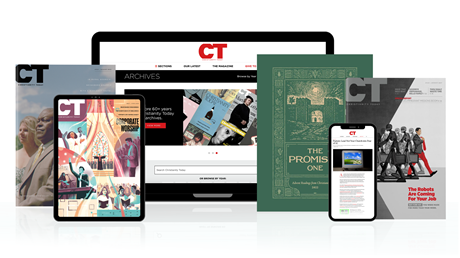 Annual & Monthly subscriptions available.
Print & Digital Issues of CT magazine
Complete access to every article on ChristianityToday.com
Unlimited access to 65+ years of CT's online archives
Member-only special issues
Subscribe
The Education of Ed Dobson, Part 1
The Education of Ed Dobson, Part 1