* (beginning in previous article)
The Bob Dole generation
So why then, given this electronic "kiddies' bouillabaisse," has the Millennial generation been earmarked by William Strauss, coauthor (with Neil Howe) of Generations, 13th-Gen, and the just-published Fourth Turning, as the next "civic" generation, modeled after—of all people—Bob Dole?
Strauss asserts that this age group has stepped into a world where, as one 16-year-old said it, "Doing corrupt and unhealthy things is just a part of everyday life." Strauss says that public cynicism and the absence of heroes has reached a "settled acceptance"; that the "dangerous sexual landscape is status quo"; and that "technology is a given." But the Millennial generation, he says, "is coming of age at a time when the adult community has determined that the conditions of childhood are unacceptable. It has become the nation's top priority."
In Generations, Strauss and Howe write: "Boomers are setting about to protect children from the social and chemical residue of the euphoric awakening they themselves had launched a quarter century earlier. … Grown-up Boomer radicals who once delighted in shocking their own moms and dads now surprise themselves with their own strictly perfectionist approach to child nurture."
Jane Pauley leaves the Today show to be with her kids; Anna Quindlan, for the same reason, leaves the New York Times; Charles Krauthammer writes "Drown the Berenstein Bears" ("a cry against youth literature that celebrates the parent as pal," says Strauss). "We, the great middle of the electorate that makes up the baby boom generation, are not raising our children as well as our parents raised us," decries U.S. News (Sept. 9, 1996), encapsulating the theme for the Democratic National Convention in Chicago last summer.
This parental concern of the repentant boomers, coupled with the clarion call of national concern, will imbue the Millennials, Strauss asserts, with a team spirit and collective sense of purpose and civic resolve. "The problems are still severe, but they are also considered unacceptable," he says. "This restrengthening of parental protection is forging a sense of community and allowing the opportunity for peer pressure to become positive." The environment of public cynicism and the absence of heroes that this generation has inherited will produce in them a yearning for real heroes. But not only in them—in society as a whole, Strauss says. "They will be the heroes. You watch. At the turn of the millennium magazine covers will be proclaiming that they are a wonderful generation [like Bob Dole's World War II generation]—not so much for who they are but for who the nation wants them to be."
Strauss's optimistic speculations are supported somewhat by a recent survey of adolescents conducted by the Horatio Alger Association. This study reflects that "today's teens are neither as rebellious as adolescents in the 1970s nor as materialistic as those of the 1980s." Among their greatest concerns is the "decline in moral and social values." Teens in the nineties, the survey says, are "troubled by crime and violence, AIDS, drugs and environmental problems." Seven in ten say "religion is important in their lives."
So these are the converging, if somewhat contradictory, forces defining this new breed: They have been suckled on Sesame Street and Disney, spoon-fed Snoop Doggy Dog and Madonna, and are "mainlining" the Internet. But this same generation is coming of age when society is putting the brakes on the boomers' revolution and trying to forge a new path. If Strauss's demographic speculations play out, it is the Millennials who will lead the way, carrying the mantle bequeathed to them by a soul-sick society: Be our heroes!
That is why Borgman and others have said that churches must seize this moment and reinvent their approach to youth ministry in order to penetrate the lulling effects of the electronic media diet, and to fan into flame the spark of promise in the hearts of these youth. Churches have to de-"bunk" themselves and cross the great divide between church and the "youth group ghetto" to keep them in church and to develop them into courageous, disciplined leaders.
3. New Wineskins
Three very different models of youth ministry are attempting to do just that. They do not surrender the gospel to consumerism, but they have captured the ethos of this generation and are winning their enthusiastic allegiance. Each affirms what Jim Burns expressed when he said: "When it comes to today's young people, I believe they are truly motivated to be leaders. And whether churches like it or not, they better train them or lose them."
These models include: peer ministry; "the practices"; and platoons and shepherds.
Peer ministry
In a recent article, Mark Senter outlined what he thought should be a new strategy for churches hiring youth ministers. Hire them as church planters "with the primary objective of developing a team of spiritually mature young adults to start a new church." The vision and the emphasis of youth ministry would then shift from entertainment to long-term maturity and the discovery and implementation of spiritual gifts for church leadership.
This model has been fleshed out, in part, by Souled Out, a "youth church" in Mount Prospect, Illinois, founded by businessman Ed Basler and his wife, Cathi.
"We are about real teens meeting a real God," says Ed, taking to the podium at a Thursday-evening service wearing boots, leather vest, and bandana. "If you're here for 'religion,' you're not going to find it," he says to the crowd of teens sitting on the floor around him.
The Baslers, parents of teens, always opened their home to their kids' peers ("If a kid was smoking, we wouldn't freak out"), freely sharing the good news that God loves them.
"Before we knew it," says Ed, "we had sometimes 80 kids in our home on a given evening." This is when thoughts of starting a "youth church" began to take shape.
In 1994 the Baslers encountered a youth group that practiced peer ministry. "For the first time we saw the truth of kids ministering to kids," says Cathi. "You could see life spring up in these kids."
Based on this model, Souled Out was launched in December of 1994, meeting in the basement of a local church. In the two years since, the ministry has mushroomed. They recently purchased a building in Mount Prospect to accommodate their menu of activities on almost every night of the week.
The main event is the Thursday-evening outreach service, which draws a crowd of 200 to 300. On Friday and Saturday nights, the building is converted into the Heart and Soul Cafe—with live music, pool, and cafe latte. On Sunday evening Souled Out holds its "Get Real" service, for serious believers wanting spiritual growth. On Tuesday nights, intensive Bible studies, for girls and guys separately, are held in homes. Intermingled with all of this is Souled Out's work with area high schools in after-care programs for youths coming out of drug rehab.
Welcome to a typical Thursday evening: Enveloped in smoke and colored lights, a youth band leads in Jars of Clay-type choruses: I cry out for your hand of mercy to heal me; / I am weak, I need your love to free me.
Ed (in biker dress) reads announcements and "Ed's Top Ten List." A drama team enacts a modern parable about torn-up hearts and the One who gives a new one, and a negative-image Marilyn Monroe look-alike (with very red lips) whispers on a video clip, "In a perfect world your parents don't fight. … In a perfect world there is no word for cheater; in a perfect world there is no word for liar … "
They pass the "boot" (a cowboy boot) to receive an offering, and then the main speaker—a teen—offers a testimonial.
"A 'perfect world' is not where I come from," this high-school senior says when he takes the mike. "I hated my life. I had so many masks that I preferred to lie than to tell the truth. I had two- and three-week depressions when I would just sit in my room and watch bad videos."
But "God was standing next to me the whole time, saying, 'I'm just waiting for you to turn to me.' God is faithful. He is there for you 24/7" (24 hours a day, 7 days a week).
The service closes with prayer and singing. And then "ministry" begins after the service when those who were touched or broken are crying and asking for prayer.
Behind the scenes, 12 student leaders work with the eight adult leaders in planning and general oversight. The student leaders meet twice a month for Bible study, leadership training, and to brainstorm ministry ideas. The adult leaders (two of whom are ordained) meet monthly to oversee the general direction of the ministry. Teens run the service as well as the behind-the-scenes duties, like updating the mailing list and sending out fliers.
David Ausbrook (19) is a student leader who says that Souled Out has changed "everything" about his life. "I used to be very depressed. The music I listened to was all about suicide and that God is dead. When I came to Souled Out I saw how they had something real with God. I wanted it, too."
He helps lead the Tuesday-night "guys" Bible study and takes special care at the Thursday gathering to "watch to see where God is working" (welcoming new people or praying with others who express a need). More recently he has been part of a new video ministry where the teens write and produce their own skit/videos to show on Thursday nights.
"It is because of God that I can do all this stuff," he says, "but it was through Souled Out that I was able to give my heart to God. God is totally using me and, I'm like, thank you, God."
It is yet to be seen how the teens who are converted there will be integrated into the larger believing community. Many who go off to college are strongly encouraged to plug into campus ministries such as InterVarsity. Those who do, says Ed, will have a "pretty smooth" transition into the evangelical community.
But he is quick to add that it is not going to be easy for many others. "This culture is so different from the adult culture. Souled Out has spoiled them for the ordinary," he says. Finding spiritual food that satisfies in a traditional congregation probably is not going to happen. They are already anticipating how the ministry will have to expand its scope—perhaps by spinning off new congregations—as their constituency ages.
Being a "youth church" by definition suggests that the believing community lacks intergenerational relationships. Older people do not feel comfortable there. Besides, Ed says, "It is very hard to find an adult who will commit. We are very protective about adults coming and saying they want to help, because most of them don't last. And these kids don't need another short-term relationship. They are looking for that mother or father figure."
Despite these factors, the "peer ministry" model—teens doing ministry—demonstrates the energy and passion that this generation can bring to the life of the church. Worshipers let down their defenses and pray for (and find) healing. Teens reaching other teens create an atmosphere of trust and affirmation that enables young people who might not otherwise hear a gospel message to hear, and relate, and find release.
"For now, this is what we do," says Ed. "There is a whole generation that the church has lost—the sight and sound generation. MTV has captured them, but the church hasn't. So we're focusing on teens because most people aren't."
"The practices"
On the other end of the spectrum is a model that celebrates the established church while finding innovative ways of integrating young people into its tradition.
"Christians can learn something from our Jewish and Christian brothers and sisters—and from our own heritage, really—that brings people together intergenerationally," says Greg Jones, associate professor of theology at Loyola College and "unofficial" associate pastor of Arbutus United Methodist Church, Baltimore, Maryland, where his wife, Susan, serves as pastor.
The confirmation process, as Greg and Susan have designed it, draws upon the Jewish tradition of bar mitzvah and Christian catechesis. The bar mitzvah (and more recently, the bat mitzvah for girls) is the milestone in the life of a Jewish child climaxing years of preparation during which the child is exposed to the biblical language, the history of the tradition, and the Bible. During the ceremony, the child leads a substantial portion of the liturgy, which includes prayers (in Hebrew), the reading of psalms, and chants from the Torah and the Prophets. He or she finishes the service with a bar/bat mitzvah speech sharing what the Scriptures mean to his or her life. Gifts, food, and folk-dancing are the worshiping community's joyous response to this young person's rite of passage.
In other words, the service provides a meaningful ritual whereby the youth is expected to master the practices and rites of community and commit himself or herself to the faith as an adult member. The Joneses have attempted to model their confirmation process both after the bar/bat mitzvah as a rite of passage, and after the third- and fourth-century churches' tradition of catechesis, for training and discipleship with adult mentors.
At Arbutus, the "training" process involves a six-month period of preparation, beginning in January. Each confirmand is assigned a lay adult mentor who takes the child under his or her wing both for fellowship and spiritual inquiry. Mentors attend the confirmation classes with the confirmands and are encouraged to include them when they engage in their own church responsibilities (such as missions meetings). This bridges a connection between those who are well established in the faith and those who need to be nurtured in it, the goal being to encourage young people to "lay claim to their own gifts," says Jones.
The confirmation ceremony is held on Pentecost Sunday and treated as a time of great festivity. The young people are "the liturgists" for the day, and their individual written affirmations of faith (part of the confirmation process) are read during the service. The church holds a party afterward. Confirmation becomes a "rite of passage," says Greg Jones, that "says something about the kingdom of God."
The mentors are drawn from a pool of lay adults who have actively participated in Covenant Discipleship Groups and who answer and sign a questionnaire about sexual misconduct issues (a legal necessity for adults who want to work with youth, says Jones).
These discipleship groups are modeled after Wesley's "class meetings," meeting weekly to examine private devotion, worship, acts of service (like taking food to a sick neighbor), and acts of justice more globally.
This model is adapted for the youth after confirmation. The presumption is that the young people will continue in these groups as they get older and eventually assimilate with the adult groups. So far, Jones says, it is working.
He says the combination of preconfirmation mentoring coupled with the postconfirmation discipleship groups has eliminated the confirmation fallout syndrome that plagues mainline denominations. "You've probably heard that the best way to ensure that kids never come back to church is to confirm them," he jokes. "That has not been the case with us."
Arbutus tries to weave active participation of the youth into many aspects of their services, sometimes as lay readers of Scripture, as ushers, or by sharing special music. All of these "practices," Greg Jones calls them, are "woven into the tradition of the historical church that needs to be reclaimed today. "Doing things has been at the heart of the Jewish and Christian faith. The power of 'the practices' is their longevity.
"Sometimes when they read the Scripture they don't do a great job at reading," says Jones. "But their involvement says to them, 'This is your church, too.' "
February 3, 1997 Vol. 41, No. 2, Page 18
Have something to add about this? See something we missed? Share your feedback here.
Our digital archives are a work in progress. Let us know if corrections need to be made.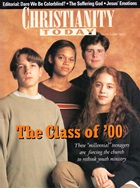 This article is from the February 3 1997 issue.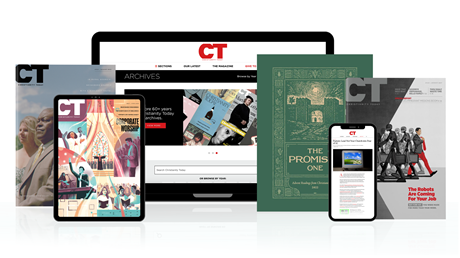 Subscribe to Christianity Today and get access to this article plus 65+ years of archives.
Home delivery of CT magazine
Complete access to articles on ChristianityToday.com
Over 120 years of magazine archives plus full access to all of CT's online archives
Subscribe Now
The Class of '00 Part 2
The Class of '00 Part 2