Ray Bakke may know more about urban ministry than any other evangelical. How he got to this point is proof that God knows better than we do how to weave together the disparate strands of our lives. Bakke's youthful ambition growing up in rural Washington State was to become a high-school teacher and coach. But when he attended Moody Bible Institute, he fell in love with Chicago. So instead, he became an inner-city pastor, first in Seattle, then in Chicago. A single congregation could not contain his vision or energy, however, and eventually the whole of Chicago, and later cities in general, became his parish.
Not that he entirely gave up on teaching. Bakke, an American Baptist, has taught Bible at Trinity College (Deerfield, Ill.), church history at McCormick Seminary, and urban ministries at Northern Baptist and Eastern Baptist seminaries. He still tries to read a book a day.
Bakke, 58, has served as senior associate for large cities with the Lausanne Committee for World Evangelization; helped found the Seminary Consortium for Urban Pastoral Education (SCUPE), which trains urban pastors; launched the Seminario Biblico Hispano of Chicago; and helped found Evangelicals for Middle East Understanding (EMEU).
Officially, Bakke is senior associate of International Urban Associates, a Chicago-based network that seeks to empower God's people in the largest cities of the world. What Bakke really is is a lover, student, and teacher of cities the world over. His passion is mentoring urban ministers, helping them "exegete" cities—interpret their significance in light of biblical revelation and God's mission in the world. His newest book, A Theology As Big As the City, will be published by InterVarsity Press in May.
Most of your adult life has been spent in Chicago as a pastor and a teacher of urban mission. How did you start working internationally?
Every spring I'd get a call from an organization that had a plan to save cities. They would say, "Come to a hotel. We have a special plan for Chicago." I always went to those meetings and participated in their crusades, but I left feeling used and frustrated. I kept wondering if anybody would ever come to our city and say, "Teach us what you're learning."
Then David Howard asked me in 1979 to coordinate the urban track of the 1980 Lausanne Consultation on World Evangelism in Thailand. I said, "David, I may be too radical for the Lausanne movement. I don't fit the church-growth paradigm. But come and take a tour with me of Chicago." He did, and after that he was convinced that I should be the Lausanne urban coordinator. For almost 18 years I have been the Lausanne associate for large cities, a volunteer position.
People should study the city not because it's so different from the rest of America, but because it's pointing the way the rest of the country is going. It exaggerates behavior like a time-lapse camera.
Stop looking at the city as just a problem with poor, locked-out people. That's only seeing the victim pattern. See the city as the R&D unit for the whole church. What you see in the city is a new wave of churches that cross over lines of race, class, denomination, and language.
What happens in the urban consultations you conduct?
I've done consultations in over 200 cities. When they ask for help, I'll say: "Most of what you need to know is already in your city. Would you be willing to go ask every bishop in town, 'If you had to prove God is alive in your city, what would you point to to prove it?' Also, find a sociologist or somebody who really knows your city."
I get them to bring together their best models of urban ministry, and we teach each other what we're learning. I ask: "Who's doing evangelism? housing? youth? gangs? kids? seniors?" My role has been interpreting the city from Scripture and history.
You've been part of a support network in Chicago. What has its role been?
A group of us made a commitment to each other 25 years ago because we were watching colleagues get burned out by what was happening in the city. These urban pastors fresh out of seminary would have taken a course in counseling to learn about personality types; but they never learned how to exegete communities. Cities have personalities. Chicago is an industrial city; New Orleans, Boston, and San Francisco are cultural cities; Washington is an administrative city; New York is a commercial city.
So a group of us started meeting, and we made two covenants: to be friends and to teach each other what we were learning about the city; and, if necessary, to lay our bones down here.
What biblical insights do you draw upon for "exegeting" the city today?
For the last eight years I've been working with Pete Hammond on The Word in Life Study Bible (Thomas Nelson, 1996). I did about 1,200 articles on urban, ethnic, and ethical issues in the Bible-handling the 1,250 texts on city and the 142 cities mentioned in the Bible.
I've learned from Ezekiel 16 that cities are family systems ["Thus says the Lord God to Jerusalem: … 'Your father was an Amorite, and your mother a Hittite. … Your elder sister is Samaria … and your younger sister … is Sodom,' " vv. 3, 46, NRSV]. Jerusalem's sister city in the north is Samaria, and in the south Sodom. The biblical family is urban, and it's made up of ethnic families.
Milwaukee and Chicago share a common water system. When Milwaukee was polluting it, Chicago took Milwaukee to court. And we share a sewer system with downstate cities who promptly took Chicago to court when we polluted it. Ezekiel 16 requires me to think of Milwaukee and Saint Louis as sister cities to Chicago; and Jackson, Mississippi, as a father to Chicago, because a million and a half black people from Mississippi came here; and Poland is our mother because 840,000 Poles came to Chicago—100,000 more Poles than San Francisco has people. To have a theology as big as this city, you have to take into account these "migrant" theological tributaries.
Where do suburbs fit into your theology of cities as family systems?
The suburbs are the daughters of the city. They are family. People move to the suburbs to get away, but there's no such place as "away" anymore. There's no escaping urban issues. We share common water, sewer, and economic systems, and increasingly the educational and tax systems. A threat to one is a threat to the other. Gated communities are now growing faster than ghettos, but people are beginning to realize they're not our salvation; a gated community is still a ghetto.
What theology forms and informs your understanding of the city?
The theology of John Calvin: that the Christ over us is Lord of the system, and the Christ within us is our personal Lord. As I understand Colossians, Christ triumphed over principalities and powers; we have to respect them, but we shouldn't be cowering and running away to the suburbs. We can take on the principalities and powers.
For Calvin, a city wall is a gift of common grace, a wall to protect all of us, not just the believers. A healthy school, hospital, and police department are gifts of common grace for the believer and the unbeliever.
I really believe in the parish concept, the church being part of its primary community. Pastors have two roles: pastor of the church and chaplain to the community—which means being a chaplain to every other pastor.
This perspective comes from Calvin's Institutes, Book Four, where he asked his deacons to monitor the public health hospital at Geneva to make sure it was caring for the poor. For Calvin, your tithe money and your tax money both belong to God; the one funds saving-grace institutions, and the other funds common-grace institutions, which are for all the people. The tithe and tax are both God's money. They're both important.
Do you ever get accused of being a "social gospeler"?
A suburban Christian said to me: "When you talk about urban evangelism, I get very excited. But when you talk about social action, I get very nervous. Isn't this the social gospel?"
So I asked him where he lives, and he told me—one of the finest suburbs west of Chicago. I said, "Why do you live there?" He said: "Good schools for my children. It's safe, quiet, clean. Good housing value. I travel a lot. I need a place where my family can be secure when I'm gone."
I stopped him and said, "Every reason you've given for living where you do is a social reason. If anybody believes the social gospel, it's you. You've committed your whole life to it. How can you tell those who don't have the systems you have to just preach the gospel?" And this man, bless his heart, said, "I never thought of that."
The hospital in my community is sicker than the patients in the system. How can it be wrong for us to build a better hospital, school, or police department?
We have to proclaim the gospel and seek the spiritual transformation of every person alive. But we also have to seek the social transformation of places that Satan has taken over and God wants liberated.
How did your urban missiology develop?
When I came to Chicago in 1965, the whole evangelical establishment was fleeing the city. All those people who believed that "greater is he that is in you than he that is in the world" were running away from the city—people who loved foreign missions, just when foreigners were arriving here in big numbers.
That's when I made the commitment to the city. I dropped out of seminary for a year and visited all 77 communities of Chicago, talking to priests, pastors, politicians. I started buying every book on Chicago and tried to understand what was going on here. And I began to develop a hermeneutic for the city: that God is sending the whole world to cities, not only to this city.
There were 63 nations represented in my Edgewater community on Chicago's north side 20 years ago—there are even more today. The high school has more than a third of the nations of the world in it: 2,500 kids in the high school, with over 50 percent foreign born. And they're teaching in 11 languages.
You've said that people who are interested in the city shouldn't start just a church, but ministries.
Ministries scratch where people itch, and they generate indigenous leaders and dollars. If you just start a church, you'll probably plant a church in the image of the planter, and you'll need an outside subsidy and people from outside, which will intimidate the insiders. It doesn't empower the people.
Here's where we need partnership. A lot of denominations give a grant to someone to pastor a church. As I learned 25 years ago, that puts my church and me on welfare. Instead, I want that money put in a bank as a line of credit.
When people ask for money from the Mustard Seed Foundation, founded and funded by the largesse of my brother Dennis and his wife, Eileen, we say: You need a line of credit to help fund 501(c)(3) [federal not-for-profit] ministries. Add a little funding from your church, and leverage it with additional corporate and private grants.
Now if you have an old church that's falling down, create your own community-development foundation with a building program and building manager. Offer classes on building, and charge your neighbors for taking the class. Instead of having volunteer carpenters come to fix up your building, get them to teach the classes.
In the process, they just happen to fix up your building. More important, you give your people skills. Start a rehab program, and employ people to fix houses. By employing your people, they get into the system. Soon you have dollars flowing back into the neighborhood.
Have something to add about this? See something we missed? Share your feedback here.
Our digital archives are a work in progress. Let us know if corrections need to be made.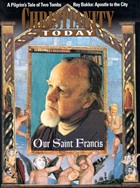 This article is from the March 3 1997 issue.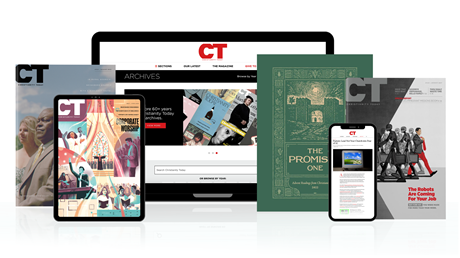 Annual & Monthly subscriptions available.
Print & Digital Issues of CT magazine
Complete access to every article on ChristianityToday.com
Unlimited access to 65+ years of CT's online archives
Member-only special issues
Subscribe
Apostle to the City
Apostle to the City