During three decades of work with the American Bible Society, Barclay M. Newman has kept before him a question posed by the translators of the 1611 King James Version: "What can be more [important] than to deliver God's book unto God's people in a tongue which they understand?" An ordained Southern Baptist minister, Newman serves as lead translator for the Contemporary English Version of the Bible and as a worldwide consultant to missionary translators. CT Executive Editor David Neff spoke with Newman in August.
Why did the CEV translators use gender-generic language where the Bible uses masculine language for people of both sexes?
First of all, let me differ with the premise of your question. The CEV translators chose to do only one thing—to faithfully communicate the meaning of the Hebrew, Aramaic, and Greek texts in a style and format most appropriate for the intended audience. And so whenever the language of the original documents signaled gender inclusiveness, we followed that lead in order to be faithful.
I prefer to call it gender faithfulness, which must be viewed in light of overall faithfulness to the meaning of the text. It's a subcategory, a single aspect of faithfulness in Bible translation. The sole concern is to produce a faithful text that reaches the people in their own language.
You have pointed out that gender sensitivity in English translations is as old as the King James Version. How so?
The King James translators used, for example, "children of Israel" to express what is literally "sons of Israel" in the Hebrew. They did that because they were sensitive to the fact that in Hebrew you do not have a generic word for children; you have to use either a masculine word for children, sons, or a feminine word, daughters. Now, in English we have the word children, which is gender inclusive. And so if we were to say sons when its meaning is really gender inclusive, we would be wrong.
I was fascinated recently to read through the notes in the margin of the KJV 1611 edition. There are 7,404 notes, many of them related to the matter of gender faithfulness. Let me give you just a few examples. The text for Isaiah 13:8 reads "one at another" with the note "Hebrew, every man at his neighbor." Isaiah 41:11 reads "they that strive with thee" with the note "Hebrew, the men of thy strife." In Matthew 13:28 the King James has "an enemy" for what in Greek is "an enemy, a man."
So they were obviously gender sensitive, but to a limited extent because the demands were not as strong in their day as they are in ours. We feel we can do something that is more appropriate in our time by listening to what the King James translators did in theirs.
Some say much of the masculine language in the Bible is related to the cultural setting in which it was written. But if you change that kind of language, why not go further and change other cultural references—as Clarence Jordan did when he changed crucifixion to lynching?
First of all, there's a difference between language and culture. You cannot change the historical and cultural perspective of a document any more than you can change the contents of a will after the death of its testator. For the Dani people of Irian Jaya, for example, the moon is masculine and the sun is feminine, while the biblical culture talks about the sun coming up like a bridegroom. You shouldn't change that around to fit the Dani culture. And you cannot, in the biblical culture, change the patriarchal orientation in order to fit another culture. We must let the Bible say what it says.
On the other hand, while history is particular, language is peculiar. And what is said in one language in one way must often be said in a different way in another language. For instance, Hebrew has no inclusive form for they. The word can be either they masculine or they feminine. In English we have a they which can be either masculine or feminine. So we need to look for a signal in the biblical text for whether they means they masculine or they inclusive. Then we have to express the meaning appropriately in English.
Translation has two faces. You have to look at the face of the original text, and then you have to come out with a face that matches the culture and the language used by the people for which we translate it. And you cannot always say the same thing in the same way. When it comes to translating words with different gender orientations, I'd rather err in the direction of being inclusive than being exclusive, especially in light of Galatians 3:28 where Paul says that because of Jesus Christ there is no longer a difference between male and female.
For a fuller transcript of this interview, see the Christianity Today archives on America Online (keyword: CT) or www.ChristianityToday.com/ct/archives.
Have something to add about this? See something we missed? Share your feedback here.
Our digital archives are a work in progress. Let us know if corrections need to be made.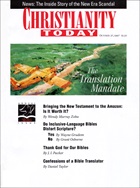 This article is from the October 27 1997 issue.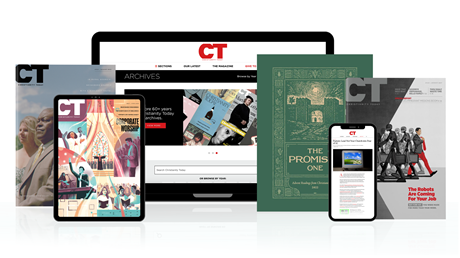 Subscribe to Christianity Today and get access to this article plus 65+ years of archives.
Home delivery of CT magazine
Complete access to articles on ChristianityToday.com
Over 120 years of magazine archives plus full access to all of CT's online archives
Subscribe Now
On the Shoulders of King James
On the Shoulders of King James